Ireland finally recognises Traveller ethnicity
The ERRC congratulates Irish Traveller organisations and activists for their success after decades of campaigning in making ethnic recognition a reality. Change has been a long time coming. The Taoiseach Enda Kenny got a very rare standing ovation in the Dáil last Wednesday evening, for his announcement of formal recognition for Travellers as a distinct ethnic group within the State, in what he called "a historic day for our Travellers and a proud day for Ireland."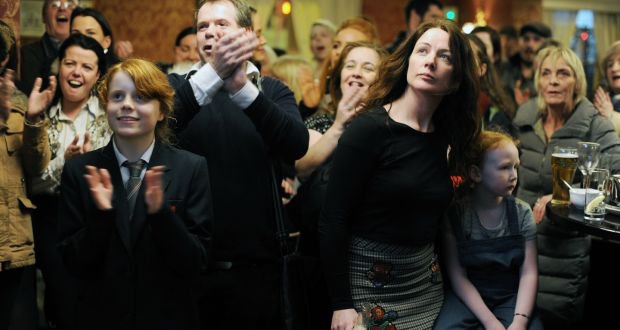 Photo credit: Aidan Crawley
Mr Kenny said: "Our Traveller community is an integral part of our society for over a millennium, with their own distinct identity - a people within our people." This long-delayed and way-overdue recognition is nonetheless welcome. As playwright Rosaleen MacDonagh wrote in a moving article, "Ubiquitous racism and the subsequent shaming came to define who we are as Travellers …The prevailing view was that we as Travellers needed to be rehabilitated, then forcibly assimilated into the settled Irish population."
Recognition has come after decades of different governments' ambivalence, hostility, and willful inertia on this issue. Calls over the years by UN bodies and various Council of Europe committees to recognize Traveller ethnicity were routinely rebuffed or just went completely unheeded. Official recognition is just the beginning and needs to go deeper - the State needs to take stock of the sufferings inflicted on generations of Travellers by assimilationist policies and racism. We need a full and public accounting of the wrongs done to Irish Travellers by official institutions since independence.
As for the present and the future, this moment of official recognition must be followed through with robust action to combat the vicious everyday racism faced by Travellers, and to eradicate the institutional discrimination that has blighted Traveller lives for so long.
Recognition holds the hope that, as Rosaleen MacDonagh said, "Individual members of the Traveller community should no longer have to deny our identity, for fear of repercussions in the form of humiliation, segregation and the sense of believing 'you don't matter' … The reality of harbouring dreams and ambitions that for many generations were closed off now seems possible."
Beyond recognition there is an urgent need for concrete action on accommodation and housing. Late last year Commissioner Muižnieks drew attention to the government's violations of Article 16 and the need for urgent action to address the "insufficient provision of Traveller-specific accommodation, inadequate conditions of many Traveller sites and inadequate safeguards against forced evictions." Such concerns prompted the European Commission to investigate possible breaches of the Race Equality Directive. A recent article by Ireland's best campaigning journalist Kitty Holland serves as a shocking reminder of the gap between what is and what ought to be. In County Clare, she reported that 13 Traveller families including almost 40 children aged between three months and 16 years – some with chronic illnesses and disabilities – are living by roadsides without secure electricity, running water or toilets. What is especially galling and indicative of how Ireland mistreats its Traveller citizens, is the fact that Clare County Council has "failed to spend any of the €237,000 allocated for Traveller housing since 2015, or to use its powers to provide basic sanitary conditions to those without them". If European Commission officials are considering shelving their investigations they should first read this article with its heartbreaking testimonies of the parents and their desperate efforts to care for their children in the face of official negligence.
International scrutiny of Ireland's rights violations and breaches of RED should not be deflected by the government's recognition of Traveller ethnicity. But recognition is a hugely important first step. Rosaleen Mac Donagh described it as a serious ideological shift from the Ireland of her youth: "Words such as 'Itinerant' and 'no fixed abode' were documented on our birth certificates and used to stigmatize us and make us feel inferior." From now on, as President Michael D. Higgins put it, "discrimination and prejudice against Travellers and Roma is racism and it must be named as racism and tackled as racism."