Irish presidential candidate suspends campaign amidst growing furore over anti-Traveller racism
Slammed from all sides for his anti-Traveller tirades, candidate Casey suspended his campaign 'for the weekend'. Is Casey just a racist fool and a loser in the race for the presidency, or is there more to this attempt to mobilize the politics of hate?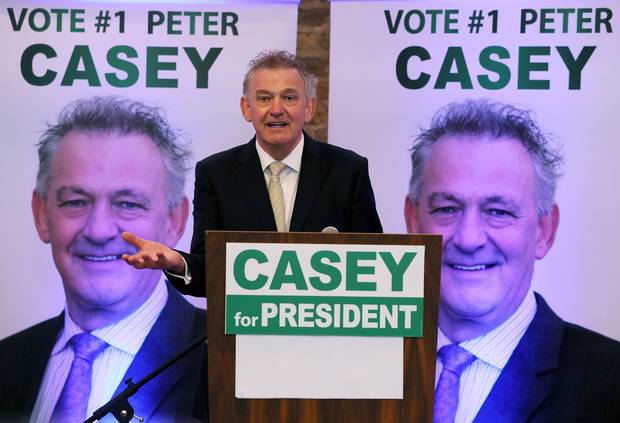 Millionaire businessman Peter Casey announced on Friday that he was suspending his candidacy for the presidency of Ireland as the row deepened over his racist remarks about Travellers. The controversy erupted after the latest opinion poll showed Michael D Higgins looks set to be re-elected on 26 October with 66% of the vote, while Casey trails the pack at a dismal 2%.
Casey's claim that Travellers should not be recognized as an ethnic minority because they are "basically people camping on someone else's land" caused outrage and prompted protests from Traveller advocacy groups. Pavee Point Travellers and Roma Centre described Casey's remarks as, "ill-informed, grossly insulting and offensive". Co-director Martin Collins, described Casey's intervention as a reckless and irresponsible effort to "belittle the lived experience of Travellers in terms of racism and exclusion".
David Joyce from the Irish Human Rights and Equality Commission, called on Casey to withdraw from the campaign: "He's shown he's not fit to represent all the people of Ireland. This man is a racist. He is scapegoating my community."
Casey's doubling-down on his hateful comments in the days that followed, prompted condemnations from both the Prime Minister and the President. On Thursday, Taoiseach Leo Varadkar called on the public to send "a very clear message" to Peter Casey in the imminent presidential election vote by rejecting his deeply "divisive" and "regrettable" views about the Travelling community. The incumbent, President Michael D. Higgins, described Casey's targeting of Travellers as an appalling and "very cynical" move, while other presidential candidates blasted Casey's comments as "reckless and inflammatory".
Casey dissed the formal governmental recognition of Travellers as a distinct ethnic minority: "Why should they be given status over and above yourself or myself. That's a load of nonsense. They are not from Romany (sic!) or whatever. They're basically people camping on someone else's land." He also suggested Travellers don't pay their "fair share of taxes."
On Wednesday night during a live television debate, Casey rejected charges of racism and accused the other candidates of lying when they said they would have no issue with travellers living next door to them. Casey accused the fellow nominees of lying about their feelings towards Travellers and said: "It's like giving chocolate to a diabetic, you're not helping them."
On Thursday, Casey refused to meet Travellers who were protesting at his visit to an unoccupied housing estate in Tipperary on Thursday. The estate has been at the centre of a dispute between local Travellers and the County Council. Amidst a large police and media presence, Casey denied his appearance was a publicity stunt and repeated his inflammatory and wholly inaccurate remarks that it is "ridiculous" that Travellers are refusing to move into "luxury homes" built by the local authority at a cost of €1.7m because they "don't have stables for their horses".
Emily Logan, Chief of the Irish Human Rights and Equality Commission, stated that "while freedom of speech is important in elections, we should challenge ideas, largely based on ignorance, prejudice and related intolerance." She described how in the recent popular votes, the people of Ireland in large majorities showed their respect for equality and diversity, "demonstrating Ireland's ability and willingness to buck the trend."
The trend across Europe is one characterised by nativism, prejudice and antigypsyism. This trend is epitomized by the likes of Czech President Zeman, who has referred to Roma as 'workshy inadaptables'; or Italy's Interior Minister Salvini, who has called for Roma camps to be razed followed by mass expulsions; or Bulgaria's deputy prime minister Simeonov, convicted of hate speech for describing Roma as calling Roma "brazen, feral, human-like creatures".
Casey's mendacious anti-Traveller tirades, his attempts to mobilize popular prejudice for political gain is more than a domestic quarrel, it is part of a wider revolt against liberal democratic values. As David Joyce put it, no presidential campaign in the past "has ever stooped to this level of blatant racism."
The overwhelming rejection of Casey's views and the forthright condemnations from across the political spectrum have not only stopped this fool in his tracks, but offer hope that Ireland's "bucking the trend" and respect for diversity and equality will extend to a long overdue rejection of what has been called Europe's "last acceptable form of racism". Commissioner Logan rightly warned against complacency:
"The ongoing discrimination against Travellers and disregard for their human rights and equality of treatment is a symptom of old political attitudes that we as a people accepted and allowed to become normalized … Travellers are almost 10 times more likely to deal with instances of discrimination than the general population, and 22 times more likely to face discrimination when availing of some private services. This is the reality for Travellers in Ireland today."
Much remains to be done to change that reality, and for all future electoral contests there remains a need for heightened vigilance against those from the political right who would pose as 'populists' to peddle prejudice and incite ethnic hatred.