SPOTLIGHT ON FRANCE: Targeted Evictions and Deportations of Roma
19 August 2010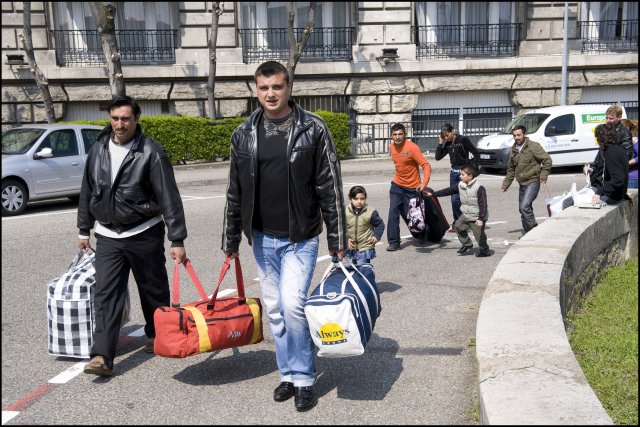 This special section of our website contains updated information and links related to the anti-Romani and anti-Traveller measures conducted by the French Government since President Sarkozy's 28 July announcement. Media inquiries and other requests should be directed to: sinan.gokcen@errc.org (+36.30.500.1324).
ERRC Actions
27 September: ERRC provides European Commission further evidence of French violations of EU Law.
22-28 September: The ERRC conducts ongoing documentation of returns and evictions in France, Romania and Bulgaria.
21 September: The ERRC and other rights groups appeal to US Secretary of State Hillary R. Clinton to speak out against evictions and expulsions of Roma in France.
17 September: The ERRC meets with European Parliament President Jerzy Buzek during his visit to Budapest to brief him on the situation of Roma in Europe and particularly events in France.
8-9 September: The ERRC meets lawyers and NGOs in France.
7 September: The ERRC attends European Parliament hearing on returns of Roma from France.
27 August: The ERRC submits legal brief to European Commission concerning situation of Roma in France.
20 August: Update on ERRC and Association Parudimos discussions with Roma returned by French government to the airport in Timisoara, Romania.
19 August: The ERRC and Romanian organisations Romani Criss and Civic Alliance of Roma in Romania prepare to meet Roma returned by French government to Bucharest and Timisoara airports.
17 August: The ERRC expresses concern that French and other policies which denigrate people because of their ethnic background frequently lead to violence against them.
6 August: The ERRC submits written comments to the UN Committee on the Elimination of Racial Discrimination for consideration in their review of France.
3 August: The ERRC refutes Sarkozy's claim that Roma are a public security threat.
2-4 August: The ERRC conducts a mission to France in follow-up to President Sarkozy's discriminatory plans.
29 July: The ERRC sends a letter urging French President to halt mass eviction and expulsion plans for Roma and Travellers.
28 July: French President announces targeted evictions and expulsions of Roma and Travellers.
Selected ERRC Media Coverage