France: New Census Shows Forced Evictions of Roma on the Rise
03 July 2013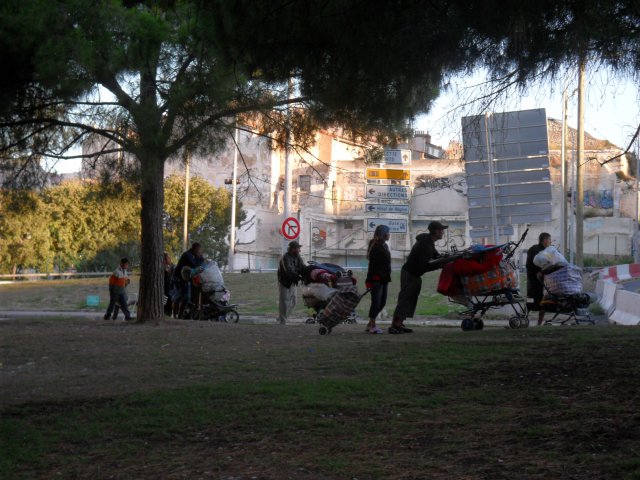 Budapest, Paris, 3 July 2013: More Roma have been forcibly evicted in the last three months than in the first quarter of 2013, according to new data released today by the Ligue des Droits de l'Homme (LDH) and the European Roma Rights Centre (ERRC). The organisations have published a census on forced evictions of the living spaces occupied by migrant Roma in France during the second quarter of 2013.
A total of 5,482 people were forcibly evicted by the authorities in the second quarter of 2013, compared to 2,883 in the first three months of the year. The biggest increase in forced evictions happened in the Ile de France region, with evictions focused around Paris and surrounding areas. In other regions (including PACA, Rhône-Alpes and Nord), forced evictions continued at a steady pace.
Three people, including one child, died in a fire at a squat in Lyon on 13 May. It is reported that a candle caused the fire, after the electricity in the squat was cut off several days earlier. Overall the number of people forced to leave their living spaces due to fire, flood or attack decreased (530 versus 1,007).
During the second quarter of 2013, forced evictions continued at a high rate without any credible social support or proposals for relocation. French authorities should make a social assessment before any eviction, according to a bylaw passed in August last year. This would allow authorities to identify adequate and sustainable solutions and prevent multiple evictions of precarious communities. In practice, the social assessments under the bylaw are rare, and at best are fast and superficial. The so-called social assessment often consists of a census of the population, rather than any real and lasting work on social inclusion.
Although no repatriation flights have taken place in the last three months, the census shows that eight massive distributions of expulsion orders (OQTF) took place, and were distributed to 424 people in settlements.
The French authorities continue to violate existing European laws and international treaties, including the European Social Charter, with impunity. This continues and develops an ambiguous government discourse that results in the same violence as before.
Returning Roma to their countries of origin will not help with integration efforts. Forced evictions lead to worse social outcomes and growing insecurity: families face instability and a loss of social support, they often lose their personal belongings, and children are taken out of school. This is not a sustainable long-term solution for the French authorities.
The ERRC and LDH are calling for an immediate end to the damaging policy of forced evictions, which continue in defiance of international and European treaties. The organisations are calling on authorities to provide a real integration policy for Roma who live in precarious situations, and not just a policy that "anticipates and supports" their expulsion or their forced eviction.
This press release is also available in French.
For more information contact:
Sinan Gökçen
Media and Communications Officer
European Roma Rights Centre
sinan.gokcen@errc.org
+36.30.500.1324