Forced to be Nomads: Milan Prefers to Evict Rather Than Integrate
25 November 2013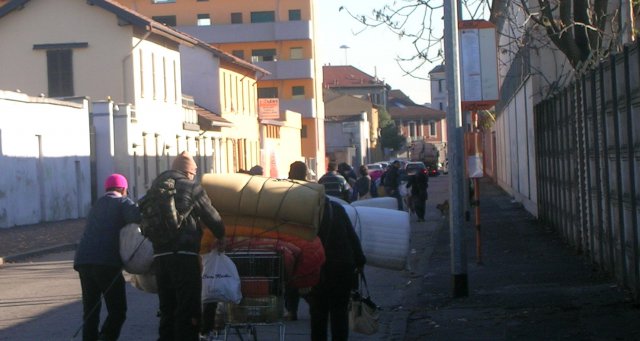 Budapest, Milan, 25 November 2013: This morning, Milanese authorities forcefully evicted more than 700 people, among them more than 200 children, from an informal settlement in the Montefeltro/Brunetti area of Milan. The eviction was carried out in the presence of several policemen, together with Carabinieri who were in anti-riot gear and had a bulldozer.
The 700 Roma from Southeast Europe came to the area approximately one year ago following previous evictions in the Milan area. This is the largest forced eviction in the municipality of Milan since 2011.

"There has been an eviction of more than 700 people that ignores the particular circumstances of individuals: the elderly, women or children. The question of proportionality has been ignored and no viable alternative solutions have been identified. Only about 240 places were made available by the local authorities" reports Rosi Mangiacavallo, ERRC's monitor and researcher.
The ERRC had called upon the authorities in Milan not to proceed with this forced eviction, stressing that it does not comply with international standards and national legislation.
Unfortunately, the authorities in Milan have continued with the (unsuccessful und unsustainable) approach of their predecessors of carrying out evictions without complying with legislation, without providing alternative accommodation for all of the evicted people and without considering the consequences of the evictions. The evicted people will either stay on the streets or have to find new "informal accommodation", as they have not been offered access to other forms of accommodation.
The eviction by the authorities in Milan severely limits the right to education for many children enrolled in schools in the area, but provides for the prospect of living on the street in wintertime.
The ERRC will continue to monitor the situation, to assist the evicted people and to advocate for systemic solutions which provide a path towards the full integration of the Roma.
Press release of local partner NAGA.
For more information, contact:
Sinan Gökçen
Media and Communications Officer
European Roma Rights Centre
Tel. +36.30.500.1324
sinan.gokcen@errc.org