Forced Evictions of Roma double in France, as Authorities Pursue Failed, Expensive Policy
14 January 2014
Budapest, Paris, 14 January 2014: French authorities forcibly evicted more than 21.537 Romani migrants in 2013, more than double the total for 2012. Law enforcement officers carried out 165 evictions affecting almost 19.380 people. There were 22 evictions due to fire, affecting 2.157 Roma.
The figures, gathered by the Human Rights League (LDH) and the European Roma Rights Centre (ERRC), are not comprehensive. Many more Roma may have been affected. In comparison 9,404 Roma were forcibly evicted by authorities in 2012 and 8.455 in 2011, according to data collected by the same organisations.
Forced evictions continued almost everywhere without credible alternative housing solutions or social support. NGOs and various institutions (such as the French Ombudsman) have highlighted that government policy is ignored – an interministerial circular of 26 August 2012, which ordered local authorities to carry out a social assessment of Roma in any eviction - is rarely implemented and superficial at best. It often resembles a population census rather than a real and lasting attempt at social inclusion.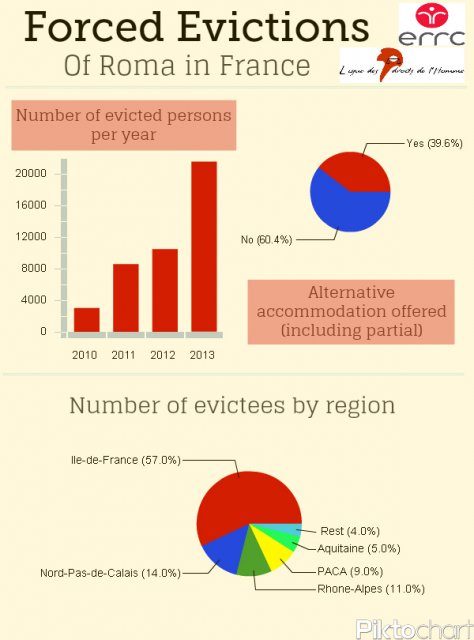 "This policy of rejection is ineffective, costly and unnecessary since nothing has changed after these evictions," said Pierre Tartakowsky, LDH president. "Roma still live in France, in settlements they have rebuilt a little further away, but their situation is increasingly insecure. The ongoing, increased evictions pave the way for the expression of extremism and anti-Roma racism."
"We're calling for an immediate end to France's disastrous approach to Roma: forced evictions, disregarding France's obligations under international and European treaties, cannot continue," said Dezideriu Gergely, executive director, ERRC. "Beyond the practical implementation of the 26 August bylaw, we also call for a real integration policy for those people at risk of poverty or social exclusion."
The data shows that evictions peaked in summer, but continued at a high rate in the fourth quarter despite the winter weather. Roma increasingly abandoned the areas where they were living before, before police arrived, to prevent trauma and loss of property.
More than half of the forced evictions took place in Ile-de-France (the Paris region), accounting for 56 % of their total, with most happening in department of Seine-Saint-Denis. Another 40% of evictions took place in the four regions of Nord-Pas de Calais (Lille region), Rhône-Alpes (Lyon region), Provence-Alpes-Côte d'Azur (Marseille region) and Aquitaine (Bordeaux region).
Before election, the current President denounced the policy of evictions and expulsions under Sarkozy – it is extremely disappointing that the situation is getting worse.
The detailed report available here.
For more information, contact:
Manon Fillonneau
European Roma Rights Centre
+337 61 06 06 78
m.fillonneau.errc@gmail.com
Lennie Nicollet
Ligue des Droits de l'Homme
+ 331 56 55 51 07
lennie.nicollet@ldh-france.org