Romanian Roma Victimised by New Evictions
17 July 2014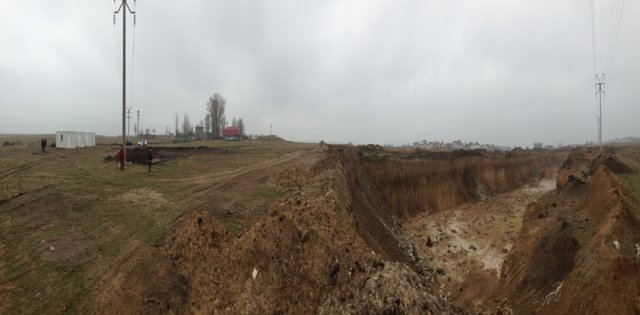 Budapest, Bucharest, 17 July, 2014: The European Roma Rights Centre (ERRC) and Romani Criss are deeply concerned about yesterday's forced eviction in Eforie, Constanţa County, Romania. Following an eviction in September 2013, ten Romani families have once again been evicted under the direction of the deputy mayor of Eforie without due regard for Romanian and international law. This time, they have been moved to containers which completely fail to satisfy national and international standards on housing. Three of the affected families have been provided with no accommodation of any kind.

On the morning of 16 July 2014, ten families of approximately 50 persons, including children, were evicted from the derelict school to which they had been moved by the authorities after the previous eviction in September 2013. Seven families have been moved to containers which fail to meet basic housing standards such as adequate sanitation, water and electricity supplies. With less than 20 square metres of space, the containers are too small to accommodate all members of the families. Further, they are located on the edge of the municipality beside a large excavation site which poses serious risks for the children's safety. Three families, including 14 children, were provided with no accommodation of any kind.
Under Romanian law, five days' notice is required in advance of carrying out any eviction. Following this five-day notice, should a household fail to comply with an eviction notice, a court order is required to go ahead with the eviction. None of these requirements have been met by the authorities in this situation. The Constanta county prefect also appears to have failed in its duty to ensure that the municipality has complied with applicable legal obligations.
Despite ongoing attempts to find a solution, to date local authorities have not offered any remedy that respects Romanian and international human rights standards, and the human rights and dignity of the affected families.
While authorities approached some families and asked them to fill out an application form for social housing, to date no social housing has been made available to any of the families. Furthermore, failure to fill out this application form cannot be used as grounds for an eviction.
The European Roma Rights Centre and Romani Criss have supported and will continue to support the affected families in pursuing the strongest possible legal remedies. Both organisations call on local authorities to provide adequate alternative accommodation as a matter of urgency to the affected families. The two organisations also call on local and national authorities to ensure that violations of existing legal provisions both in relation to evictions and in relation to standards of housing immediately cease.
This press release is also available in Romanian.
For more information, contact:
Sinan Gökçen
Media and Communications Officer
European Roma Rights Centre
Tel. +36.30.500.1324
sinan.gokcen@errc.org