Moving Roma away from a toxic waste dump mustn't result in further segregation – NGOs protest
10 February 2016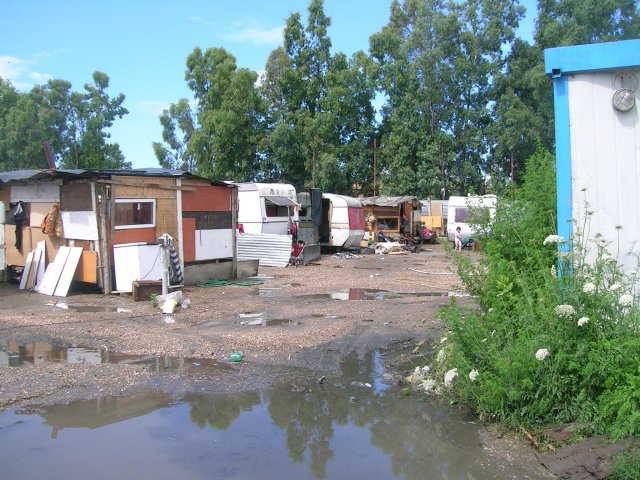 Naples, Budapest 10 February 2016: After living for 25 years in the Giugliano area (Naples) and facing multiple evictions, a Romani community has now been told again by Italian authorities that they will be forcibly relocated. Instead of finding integrated and adequate housing solutions for these approximately 260 Roma who have been accommodated by the local authorities on a toxic waste dump in Masseria del Pozzo, the community will be moved to another segregated settlement.
After learning of the discriminatory decision, a coalition of NGOs including the Associazione Cinema e Diritti, Associazione Garibaldi 101, the European Roma Rights Centre (ERRC), and OsservAzione sent a letter of concern to all relevant authorities including the Minister of Interior Angelino Alfano, the president of Regione Campania Vincenzo De Luca and the mayor of Giugliano Antonio Poziello. The European Commission has also received a copy of the letter. The NGOs welcomed the closing of the Giugliano camp: it is racially segregated and located in a highly toxic area, presenting serious harm to the residents' health. However, they called on the authorities not to violate the residents' rights by placing them in yet another form of segregated housing.
The Roma formal settlement at Masseria del Pozzo was established in March 2013 and the Roma community was forcefully moved there after being evicted many times from other informal camps. Almost all of the inhabitants of the camp are residing lawfully in Italy; they generally have permanent resident status in Italy and some are Italian citizens. The camp was established in an isolated and polluted area, without access to local transportation or public services. For more than two and a half years the inhabitants have been housed by the authorities in highly precarious and extremely dangerous conditions in a life-threatening and toxic environment.
The Italian National Strategy for Roma Inclusion approved by the Italian government in 2012 stated that "emergency policies" for Roma have to be "overcome", and noted that housing solutions such as "nomad camps" are neither adequate nor suitable solutions for Roma. What is happening to this community shows that the authorities are still failing to abide by their own strategy.
Therefore, the coalition strongly urges the city of Giugliano, Regione Campania, and the Minister of Interior to undertake all actions within their power to ensure that persons living in Masseria del Pozzo formal camp be rehoused forthwith in integrated environments, with adequate access to services in a pollution-free environment. The coalition also calls on them to take other measures to ensure that the inhabitants' integration is successful. The requirements set by the European Union and the national legal framework must be respected, and the resources should be used to implement integrated housing complemented with integrating measures in education, employment, health care and social support.
For further information contact:
Szelim Simándi
simandi.szeli@xkk.hu
+36703979545