From the Archives: the Italian file 1997-2000
13 October 2014
In 2008, the declaration of a State of Emergency to combat the so-called 'Roma menace', prompted global media coverage and international criticism. The demonisation of Romani people in this overtly racist and populist get-tough approach served only to exacerbate communal tensions, legitimise human rights abuses, and seriously damage prospects for social inclusion. A quick perusal of ERRC's archives between 1997 and 2000 reveals that all of this was foreseeable, preventable, and utterly unnecessary.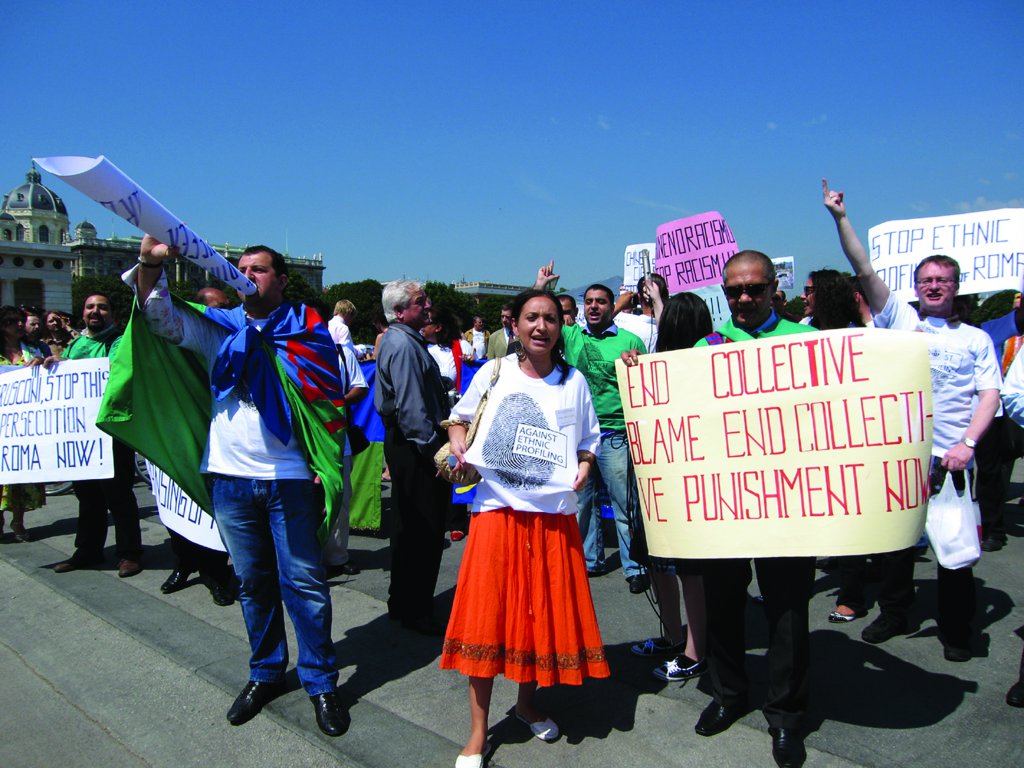 The State of Emergency heralded a prolonged period of harassment, expulsions, mob violence and pogroms against Roma communities. The European Roma Rights Centre challenged the State of Emergency decree before the Italian courts, and on 4 November 2011, the Council of State ruled that the emergency decree was illegal.
Since 1997 the ERRC monitored human rights abuses, litigated, produced reports, sent letters of concern to the Prime Minister and Italian Parliament, and prepared submissions for the UN. The ERRC repeatedly drew attention to the perils of deliberate exclusion, and provided clear recommendations and very prescient warnings about what needed to be done to avert a humanitarian crisis. The elected leaders of the Second Republic chose neither to heed the warnings, nor adopt the recommendations.
The following selection from the archives between 1997 and 2000 provides a fascinating glimpse of the origins of the crisis, and stands as eloquent testament to ERRC's long-standing commitment to defend the rights of Italy's Roma.
December 17, 1997. In a letter to the Italian Parliament ERRC expressed concern about the treatment of approximately 50,000 ex-Yugoslav Roma living in Italy:
Independent field research conducted in Italy in September 1997 revealed that the conditions in which the estimated 50,000 immigrant Roma are forced to live are deplorable and in no way meet even most elementary human needs. Despite the fact that some of them arrived in Italy thirty years ago, there has been no ambition whatsoever by the authorities to provide them with adequate housing. Instead, Roma live on the outskirts of towns in primitive camps ranging between 20 and 2,000 people. Their homes consist of vans or huts they have built for themselves. The more fortunate have chemical toilets and water-taps placed in the centre of the settlement, while numerous others have no sanitary facilities whatsoever. Most of them do not have legal residence in Italy and live under the constant threat of expulsion.
ERRC urged Italian authorities to normalise the status of immigrant Roma, grant them legal residence concomitant with the provision of basic amenities such as adequate water, electricity and sanitation, and to initiate programs aimed at their integration in society.
April 2, 1998. In an article entitled Down by law, detailing police abuse of Roma in Italy
2 April 1998, one victim recounted his experiences:
Upon arriving at a dark and lonely spot, "I said this was certainly not the police station." The report then goes on; "The policeman with short hair punched me [...]. The others pushed and punched me [...]. They kept beating me for a while. One of them asked me in a provocative way if I had a wife. I told them off and they forced me to the ground and kicked me hard. They never hit me in the face; only on my body, arms and legs. Then they left in their car, leaving me alone [...]. I walked home, where I found friends who immediately took me to the hospital."
May 15, 1998 an article Rom killed while begging near Naples, carried a report on the trial of 74-year-old Italian man charged with killing a 21-year-old Romani man. Radojica Jovanović came to the door of Mr R.B. with his two and a half year-old son to beg:
Mr R.B. evidently believed that he recognised Mr Jovanović as a familiar thief. After they started to argue, Mr R.B. shot Jovanović in the neck at point-blank range with a breech-loading twelve-gauge shot-gun, blowing his head off.
March 5, 1999 ERRC submission to the United Nations Committee on the Elimination of Racial Discrimination (CERD) documented that Roma in Italy are the victims of police violence and pervasive racial discrimination in virtually all spheres of public life, and demonstrated the government's failure to comply with its obligations to prohibit, punish and remedy racial discrimination against Roma.
March 22, 1999 In its Concluding Observations concerning Italy, the CERD condemned racial segregation of Roma in housing, and expressed concern
at the situation of many Roma who, ineligible for public housing, live in camps outside major Italian cities," and stated that "in addition to a frequent lack of basic facilities, the housing of Roma in such camps leads not only to a physical segregation of the Roma community from Italian society, but a political, economic and cultural isolation as well.
The CERD further lamented
the continuation of incidents of racial intolerance, including attacks against foreigners [...] and against Roma, [...] which are sometimes not recognised by the authorities as having a racial motivation or are not prosecuted.
April 1999 ERRC submission to UN CAT detailing police abuses against Roma stated that:
In addition to ill-treatment upon arrest or in detention, Roma in Italy are frequently subjected to unlawful police raids - armed assaults in the early morning hours during which homes are searched, contents ransacked, inhabitants harassed or subjected to excessive force, and young men rounded up for arrest or questioning - often without warrants or any particularised finding of probable cause or reason- able suspicion of criminal activity.
The submission also reported that police robbery, the unlawful confiscation of jewellery and money from Roma, accompanied by the threat of physical violence is pervasive: "The police routinely refuse to provide written documentation of confiscated items, which are almost never returned to their owners."
Other forms of police misconduct commonly targeting Roma in Italy included strip searches of women by male police officers, and arbitrary destruction of identification documents. Such abuses occurred with impunity: "Once again, ERRC knows of no case in which police officers have been disciplined or prosecuted for these offences."
October 3, 2000 - "Too pretty to be a Gypsy" Elvizia M. was seized from her mother by police officers who stated that the bright, green-eyed Elvizia was "too pretty to be a Gypsy." Her father came immediately from Romania to prove that his daughter had inherited her eye colour from his side of the family. After one month and constant lobbying by volunteers who work in Casilino 700, the camp where the family lived, Elvizia was finally returned to her parents.
November 3, 2000 - ERRC launched the Country Report Campland; Racial Segregation of Roma in Italy.
As the third millennium dawns, Italy is the only country in Europe to boast a systematic, publicly organised and sponsored network of ghettos aimed at depriving Roma of full participation in, or even contact or interaction with, Italian life. These Roma, in Italian parlance, live in "camps" or ghettos that are "authorised".
The laws adopted in many regions in the late 1980s for the "protection of nomadic cultures" paved the way for the construction of segregated camps. Italian authorities asserted that the desires of Roma and Sinti to live in flats or houses was 'inauthentic' and despatched them to "camps for nomads".
In addition to detailing the segregation of Roma in 'nomad camps'; violence and abuse by state and non-state actors; denial of the right to education, the report highlighted a disturbing pattern of racist speech by public officials. One mayor in the province of Milan promised 5 million Lire of public money to any farmer willing to spray manure on an area temporarily settled by Roma: "a bath of manure is the only way to even the score with the Gypsies, an act of justice equal to the manure they leave us when they move on."
Umberto Bossi, leader of the Lega Nord, distributed fliers during the campaign for recent regional elections which stated, "If you don't want Gypsies, Moroccans and delinquents in your house, be the master of your own home in a liveable city and vote Lega Nord."