10 things they said about Roma in Hungary
27 October 2015
Justice Minister László Trócsányi's attempts to deny linking Roma with radicalized Islamists prompted blogger Eva Balogh to reach for a term which has a particular resonance in Hungarian: kakistocracy meaning "government by the worst persons; a form of government in which the worst persons are in power."1 Trócsányi's denials don't convince because it's only a few months since opposition politicians called for his resignation following his remarks that Hungary couldn't afford economic migrants because it was already stretched helping 800,000 Roma to catch up. Another reason his denial carries little credibility is that racist remarks, calculated insults and hate speech against Roma have long since become commonplace in Hungary. Here are ten things public figures and politicians have said about Roma: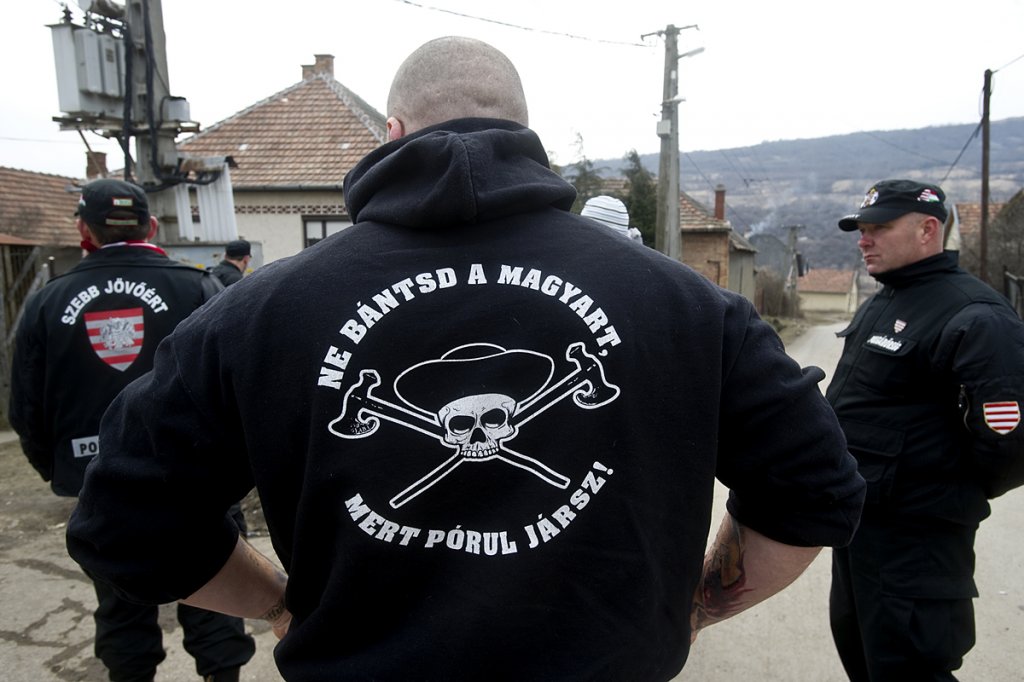 (1) Prime Minister Viktor Orbán in the middle of yet another shameful tirade against Syrian refugees, found a moment to take a racist swipe at Romani citizens: "Hungary's historical given is that we live together with a few hundred thousands of Roma. This was decided by someone, somewhere. This is what we inherited. This is our situation, this is our predetermined condition … We are the ones who have to live with this, but we don't demand from anyone, especially not in the direction of the west, that they should live together with a large Roma minority". There was little by way of public outrage following this statement in which the Prime Minister equated Hungary's Romani population with the Syrian refugees; likened his fellow citizens to a historically inherited burden and spoke of a national 'we' who have to live with 'them'.
(2) Former Hungarian Prime Minister Péter Boross went even further than Orbán when he opined that "the masses of Muslims" crossing the border "don't just come from different cultures but their psychic apparatus, their biological and genetic endowments are different", and for this reason cultural integration just does not work: "It hasn't worked with the Gypsies, although they have lived with us for hundreds of years".
(3) Jobbik took control of the industrial town of Ózd (population: 35,000) in northeastern Hungary in the October 2014 elections. The party's election manifesto stated that there are two ways to solve the 'Gypsy question': "The first one is based on peaceful consent, the second on radical exclusion … Our party wishes to offer one last chance to the destructive minority that lives here, so first it will consider peaceful consent. If that agreement fails, then and only then the radical solution can follow."
(4) Albert Pasztor, the left candidate for mayor of Miscolc in the 2014 elections caused much controversy as police chief in 2009, by quoting statistics on burglaries committed in his police district, saying the crimes had been "committed by people of Gypsy origin." Asked by Nepszabadsag to define the 'Roma problem' five years later, he said that most Roma lacked any chance of integrating into society or gaining employment due to their lack of education. They have been segregated in many places and "have unfortunately become criminals … There may be hunger riots in places very soon. Because there are people starving and they therefore will end up robbing shops to seize what they need," said Pasztor.
(5) Human Resources Minister Zoltán Balog ruminating on Hungary's responsibility and role during the Holocaust, declared in August 2014 that "no Hungarian Gypsies were ever deported from Hungary. Only from Austria," and followed up this obtuse and offensive denial with a warning to the Roma community not to focus on these wartime experiences in the way that the country's Jewish population has focused on the Shoah, for fear that they too may end up displaying "signs of schizophrenia." One full year later Balog apologized for his remarks
(6) In April 2014, a judge Dr. Erika Mucsi, on handing down a verdict refusing to dissolve a neo-Nazi paramilitary group that marched through Roma settlements, wrote that "Being a Roma should not be primarily interpreted as a racial category, rather as a way of life led by a group of people who stand apart from the traditional values of majority society, and whose lifestyle is characterized by the avoidance of work and the disrespect of private property and the norms of living together." The prosecution had vainly argued that the organization Szebb Jövőt should be dissolved on the grounds that their ideology was racist and against Hungary's Constitution, and they offend the human dignity of the Roma population. The judge concluded that since other paramilitary groups were also present in the village – the so-called Protection Force, the Outlaws and the Gendarmerie – it could not be ascertained who committed unlawful acts, and the case against Szebb Jövőt was not proven. Concerning the stoning of Roma homes, death threats and abuse against the Roma inhabitants in Devecser in August 2012, the judge said "such acts served only to call the attention of the public to certain problems."
(7) In March 2013, Jobbik lawmaker Dóra Dúró asked the Prime Minister during questions "why the 'breakthrough' idea of sending Gypsy children to compulsory boarding school to escape families where they were seen only as sources of income was anti-Gypsy. Are we not now raising Gypsy criminals?" In response, Prime Minister Orbán condemned the remark as 'pure racism'!
(8) Gábor Vóna's derisive efforts to cultivate a more civilized image for Jobbik included this gem in an interview: "As for anti-Roma and anti-Semitic rhetoric, I meant and continue to believe that there is no need for coarse, vulgar racial politics, which leads nowhere and is personally alien to me." Bit hard to square it with his rhetoric at a far-right rally in Budapest to celebrate the founding of the Hungarian Guard in 2012, when Vóna declared: "We need to roll back these hundreds of thousands of Roma outlaws. We must show zero tolerance towards Roma crime and parasitism… Any Roma who did not conform should leave the country."
(9) Zsolt Bayer's 2013 New Year burst of hate has since become the most notorious and oft-quoted passage: following a New Year stabbing incident, he wrote that "a significant part of the Gypsies is unfit for coexistence… They are not fit to live among people. These Gypsies are animals, and they behave like animals… These animals shouldn't be allowed to exist. In no way. That needs to be solved - immediately and regardless of the method."
The reactions were interesting and less often recalled, for Bayer was one of the main organizers of the pro-government 'Peace Marches', a founder member of Fidesz, and remains a long-time confidante of Prime Minister Viktor Orbán. Viviane Reding promptly condemned the remarks as unacceptable: "The European Union has no room for racism, hate speech or any other forms of intolerance."
Deputy Prime Minister Tibor Navracsics initially condemned Bayer's article, saying that such statements are "offensive to democracy, defying Fidesz's democratic principles of community". He added that Fidesz has no room for anyone "who labels a group of people as animals". A couple of days later Navracsics withdrew his condemnation, did a complete U-turn, claimed that the author had since set things straight, and stated that "I know Zsolt Bayer and I cannot imagine that he seriously thought what he said in Saturday's article."
Fidesz spokeswoman Gabriella Selmeczi, stated that Bayer wrote this article "not as a politician, but as a journalist", and that "we don't qualify the opinions of journalists." Despite the fact that nobody was killed in the incident, Selmeczi went on to accuse left-wing and liberal opposition parties of "encouraging criminals by blaming not the killers but those who are outraged [by their crimes]."
Paying tribute to Bayer at his 50th birthday celebration, Speaker of Parliament László Kövér was even more forthright: "Good and bad, hard times and joy, we experienced it together. We never once denied each other and we never will."
Others were less accommodating, and on 5 March 2013, following a campaign by 24 NGOs, ERRC reported that five companies stated that they would no longer place advertising with the newspaper Magyar Hírlap, until it distanced itself from the racist, homophobic and anti-Semitic views expressed by Zsolt Bayer.
(10) The Fidesz response was similar in the wake of protests in 2013 by university teachers, students and researchers who found remarks by Geza Jeszenszky, Hungary's ambassador to Norway, to be offensive against Roma. In a textbook used at Budapest's Corvinus University (BCE), Jeszenszky suggested that "the reason why many Roma are mentally ill is because in Roma culture it is permitted for sisters and brothers or cousins to marry each other or just to have sexual intercourse with each other." Jeszenszky rejected accusations of racism, and stated that "Not even a biased Roma civil rights activist could find fault with my handling of the subject; hundreds of Hungarian and foreign students have used my book and found it useful." He later admitted Wikipedia was his source for insights on what is permitted "in Roma culture." The Ministry of Foreign Affairs insisted that Jeszenszky cannot be accused of prejudice for his words, "which he wrote as a university professor and not as ambassador." The Norwegian Institute of Holocaust and Religious Minorities was less sympathetic and requested that Jeszenszky stay away from the International Wallenberg Symposium.
When it comes to what is said about Roma in Hungary, as these ten examples show, context clearly matters. The context of anti-Gypsyism in a self-proclaimed illiberal democracy is such that disparaging, discriminatory and hateful speech targeting Roma fosters and sustains a broad and toxic consensus that 'Gypsies get what they deserve.' Beyond the hard core of haters, such speech contaminates the public sphere in a manner that inhibits any sense of solidarity or empathy; and the cumulative effect is that majority populations fail (or feel emboldened to refuse) to recognize discriminatory treatment of Roma and other minority groups for what it is - unreconstructed racism. And racism, be it in word or deed must never go unchallenged.
Endnote:
As Eva Balogh explains, the first two syllables don't have anything to do with the Hungarian word kaki with which we are familiar but with the Greek word "kakistos," which means "worst."