Banlozi Roma camp, Bosnia: "put up a fence and this would be a real concentration camp"
21 August 2018
In the Banlozi collective camp on the outskirts north of Zenica there is no regular supply of clean running water, the few existing toilets are in desperate condition. During winter, many residents here have no heating and they literaly freeze. Pregnant women and young children live among rats and snakes, many of them often get sick, others have disabilities, some kids even die from the desperate living conditions. There is one elementary school in Banlozi, where all the kids aged between 7 and 15 are segregated into one class. As one of the local Roma inhabitants of Banlozi described: "you only have to put up a fence and this would be a real concentration camp".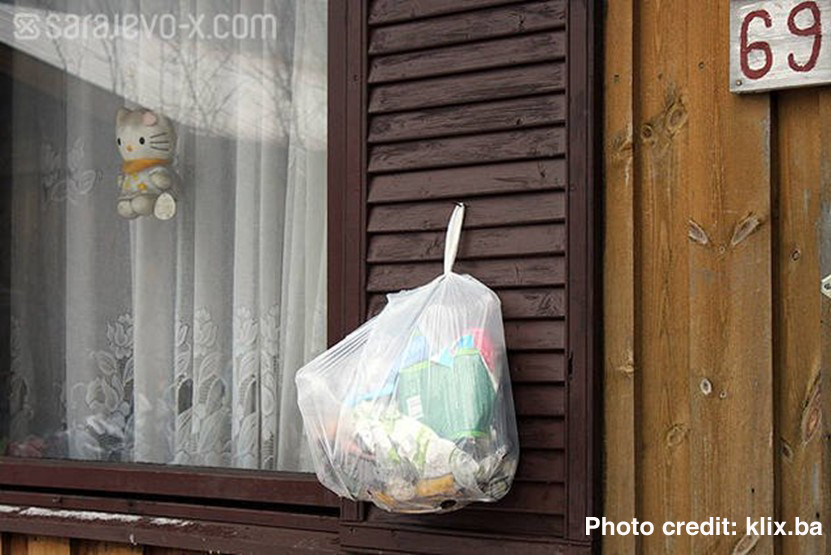 Banlozi camp hosts 46 Roma families, and since January 2012 the permanent threat of eviction and dislocation has hung over their heads. This has been their predicament since the City Council of Zenica decided to build a waste water separator (project funded by German Development Bank- KFW) on the site of the camp. Thirty-eight of the Roma families are still waiting on the authorities to deliver on their promise of temporary social housing. But the other eight families will be left on the side of the road as soon as the city council goes ahead with the demolition of the baracks.
Amra Husić's family is one of thoe eight. She lives in a devastated barrack together with her husband Admir and their five children, Almin, Murat, Evelin, Djula and Elvis, aged between 11 months and nine years old. Soon the enire family will face the prospect of life on the streets. In a tearful voice, holding her baby close, Amra explained:
"I don't even have a temporary housing solution … nothing. They (the authorities) said they will soon start demolishing the barracks with excavators ... We came here two and a half years ago. Two of my children are deaf and we have no place to where to stay. My husband is unemployed. He is digging, searching for iron, raw materials ... We have social assistance of 160 KM in total for all of us. I'm afraid of what will happen to us … Here inside the barack there are many rats and around the house snakes. We are not among those on the list who will get social flats, nobody informed us about that possibility, nor did we know where to apply."
Her neighbor Azra Musić lives with her husband Arnes and three children, two of whom have disabilities.
"I receive 130 KM of social assistance. My child is very sick so that is not enough just for buying one medicine for his treatment. They're expelling us from here. And here the conditions are miserable … We have killed three snakes in the house so far. The rats bite my daughter's hand, and she is a child with disabilities. A month ago, she needed a blood transfusion. So we fought for her life. I'm here at this barrack for 14 years. Now I need to move out. They told me that my barrack will also be demolished and to move all my belongings. Where should I go? Where to stay? They should provide us with alternative accommodation. We will not leave when they come to demolish the barrack."
The family of Mirsad and Tahira Šuvalić with their daughters Emina, Nara and a six-month baby Leonora are also facing the prospect of being evicted onto the streets. Former city administration employees issued a decision for this family to be placed in a new social flat, but Mirsad explained that current City empoyees informed him that they cannot find any record of that decision and they flatly refused to issue a new one.
"It's hard to live here. We can barely survive. Our six-month-old baby died from the bacteria and the damp … now our other baby is sick and we should take her for blood transplantation in Sarajevo. Instead of helping us somehow, the local authorities want to move us out, to expel us even from here. It is so hard ... We don't have anywhere else to go. The social allowance for the five of us is 29 KM. I'm most worried about my children. They will also end up on street with us." Outraged, he continued: "When you turn to them asking for help, they are deaf. In 2015, I buried my own daughter, a six-month-old baby. I had to beg in order to collect money to bury my child."
Among those who will be allocated temporary social housing is the family of Hanka Šuvalić-Tahirovic, who believes that while conditions in the new accommodation will certainly be better than the camp, it will not solve their biggest problem.
"We believe it will be better than here, because here we never had normal conditions for life. We buy the water and eat what we find in containers or what we buy when we collect some money with begging … And even if we get the new flats, the problem will be how we will live in them. It's simply not fair to find solutions for some people, and not for others. From here we go all or none. They can not demolish the barrack of a pregnant woman with five children who was not offered any solution for her situation".
A few days ago, a local Zenica organization, contatcted me asking for ERRC's support for the camp residents' legal battle against the Council's plans to evict them. According to the association, the Roma families only received oral notification from the municipal authorities about the planned eviction. On 25 June 2018, ERRC submitted a letter of concern to the City of Zenica regarding the information received about the planned eviction of the the Roma families from Banlozi camp. As of today, we have not received any reply from the city authorities. Our fight for the rights of this community will not stop here. Our next step is to file a Rule 39 request before the ECtHR and initiate several court proceedings before Bosnian national courts.
The story is covered in Bosnian language on: https://bit.ly/2nKTQGl.