Bigger than football: Bulgaria has a problem with neo-fascism
18 October 2019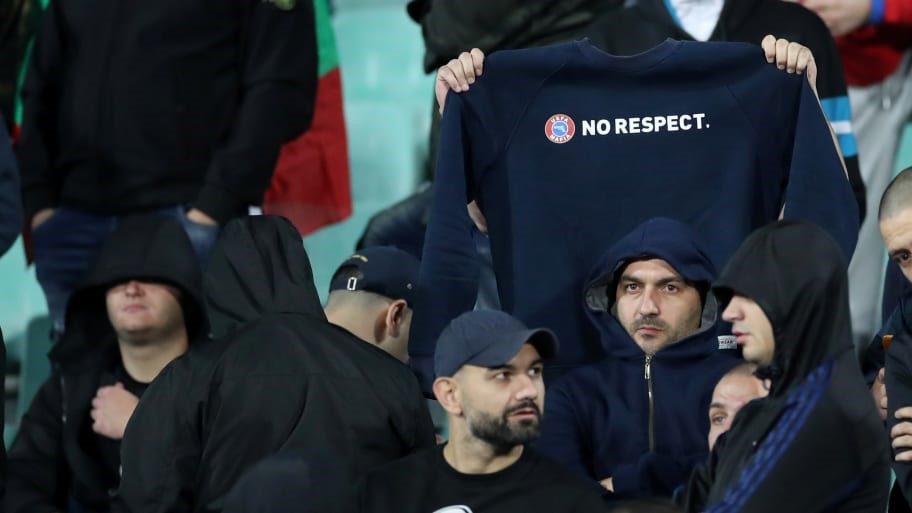 Racist abuse of England's black players by Bulgarian ultras is just the tip of a deeper malaise; Monday's hooligans are the violent foot-soldiers of a neo-fascist bloc that includes government ministers and high-ranking politicians from the Patriotic Front. MEPs, mayors and ministers alike indulge in racist hate speech against minorities with impunity; and openly incite hate crime and mob violence against Roma, migrants and other minorities.
Condemnation and calls for action quickly followed the disgraceful scenes during the EU 2020 qualifier in Sofia, where the England team thrashed the hosts 6–0. The match had to be halted twice, as sections of the crowd abused England's black players, made monkey noises, gave Nazi salutes, and openly displayed fascist symbols. Football Against Racism in Europe (FARE) called for Bulgaria to be kicked out of Euro 2020, saying: "UEFA should make an example of them."
By Tuesday morning the president of the Bulgarian Football Union quit on the orders of the Prime Minister, Boyko Borissov who issued the following tweet:
"I also strongly condemn the behaviour of some of the fans that were in the stands. It's absolutely unacceptable for Bulgaria, which is one of the most tolerant countries in the world [and] where people of different ethnic and religious origins live together in peace, to be associated with racism."
To casual observers, this might look a robust, unequivocal and statesmanlike response. To more seasoned Bulgaria-watchers, Borissov's sheer chutzpah comes as no surprise, as he attempts to deflect and bolster the good name of his country. For it's all too obvious that the problem goes deeper than football; Bulgaria has a real problem with neo-fascism.
Borissov heads a coalition government that includes openly racist ministers from the far-right Patriotic Front that have openly advocated violence against Bulgaria's Roma minority, routinely engage in racist hate speech with apparent impunity, and whose supporters openly celebrate wartime Nazi General Lukov in annual torchlit processions through Sofia, displaying swastikas and SS symbols.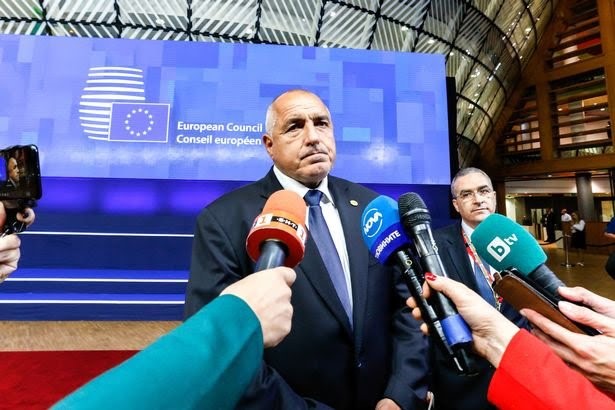 PM Borissov: 'Bulgaria is one of the most tolerant countries in the world.'
In 2017, Borissov appointed Patriotic Front henchman, Valeri Simeonov, to lead the national body on ethnic integration issues, prompting protests from human rights groups against a "pronounced supporter of fascist and neo-Nazi ideology." Simeonov, who speculated about creating 'modern concentration camps', infamously described Roma as "brazen, feral, human-like creatures" and Romani women as having "the instincts of stray bitches." His subsequent conviction for hate speech was later overturned on appeal.
Hooligan crews such as Lokomotiv Plovdiv's "Lauta Army" which featured large in the Monday night disruptions have made their presence felt during violent mob attacks on Roma settlements. Recent disorders followed the prompting of United Patriots Deputy Prime Minister, Krasamir Karakachanov – who called Roma "exceptionally insolent" and called for a "complete solution to the Gypsy problem"– neighbourhoods were attacked and houses destroyed and demolished in the orchestrated unrest by mobs shouting "Death to the Gypsies".
Bulgarian Member of the European Parliament, Angel Dzambazki, a leading member of the extremist VMRO has been involved in campaigns to secure the release of criminals connected to the Bulgarian neo-Nazi scene. Dzambazki, who described Roma as 'primates', was accused of inciting hatred after calling on Bulgarians in Sofia to clean the city of immigrants and take "self-defence actions" by means of "volunteer patrols and units".
He was personally involved in campaigns aimed to secure the release of Nikolai Yovev, a well-known football ultra and political extremist, was arrested in 2012 in connection with bombing of a EuroRoma political office and the murder of a Rom who died as a result of the explosion. He also campaigned for the release of VMRO member Dimiter Lazarov, who was linked to neo-Nazi groups who was arrested for a violent attack on left-wing demonstrators.
Monday's disgraceful events in Sofia are part of a wider toxic political context, where openly racist politicians hold high office, and frequently resort to racist hate speech and incitement to violence against Roma, migrants and Muslims. Public discourse and biased media coverage have facilitated a surge in recent years of online and offline hate speech targeting Roma and other minorities.
As Amnesty International reported, despite the fact that legislation exists in Bulgaria to prosecute hate crimes linked to racism and xenophobia, the authorities consistently fail to identify and adequately investigate them. And such inaction is not without consequence: "Bulgaria's long-standing failure to adequately investigate and prosecute hate crimes fuels fear, discrimination and ultimately encourages further acts of violence." Prime Minister Borissov's description of Bulgaria as "one of the most tolerant countries in the world" is at best delusional; or as some might say, downright mendacious.