Bitter fruits in bad times: 2016 through a Roma rights lens (Part 2)
This is the second part of the review of what was a truly toxic 2016. In terms of strategic litigation, it was a busy year for the ERRC with nearly a hundred cases concerning 16 countries pending before domestic and international bodies.
If there were an award for outrageous scapegoating of Roma in 2016, it would go to Leonid Bershidsky at Bloomberg who blamed the Roma for turning Eastern Europe against refugees. So, you see it wasn't the relentless anti-refugee billboard campaigns and advertising propaganda on Hungarian state-controlled TV; it had nothing to do with Viktor Orban's anti-Muslim fear mongering and fence building. No, this wave of xenophobia was all down to the Roma. The explanation for Eastern Europe's recalcitrance on the refugee issue was the experiences with, and fear of that "hard to assimilate minority". After all, Bershidsky went on, "various branches of Roma have preserved their distinct languages and cultures; they dress differently and mostly interact within their communities. They are the Other." I can only recommend Andrzej Mirga's elegant rebuttal of this arrant nonsense published on Aljazeera.com.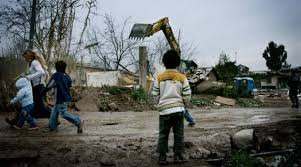 Photo credit: Amnesty International
Evicted from a toxic dump to an abandoned factory: The month of June closed with protests from the ERRC, Amnesty and partners in Italy calling for sustainable accommodation solutions following an eviction on 21 June by the local authorities in Giugliano of around 75 Romani families from the toxic Masseria del Pozzo camp and their transfer to an abandoned factory where living conditions were described as inhumane.
Roma evictions: Europe's silent scandal: On 1 July Nils Muižnieks, Council of Europe Commissioner for Human Rights and Michael Georg Link, Director of OSCE ODIHR wrote: "Forced evictions without the provision of adequate housing alternatives continue unabated, severing Roma's ties with localities, thus feeding marginalisation and exclusion." This coincided with a call from the Operational Platform for Roma Equality (OPRE) to all relevant authorities to desist from forced evictions and comply with international standards.
The European Commission puts human rights first: On 7 July, the Commission issued its 2016 communication on the EU Roma Framework reported that in the last year it has "stepped up action" to fight discrimination, segregation and anti-Gypsyism, hate speech and hate crime. The communication highlighted the failures of Member States to address the most important housing challenges, namely fighting segregation and preventing forced evictions, and stated that it will continue to take action to ensure the Racial Equality Directive is properly transposed and enforced.
Justice of a kind for Mitko: On 11 July, the District Court of Pazardzhik found Angel Kaleev guilty of using ethnically motivated violence against a person and of inflicting minor bodily harm with xenophobic and 'hooligan' motives. During the pre-trial proceedings, the Bulgarian Helsinki Committee (BHC) requested the court physician and the investigating officer be removed from the case for their use of the racially pejorative term mango. The court physician after examining Mitko had stated in the presence of a BHC lawyer: "Between me and you – the mango is fine, mango is okay. He was kicked just a little."
Dosta! Basta Italia! Yet another official rebuke for Roma rights abuses: On 12 July, the Advisory Committee on the Framework Convention for the Protection of National Minorities expressed concern at the noticeable increase of xenophobia and anti-Gypsyism, and the widespread and commonplace use of discriminatory, intolerant, and racist language in political discourse and media outlets in Italy.
Shocking video spotlight on English soccer fans racist behavior: Further video evidence uncovered by Channel 4 news, prompted the ERRC and the FARE Network on 29 July to repeat their for strong action to be taken against England football fans over their racist and threatening behavior towards Romani children in Nice and Lille. The evidence included footage of one England supporter in Lille offering Romani children €5 to perform oral sex on him or drink his urine before telling them to "Fuck off you Romanian bastards". England fans in Nice were filmed calling Roma the "Pakis of Europe", chanting that they "all hate Pakis" and "we will gas you all." These racist acts have gone unpunished, and to date we are unaware of any action taken by the English FA.
21st Century pogrom in Ukraine: Following an atrocious murder of a nine-year-old girl and the arrest of a Romani man for the crime, on 27 August an angry mob descended upon the Roma settlement in Loshchynivka, Odessa Oblast in Ukraine, and in the presence of the police, destroyed houses and property and forced the inhabitants to flee. Odessa governor Mikheil Saakashvili said he shared the locals' outrage.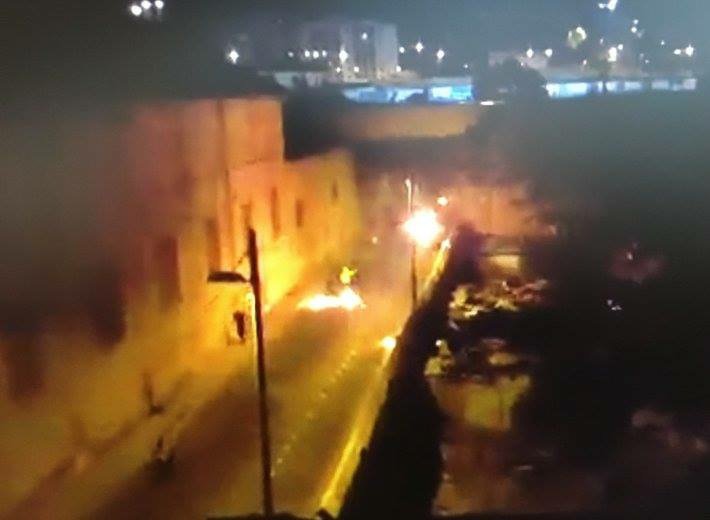 Arson attack on Roma settlement in Marseille
Anti-Gypsyism in France: the shame of the Republic: Following threats ordering Roma to leave a settlement in Marseille, an arson attack on 16 August with Molotov cocktails and an improvised explosive device left seven people hospitalized. The ERRC published an article on 2 September, detailing the recent spike in hate crimes, violence and intimidation by state and non-state actors against Roma in France, which prompted a complaint from the French government that we were 'partial'. When it comes to human rights we remain partial for we side with the victims: and the author stands by his assertion that "For significant elements of both left and right, it seems that prejudice against visible minorities, though not a founding principle, has certainly become a guiding principle of the Republic."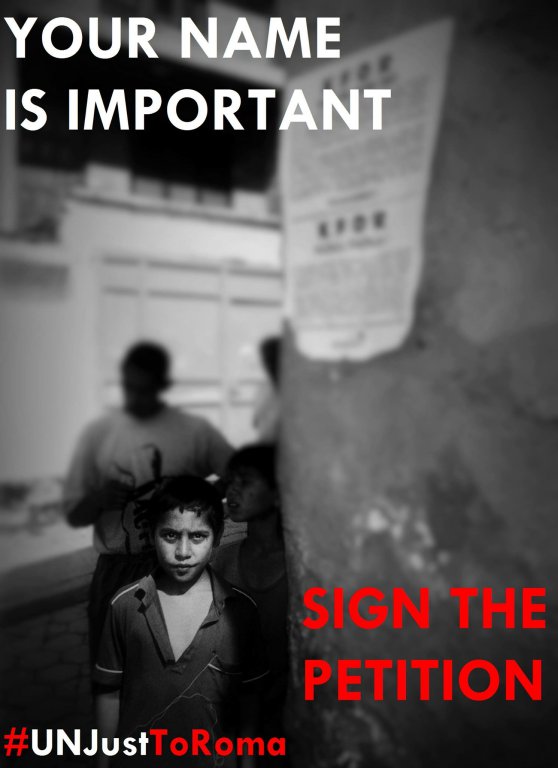 UNMIK and lead-poisoned Roma IDP camps: suffering contaminated by racial prejudice: On 7 September, the ERRC launched an #UNJustToRoma campaign and gathered over ten thousand signatures in the months following the publication of a report by the Human Rights Advisory Panel which called on the United Nations Interim Administration Mission in Kosovo (UNMIK) to publicly acknowledge its abject failure to comply with applicable human rights standards and apologise to Roma, Askali and Egyptian IDPs placed in lead contaminated camps, and to compensate victims for material and moral damage. The suggestion by UNMIK that the health crisis in the camps was generated by the "unhealthy" life-style of the RAE IDPs was deemed to be "tainted by racial prejudice" and contradicted by scientific evidence.
Court rejects Hungarian government appeal on race hate case: On 12 September the Grand Chamber of the European Court of Human Rights threw out a request by the Hungarian Government to review the case of R.B. v. Hungary, in which a Romani woman was threatened by extremist paramilitaries. The court earlier found a violation of Article 8; this was one of three cases where ERRC made third-party interventions concerning allegations of hate crimes against Roma and the failure of the Hungarian authorities to deal with them properly. In this case, in Gyöngyöspata, four men belonging to far-right groups threatened the applicant and her daughter in their garden, swinging an axe at them yelling "Go inside, you damned dirty gypsies!" and threatening to build a house 'out of their blood."
Italy evicts more than 300 Roma in one month: Despite international criticism, and calls from the Council of Europe to halt all forced evictions of Roma, ERRC monitoring revealed on 20 September that in the final summer month of August, the Italian authorities evicted more than 300 Roma in a series of actions across the country.
RIP Valery Novoselsky (1970-2016): On the 23 September we received the sad news of the death of our dear friend Valery who was known to so many around the world as the editor of the Roma Virtual Network. Sadly missed.
Hungary slated for 'benevolent segregation' of Roma pupils: A report issued by the Council of Europe on 23 September called for an end "as a matter of urgency and without further delay" to practices that lead to the continued segregation of Roma children at school; and expressed deep consternation about the reintroduction of "benevolent segregation" by exempting religious-run schools from anti-discrimination provisions in law. Citing ERRC submissions, the Committee considered that all evidence points to the conclusion that "catch-up" classes and schools are in fact segregated classes and schools where nobody ever catches up.
European Court takes action against Macedonia for forced eviction: The European Court of Human Rights sent urgent notification to the Macedonian government on 5 October to respond to an application by 53 Roma who with the help of ERRC challenging an illegal forced eviction.
ERRC and Minority Rights Group call European Court decision on Russian eviction a 'missed opportunity': The ECHR found that the Russian authorities had acted illegally in 2006, when they demolished and burned down 43 family homes belonging to Roma whilst neighbouring homes owned by Russians were left standing in the village of Dorozhnoye. ERRC and MRG had submitted third party interventions, and in a statement issued on 11 October expressed disappointment that the court failed to find the actions of the Russian authorities discriminatory, or in violation of the Roma community's right to property.
RIP Jack Greenberg (1925-2016): Jack Greenberg who passed away on 12 October, was famed in the US as the "Civil Rights Icon Who Argued Brown v. Board Of Education." He was also strongly committed to Roma rights, and for more than a decade campaigned to end school segregation of Romani children in Central and Eastern Europe. He remains an inspiration to the many Roma rights activists he encountered.
Electricity supply in Serbia: collective meters, collective punishment: Representatives from the ERRC and the Office of the UN High Commissioner for Human Rights visited Romani homes in Crvena Zvezda, Nis on 14 October, to investigate why the electricity was cut off back in August without notice from 100 Romani homes. For Roma, electricity is paid via collective meters for the entire Romani community, whilst non-Roma have individual household meters.
No Arrests After Romani Man Beaten to Death in Czech Republic: Community leaders called for calm in advance of planned vigils and rallies to protest at the killing of a 27-year-old Romani man in a pizzeria in the Czech town of Žatec on 18 November. The man who was acting strangely was set upon and severely beaten by at least four men. When police arrived, the assault continued. According to one eyewitness: "The cops already had him on the ground, the other guys began stomping on him… kicking him. Curses like 'black fucker' were being shouted." A police statement later said no one had yet been detained for questioning and no charges had been pressed against any of the attackers. The autopsy found that the death of the Romani man was not caused by any third party intervention of the assailants or police officers.
France: recognition of wartime internment of Roma just a first step: "The admission on the 31 October by President Hollande of France's shameful collaboration in the suffering of Travelling people interned during the Second World War, however belated, is welcome. The best tribute to the survivors of the Romani holocaust would be for the Republic to get serious about combatting anti-Gypsyism in today's 21st Century France." (Radost Zaharieva, ERRC monitor in France)
Italian human rights activist attacked: On the night of 4 November in Milan, Paolo Cagna Ninchi was physically attacked and verbally abused by an unknown assailant on his way home. The motive behind the attack was "because his wife is the Gypsy that goes on TV" (è la zingara che va in televisione).
CEDAW steps up on Macedonian evictions: The UN Committee on the Elimination of Discrimination Against Women (CEDAW) told the Macedonian government on 8 November to provide emergency housing and reproductive care for two pregnant Romani women made homeless due to forced evictions in August from the Poligon settlement in Skopje. The committee responded to a request made by the ERRC on behalf of the women.
Another UN verdict on Roma exclusion in Slovakia: The UN Human Rights Committee once again called on Slovakia, on 22 November, to address anti-Roma discrimination; to acknowledge its responsibility for past practices of forced sterilisation of Romani women; to eradicate widespread de facto practices of school segregation; to ensure that evictions from public land "are a means of last resort"; and hold local authorities to account for segregationist policies and behaviour.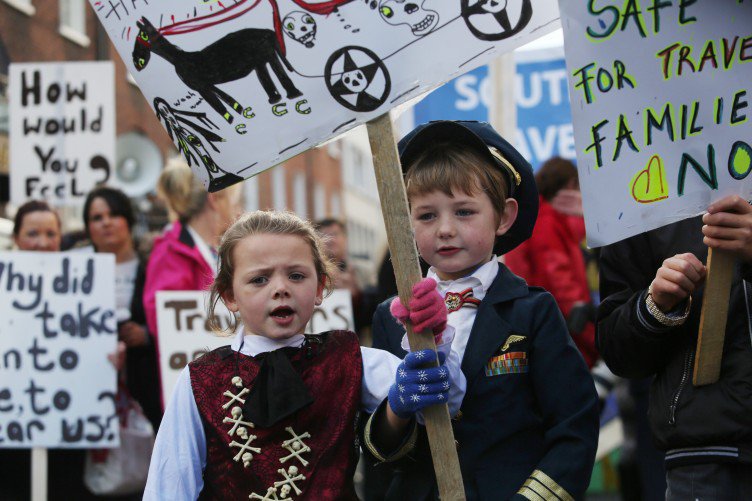 Photo credit: Sam Boal/Rolling News i.e.
Irish Government finally moves on ethnic recognition of Travellers: In a long overdue vindication of more than 30 years campaigning by Traveller activists, on 23 November, the Irish Taoiseach Enda Kenny stated that he supported recognition of Traveller ethnicity and that the Government will move on this in January. Council of Europe Commissioner Muižnieks described recognition as having the potential to mark a new departure, but he was emphatic that much more needs to be done to ensure the "basic human rights and the dignity of members of the Traveller community."
Mid-winter eviction puts hundreds of Roma on the streets in Paris: More than 600 Roma including 150 children were evicted on 8 December in Pierefitte, Paris without any provision of alternative accommodation. From evidence gathered by ERRC and the Ligue des Droits de l'Homme, a total of 2,546 people were evicted by the authorities from 21 living areas in the third quarter of 2016.
Fico says "Enough with tolerance": Slovak PM Róbert Fico, on 12 December, called for an end to political correctness, declared that his government will "put things in order" in Romani settlements, and that that he was prepared to go into conflict with the Ombudswoman over this issue. "Enough with tolerance," Fico said.
Czech court sentences Romani man to prison for "racist abuse": The District Court in Louny sentenced 41-year-old Miroslav Fedák to eight months in prison for defamation of a nation and race. The court found that during a commemoration of the young Romani man who died in a pizzeria in October, Fedák, a cousin of the deceased, had shouted vulgar expressions with the adjective "Czech" attached to them. The linguist Viktor Elšík called for people to record, transcribe, and file criminal reports of every racist insult against Romani people, "Otherwise in our country, only those who are the greatest victims of racism will do prison time for it!"