Britain First fascists stir up anti-Roma hate in Ballymena
01 November 2018
The far-right group Britain First insisted it will go ahead with its anti-Roma rally on Saturday 3 November in the Northern Irish town of Ballymena, despite the arrest of its leader Paul Golding. Posters advertising the protest claim Britain First is "leading the campaign against this huge wave of immigration" and is "demanding an immediate halt" in Ballymena. Meanwhile Golding has been charged with three counts of publishing written material intended to stir up hatred and one count of using threatening, abusive, insulting words or behaviour.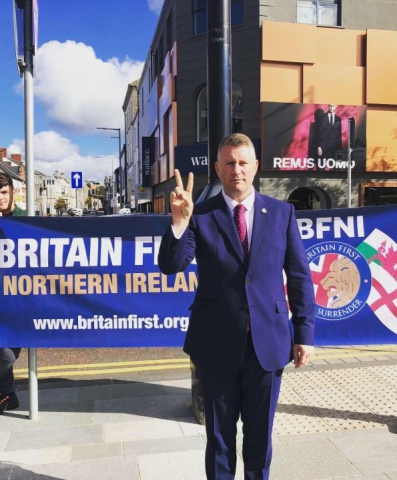 Small town 'flooded with Romanian gypsies'
For over a month Britain First has been fomenting antigypsyism, and raising tensions with false allegations about an influx of foreign Roma committing crimes and scamming the welfare system. In early October, a video surfaced entitled "Small town in Northern Ireland flooded with Romanian gypsies." It featured Britain First members confronting Roma from Bulgaria and Romania in the streets of Ballymena, asking if they had a job, or got a house or money from the government. Later in the video, Golding and friends harangue the DUP politician Paul Frew in his office. Frew condemned Britain First for its intimidatory tactics and for "trying to raise the temperature" around the issue of immigration, and that he had earlier warned of "sinister elements looking in on Ballymena waiting their chance."
Frew produced figures from the Housing Executive, which showed that of the 2,410 persons registered on the Waiting List, 5.07% are Persons from Abroad. "Of the properties allocated in the preceding 12 months, 2.5% were allocated to Persons from Abroad." He stressed the importance of getting these facts out so that local people concerned with the levels of immigration "can know the truth and challenge the false narratives being peddled by people who have no intention of working in the best interest for Ballymena."
Britain First and 'concerned residents'
While Britain First is better known for being re-tweeted by Donald Trump, crusading against Islam, driving around in armoured vehicles invading mosques and halal shops on 'the mainland', this is not their first foray into Northern Ireland. Last December, Golding and deputy leader of Britain First Jayda Fransen were charged by a court in Belfast with "using threatening, abusive, insulting words or behavior" following speeches at a Northern Ireland Against Terrorism rally in Belfast on 6 August 2017.
Britain First, back in Ballymena stirring up racial tension, has set Roma rather than Muslims in its sights this time round. A Facebook group called "Concerned Residents of Ballymena" has featured angry comments alongside pictures and videos of Roma people arriving in the town by bus or queuing up outside a recruitment centre. Members of Britain First were among 400 people who attended a public meeting, opposing further immigration and raising "genuine concerns" about rising crime, access to jobs, housing, education and health care.
The framing is all to familiar – 'ordinary people with genuine concerns' insist they are not racist and, as proof, declare that they have welcomed other foreign nationals "who have blended in"; but according to Rodney from the police and community partnership, "In some areas of Ballymena the Roma people gather in large groups and it can be intimidating for people and in some places people from the town feel that they are in the minority."
So regardless of the facts of the matter, it seems to be more important to understand the 'genuine concerns' and the feelings of 'ordinary people'. The reason Roma have been coming to Ballymena in groups is to apply for jobs, not benefits. Many of Ballymena's food processors are still struggling to fill vacancies, and an abundance of some jobs has made the area attractive to people looking for work.
As for the allegations concerning crime, the Police Service for Northern Ireland emphasized that reports about immigration and crime are "clearly not true", and insisted that there is no direct link between a recent rise in crime and an increase in Roma people. In fact the only person arrested in connection with public order offences is Paul Golding, who "remains in policy custody."
'Our culture and way of living'
But none of that deterred wee Rodney from insisting that "We need to educate people who are coming to live here about our culture and way of living." This was a bit rich, coming the same week that a group of local people in Ku Klux Klan robes and hoods were pictured 'gathering in a group' outside an Islamic Centre in small town Northern Ireland.
Ballymena, known in the past as a crucible of protestant fundamentalism, sectarianism and loyalist paramilitarism, has had a troubled history with its 'culture and way of living'. This produced some lighter moments: in the 1990s the DUP town council banned a performance by the Electric Light Orchestra, saying they would attract "the four Ds Drink, Drugs, Devil and Debauchery"; and in 2005 the council banned the screening of Brokeback Mountain – Ballymena being after all the hometown of the late Reverend Ian Paisley who campaigned long and loud to "Save Ulster from Sodomy".
On a much darker note, the Ballymena 'way of living and culture' back in 2006 was such that, days after 15-year-old Michael McIlveen was kicked and stamped to death by a loyalist gang in a sectarian attack, loyalist politicians could equivocate and worse. DUP council leader Roy Gillespie could see no reason to desist from declaring, "As a Catholic Michael McIlveen won't get into heaven unless he's been saved. If he did not repent before he died he will not get into heaven. Catholics are not acceptable in heaven."
Much has changed in Ballymena since those dark times. For instance, much less reported was the launch of the No Hate Here campaign rolled out in Ballymena in September; where representatives of Agencies Supporting Ethnic Communities vowed to ensure that "members of the Roma community become full, active, and equal citizens", and to work together against hate crime.
The reaction of the local authorities, voluntary agencies, and the police to the provocations from Britain First is evidence of a broad-based resolve to defuse tensions. And it is to be hoped that the majority of Ballymena townsfolk will use their common sense to turn their backs on Golding and his mob of fascist interlopers; and that they will make the intelligent choice not to scapegoat their fellow-EU citizens of Romani origin, whose only misdeed seems to be applying for jobs where vacancies exist.