Bulgarian Journalist's Murder Sparks Mob Violence Against Roma (and the Far-Right Suddenly Care About Women)
13 October 2018
It has been one week since 30-year-old journalist, Viktoria Marinova, was found raped and murdered in a park on the banks of the Danube River in the bordertown of Ruse. The country is still reeling from the third murder of a journalist in the EU this year, and many are calling for justice and the need to protect women's rights. The Interior Minister Mladen Marinov was quick to announce that the murder had nothing to do with her work investigating government corruption involving EU funds. "It is about rape and murder" he said.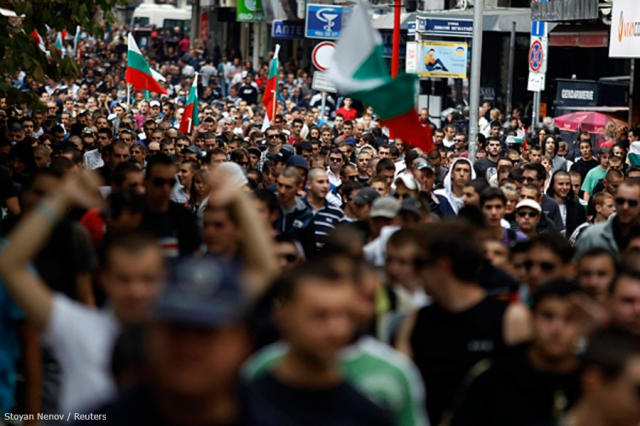 Except it's not that simple, because the man arrested for her murder is Roma.
Severin Krasimirov, a Romani man from Ruse, was picked up by police in Germany after a European arrest warrant was issued. He will now be extradited to Bulgaria to face trial after clothing with her blood on it was found at his aunt's house and he admitted to attacking her after an argument in the park.
Anyone who remembers the race riots of last summer knows how dangerous it can be when the crimes (or even accusations of crimes) of a Romani individual are used by the far-right to foment ethnic hatred amongst the majority population. Already, numerous media outlets and politicians—including MP Volen Siderov and MEP Angel Djambazski—have drawn attention to the ethnicity of the attacker and Romani communities across the country are bracing for the backlash which is sure to follow.
For the Roma in Ruse, Krasimirov's hometown, the mob revenge has already begun with a gang of over 20 men on motorcycles entering the Roma majority area and attacking people at random. Families from the neighbourhood fearing ethnically motivated violence, have kept their children home from school and asked local police to remain in the area to protect them.
Iliyan, a local Romani man, addressed "all of Bulgaria" in an interview, urging people not to hold the all Roma guilty for this incident. "I know what's going to happen" he said. "There are going to be protests, but we are not at fault. If he has committed this crime, he should receive the required punishment for it."
If the government's response to anti-Roma protests last year is anything to go by, Roma throughout the country cannot expect much in the way of condemnation from politicians. On 29 June 2017, Valeri Simeonov (the head of the the Bulgarian Council on Ethnic Minority Integration) publicly stated he was on the side of anti-Roma protesters in Assenovgrad.
Since Marinova's murder, a number of Bulgarian politicians firing up racial tensions are also making statements lamenting this tragedy against women, and professing their support for women's rights in Bulgaria. But their hijacking of women's rights and Marinova's death to push a racist agenda is not only sick, it is deeply hypocritical. Politicians such as Volen Siderov, who are now declaring solidarity with women's rights, were at the forefront of the campaign which blocked Bulgaria ratifying the Istanbul Convention on preventing and combating violence against women. Rather than focus on the epidemic of violence against women which is taking place in Bulgaria, the far-right are whipping up hatred against Roma for cheap political gain.
In 2017, Bulgaria came last out of all EU states in a study on violence against women by the European Institute for Gender Equality. According to the Bulgarian Helsinki Committee (BHC), Marinova was the 19th woman to be murdered in Bulgaria this year. Last year there were 29 murdered women. That's an average of one every two weeks. The perpetrators are almost exclusively men, and over 90% of the women knew their killer personally. More damning still, is the fact that many of the victims had attempted to seek protection from state institutions prior to being murdered.
Marinova's murder is being twisted into a narrative of inter-ethnic conflict, rather than exposing the callous disregard for female life in Bulgaria. As the far-right media and politicians spew out their condemnations on 'gypsy criminality', and Roma's refusal to integrate in the coming weeks, the mobs will be gathering to deliver their supposed justice on Romani women and men throughout the country. The tragic death of Viktoria Marinova is not an ethnic issue but a sharp reminder of how truly dangerous a place Bulgaria is for women, with a government who are disinterested in protecting their safety and basic human rights.
Image: several thousand Bulgarian nationalists march through downtown Sofia in 2011 in an anti-Roma protest.