Canada grants former MEP Viktória Mohácsi political asylum
15 May 2018
Six years on, the Canadian authorities have granted Viktória Mohácsi political asylum. The Roma rights activist, former Member of the European Parliament and ex-ERRC staffer, requested asylum back in 2012.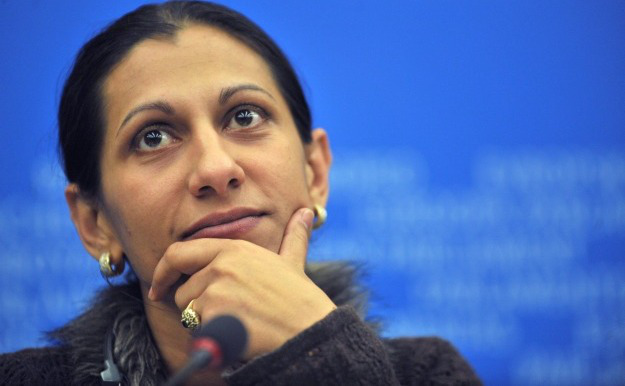 In 2002, Viktória was appointed by Bálint Magyar, then Hungarian Minister of Education, as Commissioner for the Integration of Roma and Disadvantaged Children. Between 2004 and 2009, Viktória represented Hungary in the ALDE group in European Parliament as a member of the now defunct Alliance of Free Democrats.
But, it was her work back in Hungary, documenting the lethal surge of neo-Nazi hate crimes against Roma that led to constant death threats against Viktória and her young family. Her Movement for Desegregation Foundation also exposed the racist neglect and incompetence of Hungarian law enforcement that allowed the killers to roam free for longer and kill and maim more Romani men, women and children.
When the serial killings started in 2008, Viktória travelled to each of the crime scenes, collecting information and pressing the police to investigate. When she came to Tatárszentgyôrgy following the murder of Robi Csorba and his five-year-old son Robika, gunned down by neo-Nazis as they fled their fire-bombed house, she confronted the police who claimed that the victims died as a result of an accident.
As Mirjam Donath reported for Reuters, an internal police investigation confirmed that the crime scene was not properly secured for hours. When Vica found out the police had reported that the victims died of smoke inhalation she called the head of "cold cases" at the National Investigation Bureau directly. He recalled "When I examined the photographs I saw right away that she was right (that they were shot)," and added that Mohácsi's help in cracking the case was "indisputable." Two police officers from the unit involved were later disciplined internally.
After this, Viktória started receiving threatening emails calling her a "stinking lousy gypsy" and "dirty animal" who was "soon going to die together with the rest of your race." In 2009 she requested police protection due to the gravity of the death threats.
A published report from Parliament's National Security Committee concluded that the secret service had been following the attackers and had extensive information on them years before they went on to commit the serial killings. The head of the committee that commissioned the report, Jozsef Gulyas admitted that the blunders by the secret services amounted to more than simple negligence, but dismissively told Reuters that while "it's not easy for a Roma living in Hungary … claims that her life is at risk is a poetic exaggeration."
There was nothing poetic about the climate of fear among Hungary's Roma as a result of unchecked intimidation from extremist paramilitary groups associated with the far-right Jobbik party. Even after the killers were caught, the neo-fascists felt emboldened by state inaction, and ramped up the hate speech, death threats, and felt free to organize uniformed mobs to lay siege to Roma neighbourhoods. In 2012, Viktória received the Human Rights First annual award in New York for her courageous work, and soon after sought political asylum in Canada.

As Romnet reported, Viktória application was first rejected by the authorities in December 2016, and on April 10 last year, the first hearing on repatriation took place. She appealed the decision, and this final ruling confirms that Viktória's fears that she would be in danger of violence from hate groups and political harassment by authorities in the self-proclaimed illiberal democracy of Hungary are entirely reasonable. We wish her every happiness, security and safety in her new life in Canada.