Carry on regardless: Italy's Roma eviction toll tops 300 in August
20 September 2016
By Bernard Rorke and Rosi Mangiacavallo
Despite international criticism, and calls from the Council of Europe to halt all forced evictions of Roma, Italy just carries on regardless. ERRC monitoring revealed that in the final summer month of August, the Italian authorities evicted more than 300 Roma in a series of actions across the country.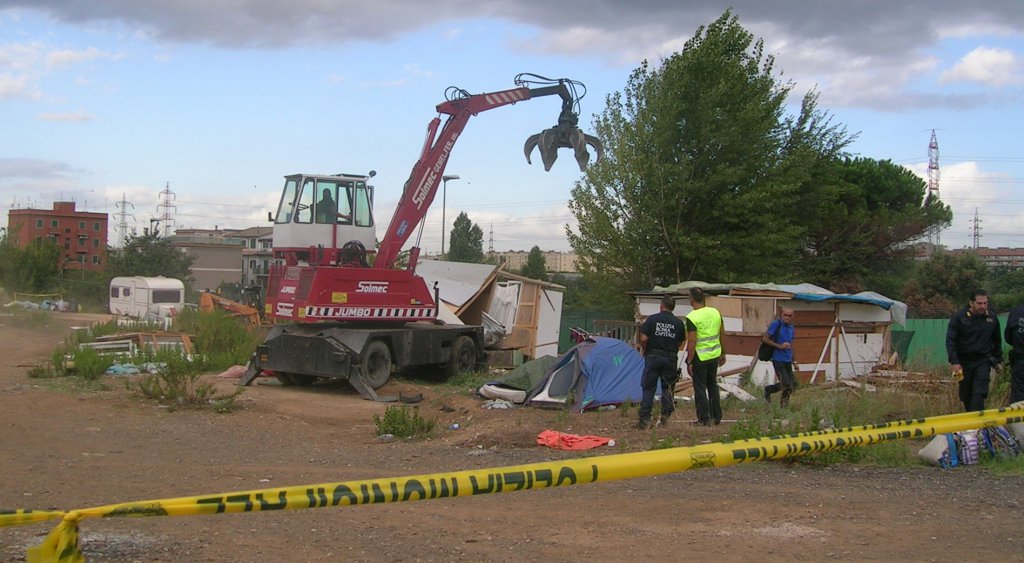 1 August: In Manduria (Taranto) 20 families were evicted from an informal camp (the exact number of individuals could not be estimated). There was no eviction order, no notice of eviction served, and no alternative accommodation offered.
7 August: 26 families (number of individuals could not be established) evicted from informal site after a few days in Villapiana (Cosenza). They received no advance notice, on the day of the eviction they were served with fines and removal orders. Municipal representative quoted as saying: "The abusive Roma camp was a serious danger from a hygienic point of view. In fact, as soon as possible, the area will be cleaned and made usable again for the rightful enjoyment of citizens and tourists."
9 August: In Viareggio, an eviction was carried out on a camp located in via Cimarosa. Roma, supported by local NGOs filed an unsuccessful complaint before the Administrative Court against the eviction order which was issued on 21 June. Roma appealed also in front of Council of State. The hearing would be on 8 September. A local politician, Alessandro Santini, stated "Now that the Roma camp in Via Cimarosa has been evicted it is important to clean up the area and continue monitoring with extreme care to avoid the area being illegally occupied again."
10 August: Media reports on continuing evictions of 350 'nomads' in July and August from informal camps in Milan. Generally those evicted are offered some form of emergency accommodation, or move on to other informal camps. Carmela Rozza, new town councilor for Security stated " It is a serious effort to maintain control the territory, especially in the suburbs, to protect the citizens, and support law enforcement in their work on home burglaries. More than 340 people were evicted, so we are talking about dozens of actions."
24 August: 12 Roma evicted from informal camp in Taranto. On the same day two Roma informal camps in Versilia cleared and an unspecificed number of Roma evicted on sanitary and safety grounds.
25 August: In Cinisello Balsamo, local police and carabinieri cleared an informal camp that had been home to about 200 Romanian Roma for about two years. About 100 shacks were demolished in what one source referred to as the "summer of evictions in Cinisello Balsamo".
25 August: In Florence some 20 Roma, including ten minors were evicted from a building they were squatting. Emergency shelter was offered following the eviction which is the twenty-second eviction since the new mayor was elected in May 2014.
26 August: Eight Roma, including some minors, evicted from Civitanova Marche.
This brief chronicle of misery in the lives of deeply marginalised and impoverished Roma families across Italy, eking an existence on the margins and out of sight, is part of a wider coercive and discriminatory policy approach. An approach that runs completely counter to Italy's international obligations and commitments under the EU Framework for Roma Integration. As we have stressed before these punitive actions create circular patterns: Roma living in irregular settlements are evicted, left without shelter or put into emergency camps for a certain period of time, then cast out onto the street and forced to build squats on irregular sites until being evicted yet again.
Earlier this year, Nils Muižnieks, Council of Europe Commissioner for Human Rights stated that "forced evictions without due process and provision of adequate alternative housing continue unabated across Europe, in violation of member states' international human rights obligations." In a letter to the Italian premier he warned that "evictions without due process, which lead to homelessness, are a violation of Italy's international obligations. He called on the authorities to halt forced evictions, end homelessness, close Roma-only camps and segregated emergency facilities "by offering genuinely integrated ordinary housing alternatives to the families concerned."
Evidence gathered by the ERRC, its partner organisations and Amnesty International confirm that this call went unheeded, evictions continue unabated, and actions taken by local authorities constitute a clear breach of the Racial Equality Directive.
In a call for action at European level, the ERRC president Ðorđe Jovanović stated, "The Italian government continues to ignore international criticism for actions that are blatantly discriminatory and inflict great hardship upon Roma. It remains determined to persist with policies inherited from Berlusconi's so-called Nomad Emergency. Our evidence suggests that the segregated camps and squalid Roma-only emergency shelters constitute a clear breach of the Racial Equality Directive. We at the ERRC repeat our call on the European Commission to initiate infringement proceedings against Italy."