Childbirth in Macedonia: Racist abuse, slapped faces and slashed budgets
30 June 2016
Shocking testimony of brutal treatment by medical staff of a Romani woman in childbirth in Macedonia surfaced at the same time as news that provision for Roma has been slashed from the Ministry of Health's 2016 Programme for Health Protection of Mothers and Children.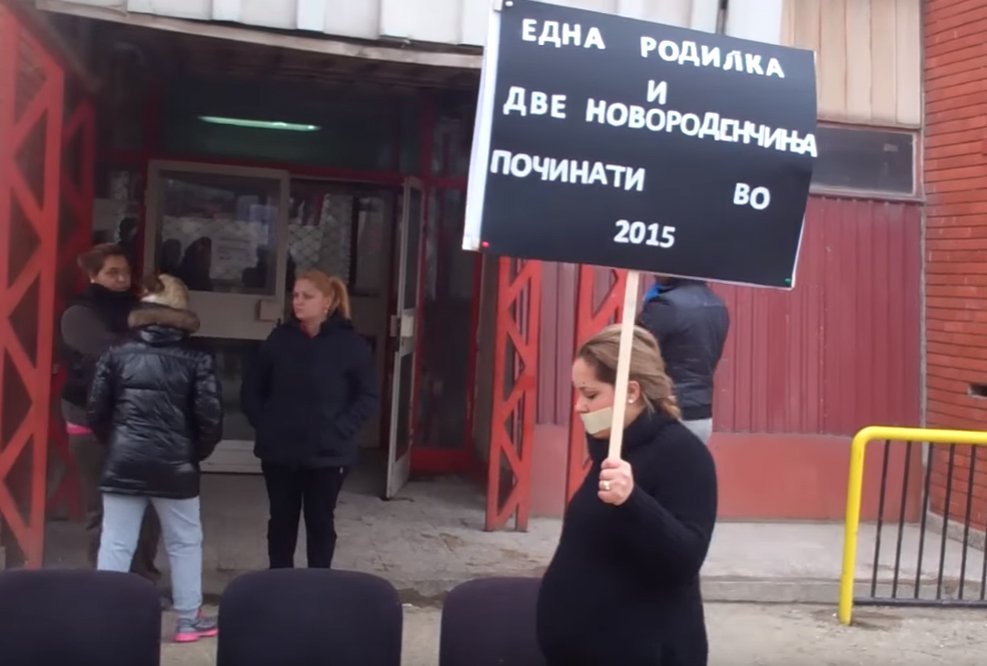 The searing testimony of one woman's trauma, released by the Initiative of Women from Suto Orizari, reveals a depth of racist abuse that beggars belief, and a complete abrogation of medical staff's obligation to ensure the wellbeing of both baby and mother. The mother S.A. was overdue and steps taken to induce the birth left her in such acute pain that she could not refrain from crying out. After hours of excruciating agony, one nurse told her "my shift is ending, so I will leave you to it. You have already given birth to four children, so do not make scenes, stop screaming!" Then she left.
S.A. described what happened next: After she finished her coffee and cigarette, the first nurse (I could see her across the room through the glass) came and said: "Why are you screaming so loud? Shame on you, and you knew how to make five babies, you Gypsies are good only for that!" … Once the second nurse arrived, the childbirth started. I had no strength and was feeling dizzy. Both nurses continued to insult me and scorned me for having screamed. Suddenly, one of them slapped me across the face. I asked: 'Why do you hit me?' Instead of responding, the second nurse slapped me again saying: "because you squeal like a stuck pig. At that moment another person entered, most probably he was a medical assistant, and pressed my abdomen hard, so the baby came out."
S.A. described how the child was immediately taken away without her seeing it. When she returned to her room several hours later, she claimed the nurses sneered at her commenting "that my shouting was unbecoming for a woman giving birth to her fifth child." When she asked about her new born she was simply told: "The baby is doing fine. It has jaundice and is attached to machines." She stayed in the hospital for five days, and for that period her relatives were not allowed to visit. About her ordeal S.A. said, "I am still shaken from what I have gone through – being slapped, humiliated and inhumanely treated by nurses at the Clinic. I wonder whether this happened because, for them, I am a 'Gypsy' or all women are delivered like that."
Hot on the heels of this testimony of shocking abuse came the news that provision for Roma has been completely slashed from the 2016 Ministry of Health Programme for Health Protection of Mothers and Children. Representatives of the NGO ESE condemned these cuts especially in light of the fact that the mortality rate among Roma newborns is 25% higher than the national average. They claimed that funds targeting Roma children and marginalized groups are the subject of frequent budget cuts and funds get reallocated for capital investments, reconstruction and refurbishment of hospitals. Further severe cuts are anticipated in immunisation programmes and medical checks for school pupils. Health spending in Macedonia is already far behind that of neighbouring countries.
The Decade of Roma Inclusion monitoring report on Macedonia published in 2013 found that awareness of patient rights is low among both patients (including but not limited to Roma), and healthcare service providers: "In this respect, the recommendation of the 2004 Strategy for Roma in the Republic of Macedonia that healthcare workers receive training on appropriate communication 'respecting [the patient's] dignity, personality and confidentiality' appears to be, at best, in the early stages of implementation." In the context of current cutbacks on provision for Roma mothers and children, and on the evidence of S.A.'s harrowing testimony, the day when a Romani woman patient's "dignity and personality" is accorded due respect seems even more remote.