Council of Europe raps Ireland for continued violations of Travellers' rights
01 February 2019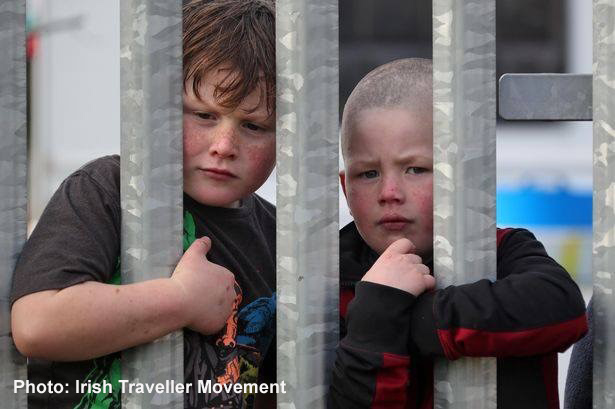 On January 24, the European Committee of Social Rights (ECSR) found that Ireland had failed to redress violations and still has a case to answer with regards to the quality of Traveller accommodation and the lack of safeguards concerning evictions. The verdict was that "the situation has not been brought into conformity with Article 16 of the European Social Charter."
On 5 October 2016, the Council of Europe's Committee of Ministers on ERRC vs. Ireland confirmed the Irish Government's violations of Article 16 on five grounds covering insufficient provision of accommodation for Travellers, inadequate conditions of many Traveller sites; and inadequate safeguards in legislation and practice for Travellers faced with eviction.
In November 2016, Nils Muižnieks, Council of Europe Commissioner for Human Rights, issued a report on his trip to Ireland, where he recalled the Carrickmines tragedy, the striking level of need and destitution he witnessed on halting sites, and identified one of the biggest obstacles as the failure of local authorities to spend money: "Local authorities should be held to account. It is clear providing money alone has not worked, that you need some kind of an enforcement mechanism." He drew attention to the government's violations of Article 16, and was emphatic that beyond recognition of Traveller ethnicity much more needed to be done to ensure the "basic human rights and the dignity of members of the Traveller community."
Carrickmines inquest
The ECSR's latest update coincided with the conclusion of the inquest last week into the deaths of ten victims of the dreadful fire on a halting site in Carrickmines in South Dublin on 10 October 2015. The likely source of the fire was identified as a chip-pan left on an electric ring; the jury returned a verdict of death by misadventure. But this was no 'misadventure' - five adults and five children perished in the inferno because this "emergency temporary halting site" was exempt from health and safety regulations.
As a recent Irish Times editorial noted, this 'temporary' site was established back in 2008, and for seven years the Dun Laoghaire-Rathdown County Council charged the families rent, but made no provision for their safety. So this was willful and discriminatory neglect, not misadventure. As the editorial put it, "What council tenants, other than Travellers in "temporary sites", receive so little care from their landlords? And so little concern from politicians?" At the time of the tragedy, this Council was one of 15 that had not spent a cent of funding allocated for Traveller accommodation.
Willful and discriminatory neglect by local authorities
The neglect by local authorities one of the key features in the civil monitoring report by Pavee Point which revealed high levels of racism and prejudice, shocking rates of poverty and social exclusion, and exposed the National Traveller and Roma Integration Strategy (NTRIS) as plainly unfit for purpose.
The extent of local authority neglect was also made clear in a July 2018 report on living conditions, compiled by the Galway Traveller Movement as a "response to over 18 years of prevarication, failed targets and tokenistic interaction from local authorities." It found that many Travellers are living in "overcrowded, damp and mouldy accommodation with overflowing sewerage, insecure electricity, rat and fly infestations and no facilities for children … where local authorities carry out little or no maintenance despite the fact that Travellers pay rent for their homes."
Local authorities consistently fail to comply with their statutory responsibilities and meet their targets to provide adequate and culturally appropriate accommodation for Travellers. Worse still, government data revealed that local authorities failed to draw down almost €4 million of a €8.8 million government pot, designated for Traveller accommodation in 2017. Five of these local authorities left their entire allocation unclaimed, while 14 local authorities failed to spend even half of the available funds.
ECSR assessment of government follow-up
The Committee found that while some progress had been made, there is still a substantial deficiency in providing accommodation for Travellers. The comments provided by the Irish Human Rights and Equality Commission, demonstrated that a number of sites are in poor condition, lack maintenance and are badly located.
As far as eviction safeguards are concerned there has been no progress: "The legislation permitting evictions fails to provide for consultation with those to be affected, reasonable notice of and information on the eviction. Nor does all the legislation require the provision of alternative accommodation or adequate legal remedies. As regards legal remedies, there is no legal aid for those threatened with eviction."
The Committee found that "the situation has not been brought into conformity with Article 16 of the Charter", and requested information on the adoption and implementation of all the measures envisaged in order to remedy the situation by October 2019.
Remedy requires that institutional racism be called out, and racists who hold and abuse public office to deny Travellers their fundamental human rights and dignity be brought to book. Enforcement mechanisms are required to ensure local authorities meet their statutory obligations and use all available dedicated resources to provide Travellers with adequate and appropriate accommodation that fully conforms to health and safety regulations; for such willful and prejudiced neglect by those who govern exacts a terrible toll in human suffering.