European People's Party stays silent on the appointment of a racist to head Roma inclusion in Sofia
15 September 2017
Now is not the time for the EU to equivocate in the face of fascism. The appointment to high office in Bulgaria of thugs who openly espouse racist views should alert the EU that there is yet another rogue member state to be reckoned with. The EU needs to sit up and pay attention, not least because Bulgaria will assume the Presidency of the Council of the European Union from January to June 2018. What say the European People's Party?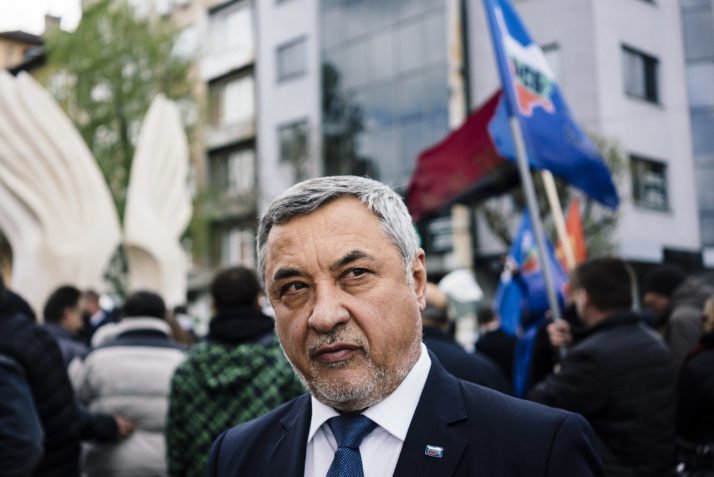 Joseph Daul, President of the centre-right European Peoples' Party (EPP), defended his Bulgarian MEPs over the appointment of a notorious racist to take charge of 'ethnic and integration issues.' In response to a letter from the ERRC calling for action against Sofia over Patriotic Front henchman, Valeri Simeonov becoming head of the National Council on Co-operation on Ethnic and Integration Issues, Daul stated:
"To my understanding, GERB has distanced itself from the statement Mr Simeonov made in 2015 which you quote in your letter, and has strongly criticized his imprudent and ill-advised actions; in addition, even though they are now partners in government, GERB continues to monitor closely the actions and comments of the United Patriots party."
To put it mildly, this is to miss the point. The idea that Europe should be reassured because GERB is 'monitoring the situation' is plainly absurd. For who is the senior party in this coalition of thugs? Who, if not GERB appointed known fascists and extremists to high office?
The EPP vouches for GERB's EU credentials, because GERB "strongly criticised" Simeonov for calling Roma "brazen, feral, human-like creatures" and worse back in 2015; and then in 2017, GERB appointed him to take charge of Roma inclusion. They also made him Deputy Prime Minister. Message to the EPP: this just doesn't add up – your position on this issue is incoherent.
This action, which prompted some 400 Bulgarian human rights activists and intellectuals to publicly denounce the appointment of a "pronounced supporter of fascist and neo-Nazi ideology," is but one harbinger of dark times. In another worrying development, Ilian Todorov from the far-right ATAKA party is now Sofia's regional governor.
The opposition party, Yes Bulgaria, described the appointments of Simeonov and Todorov as "another frank demonstration that the government is actually abandoning the European model of development of the country," and warned the ruling party GERB that its "toxic national-populism" can only divide society and heighten the "risk of stirring up ethnic enmity."
GERB's appointment of Simeonov is nothing short of a direct provocation and a calculated insult to Bulgaria's ethnic minorities, and a direct affront to European values.
The EPP purports to be committed to Europe as a "continent of values and human dignity" and its stated core values are "responsibility, respect, solidarity and justice". For this reason, the response from EPP President Dal is plainly unsatisfactory.
How can the governing party GERB, by appointing extremists to prominent positions of public responsibility, reconcile their actions with EPP's priorities to "achieve a common understanding between cultures and religions to ensure a peaceful coexistence of people in Europe"? Where do the GERB members of the European Parliament stand on EPP chairman Manfred Weber's stated belief that "extremism and populism must be eliminated in Europe."
Maybe recent events have left the EPP a little wary of further fractures. The party was badly bruised following the 17 May vote condemning the "serious deterioration" in the rule of law and fundamental rights in Hungary, with 107 of the group's MEPs voting against their sister party Fidesz, and only 92 supporting it. However, this stood as a clear demonstration that principles still matter and European values count for more than a few in the party. GERB's responsibility for recent developments in Bulgaria deserves closer scrutiny from those EPP members who oppose extremism in Europe, for this is not the time to equivocate in the face of fascism.
We repeat our call on Members of the European Parliament to take resolute action to demand Simeonov's prompt dismissal from the National Council on Co-operation on Ethnic and Integration Issues. The appointment of an avowed extremist to head the council for ethnic integration is an act of incitement that can only serve to polarise Bulgarian society.
We need a united stance from all EU parliamentarians who are committed to solidarity and justice. The situation of Roma in Bulgaria is worsening and public debate has become extreme with more frequent resort to racist hate speech against Roma, migrants and Muslims. The appointment to high office of thugs who openly espouse fascist views signals a deepening anti-democratic drift that can no longer go unchallenged.