Europe's own Trump goes un-muzzled again: Czech President Milos Zeman reckons Roma need a slapping in his latest racist outburst
27 September 2018
Czech president Milos Zeman has done it again – Romea.cz reported yesterday on the President's racist remarks about work-shy Roma and the merits of a good slapping.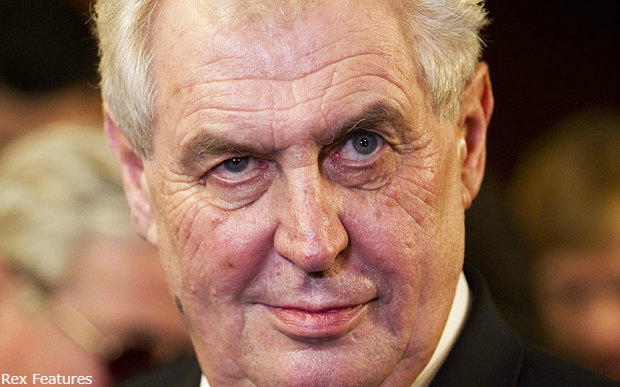 At a public meeting in Kojetin, the President declared that it was exactly clear who the 5% of unemployed are, before fondly reminiscing about the communist era when Romani people "had to work" and would be imprisoned if they did not: "Most of them worked as ditch-diggers, and if they refused to work, they were designated as work-shy and went to prison." Zeman went on to say that among the Romani work crews, if one guy didn't work "they slapped him around. It's a very humane method that worked most of the time."
The President is no stranger to controversy, and willfully courts indignation and outrage. He has referred to news reporters as "manure" and "hyenas." He has called Islam a "religion of death." In May 2015, while chatting with Vladimir Putin he suggested that that journalists should be killed. The New York Times reported that though the audio was fuzzy, Mr. Zeman was clearly heard talking of a "need to liquidate" the journalists. His spokesman dismissed the uproar that followed as a manufactured controversy saying: "Journalists never understand bon mots."
As Politico reported, Zeman once volunteered to remove a burkini from the body of a Muslim woman, and has claimed that the recent wave of migration was a plot by the Muslim Brotherhood to "gradually gain control" of Europe.
His racist scorn for Romani citizens of the Czech Republic is a matter of public record, and previously caused outrage when he alleged that 90% of the 'indaptables' in the Czech Rebublic are of Romani origin.
ECRI noted with concern in 2015 that the term "inadaptable" had entered official use to refer to vulnerable groups, in particular Roma, and describe this form of expression extremely dangerous; "by attempting to justify prejudice and intolerance against Roma, it perpetuates and increases them." When a president of a democratic republic speaks fondly of a time when Romani 'inadaptables' could get a good slapping, and call this humane, we have reached a new low. This statement is blatant hate speech, crude racist incitement and has no place in the European Union.