Hungary: Roma counter-demonstrators outnumber neo-Nazis in Nyíregyháza
12 September 2022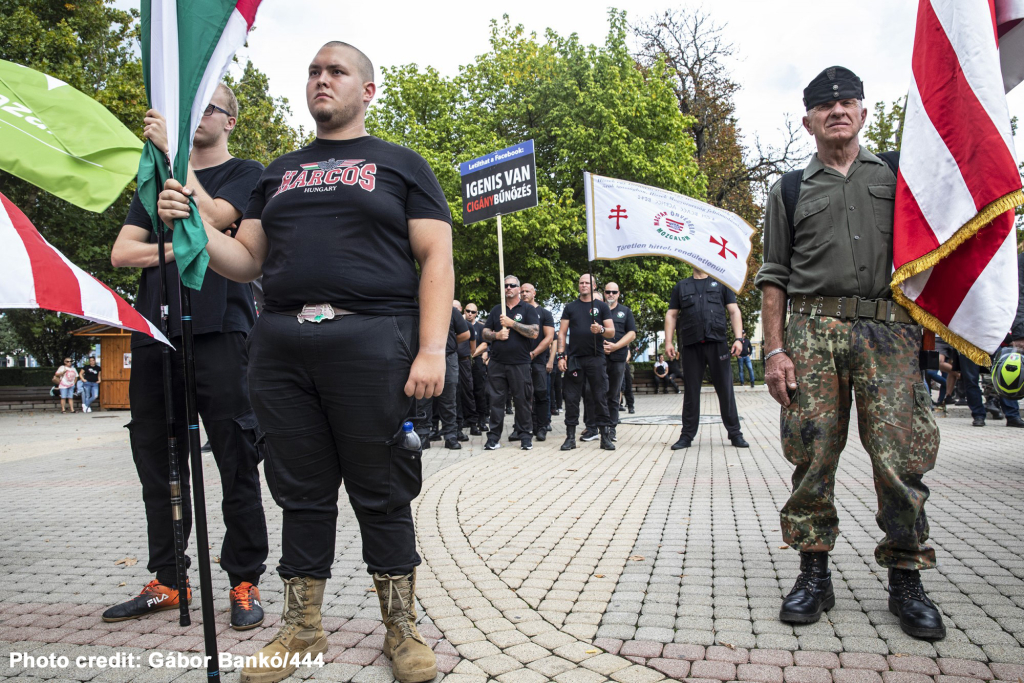 "There is no place in Hungary for the principle of collective guilt, and for the extremist organizations and ideas that feed them. Enough of the hateful, racist, far-right marches!"
According to RomNet, an estimated one-thousand, mainly Roma counter-demonstrators, dressed in white T-shirts, turned out on Sunday 11 September to oppose a rally by far-right extremists. Some four hundred supporters of the neo-Nazi political party Mi Hazánk Mozgalom (Our Homeland Movement) and the paramilitary gang Betyársereg (Outlaw Army) gathered in Nyíregyháza to demonstrate against 'Gypsy crime'.
The far-right rally was called after Gergely Juhász, Szabolcs county leader of the Betyársereg, was stabbed in August outside a nightclub where he works as a security guard. The far-right organizations, in addition to holding the Roma collectively responsible, were also angered that the suspect was charged with GBH rather than attempted murder.
Istán Kiss, the organizer of the Roma movement in Nyíregyháza, recalled the series of armed attacks on Romani settlements between 2008-2009, which claimed six lives, and demanded that Prime Minister Viktor Orbán and Interior Minister Sándor Pintér take steps to proscribe racist and hate-mongering organizations, "so that paramilitary organizations can no longer create fear and march. This is not only in the interest of Roma, but of every member of Hungarian society."
Romani activist, Márió Kiss stated that the serial Roma murders in 2009 were also preceded by "various organizations marching and shouting that there is Roma crime. [...] And that's why it's very important to stand up for each other, because the same thing can happen today in Nyíregyháza, tomorrow in Miskolc, and then in Budapest".
In a petition launched the previous week to ban the hate rally, the text stated the fact that the principle of collective guilt does not exist in the Hungarian legal system, so there is no such thing as "Gypsy crime":
"We can only talk about individual crimes, for which hundreds of thousands of our compatriots should not be collectively stigmatised. Law enforcement in Hungary is not the job of party-affiliated militias, but of the police!"
Addressing the neo-Nazi rally, one speaker called for Hungarian children to learn self-defense at primary school age so that "we can also prepare physically for attacks". László Toroczkai, the president of Mi Hazánk and parliamentary group leader told those assembled that the Hungarian Roma "want to create a new nation with the support of external forces, which has no historical past in this country, or indeed anywhere in the world", and then announced that Mi Hazánk would present a bill that would call for heavier punishment for those who crimes, which they classify in the category of "Gypsy crime".
As Telex.hu reported, the event ended with the Betyársereg marching the far-right participants to hand over a petition to the Nyíregyháza prosecutor's office which is closed on Sundays.