Orbán weighs in against court ruling and calls for 'justice' for segregationists
10 January 2020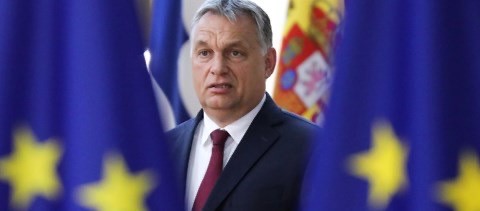 Lest there be any doubt about where Hungarian Prime Minister Viktor Orbán stands on racist school segregation of Romani kids, his call last Thursday for "justice for the Gyöngyöspata people", should give pause to his many apologists. In his most recent address to the nation, he described a court decision on segregation as violating "the people's sense of justice." It is clear that for Orbán, 'the people' does not include the Roma.
He was referring to the ruling by the Debrecen Court of Appeal in favour of Romani families in the town of Gyöngyöspata whose children were forced to learn in segregated settings between 2004 and 2014. On 18 September 2019, the Debrecen Court of Appeal upheld the first instance judgement of Eger Regional Court and concluded that the Hungarian state is required to pay 80 million HUF in compensation to Roma children who have been segregated for a decade from their peers in school.
Orbán's contempt for the court was matched only by his contempt for Roma, when he expressed his garbled belief that "it is important to have as few issues in public life as possible that violate people's sense of justice" and that the "people's sense of justice has been wounded in this matter".
According to 444.hu correspondent Elijah Surovecz, the Romani children testified that they rarely met their non-Roma peers as they were educated in separate classes on a separate floor; they were not allowed to take part in the carnival ball; they were not taken on class trips; and they were denied IT and swimming lessons. The reality of segregation was that many children were unable to graduate, and so poor was the quality of education that many barely learned to read or write.
In his not entirely coherent address Orbán said, "I am not from Gyöngyöspáta, but if I were to live there, I would be asking how it is that, for some reason, members of an ethnically determined group living in a community with me, in a village, can receive significant sums of money without doing any work, while I toil every day."
Describing the 'whole thing' as deeply unfair and 'not good', Orbán asked what counts as segregation and what can be categorised as 'catching up': "Of course, if someone is ethnically ranked in a class, it is obviously segregation. But let's say that classifying someone on the basis of their capacity for education, their capacity to absorb knowledge – where there are obviously more Gypsy children in such a village – this is not segregation but catching up."
"I don't yet know exactly what to do now but this cannot remain like this for sure. We need to give justice to the Gyöngyöspata people" said Orbán. In a country where the independence of the judiciary – not to mention the media, the academy and the arts – have come under sustained assault by the authoritarian regime, the Prime Minister's call for 'people's justice' sounds damned ominous.