Racism Doesn't Stop For War: My New Year's Eve with Romani Refugees
22 September 2023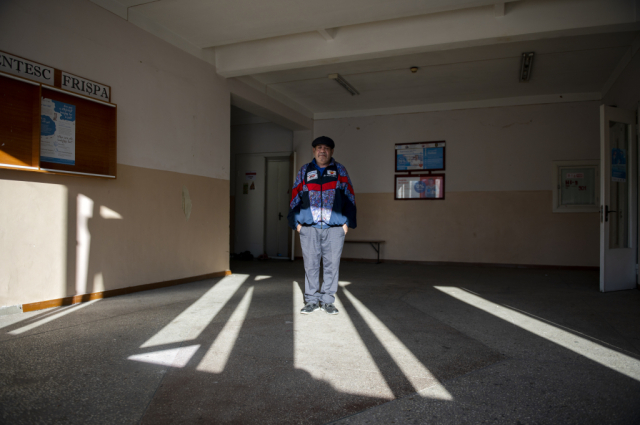 By Vojin Ivkov
The office of my psychotherapist is located in Satelit, a working-class neighbourhood made up of communist housing blocks originally constructed for the workers who built the more affluent parts of my hometown of Novi Sad. The complex of buildings originated in the 1950s and was occupied by poor families from all over Yugoslavia. I go there to visit my therapist because I live in Serbia; a job in itself.
One of the challenging questions I'm working on with her is why I do what I do: documentary-filmmaking and engaged art. Every time I think I've found an answer, the question laughs in my face once again. For brevity, let one of the answers be that I don't know what I would do otherwise.
Arriving in Moldova
On Christmas Eve last year, this work found me on my way to Moldova. It is a country I knew little of beyond what I learned in high school. The journey led me to Chisinau, the capital, and my final destination was FRISPA; a centre for receiving refugees from Ukraine. More precisely, it was an abandoned student dormitory that the Moldovan government assigned to house refugees, but truthfully, the centre was intended only for Roma. They spruced it up a bit, just to hide from the public eye the fact that the facility intended to openly engage in segregation.
His name is Ion. Like me he also works for the European Roma Rights Centre. A Romani guy from Chisinau, who takes activism and his work very seriously, Ion is my fixer in the field. I think he often finds my jokes bothersome (my defence mechanism in tough situations) but he laughs at them for my sake anyway.
On the first day of my stay, we go to see the repurposed student complex. The morning carries the scent of winter, yet there's no sign or feel of New Year's approaching in the streets. We walk through the partially empty city blocks, reaching the outskirts of Chisinau and the building first intended for students, now turned into a monument to segregation. The building has the look of something constructed in the seventies, using the brutalist communist style so popular at the time. To me it looks as if it was built by some architect from Yugoslavia during a short break in Moldova. All the rooms have been turned into single room apartments, often accommodating multiple families. As was explained to me, I've come at a good time because they now have the basic necessities for living: washing machines, stoves, running water. These things were absent for a long time. Their arrival is all thanks to Ion and his activist friends.
New Year's Eve in a Refugee Centre
This will be the fifth or sixth refugee camp I have visited. Every time I enter a camp, I lower my head. It commands a humility of spirit and lack of ego which I don't even possess when I enter a church. The sanctity of refugee camps surpasses the grandeur of churches. On the ground floor, the recreation hall has been transformed into a kitchen, preparing meals for the entire camp. New Year's Eve is being welcomed in the evening; something to celebrate. I was told that the menu would include a type of liver dish, a traditional meal from Odessa, the place from which most of the refugees originate. My task here is quite simple: to conduct a few video interviews describing the refugees' arrival in Moldova and to see if there has been any racism and segregation (...the irony of it).
On the first day, we agreed to walk through one floor of the three-story complex, just to let people get used to our presence; for them to know I'm there with my camera equipment. Walking through the corridors, you would think I'm strolling among people sheltered here due to some natural disaster and that they will soon return to their homes. It does not feel like a place that they have fled to from a war. New Year's is approaching and people are a bit more relaxed; not exactly eager to talk, but willing to show me around the camp. Every room I've visited is clean, tidy, well-kept. The dignity of private space remains intact, untouched by any war, displacement, or segregation. Weariness doesn't show on their faces, but its presence is felt. The forced smiles are discernible when Ion explains to them that I'm a "journalist" from Serbia who has come to tell their story. The same smile is shared by Syrians, Afghans, and all the refugees I've worked with. The smile is a remnant of decency from another time, a time before war.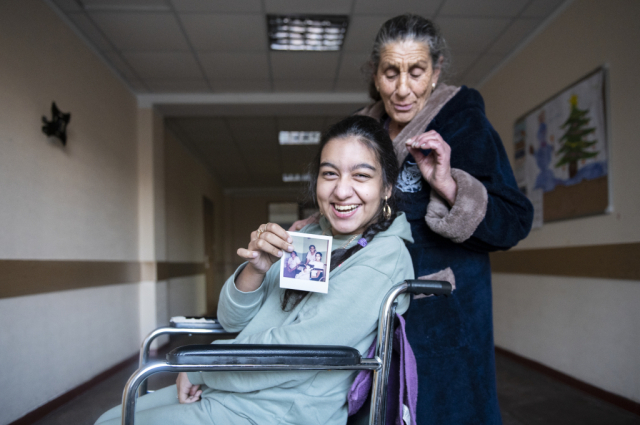 Lida and Alina, FRISPA Refugee Centre, Chisinau, Moldova. (Image: Vojin Ivkov)
New Year's Day
It's 2023; the New Year's Eve celebration was without fireworks and gatherings in the squares. I nervously greet the morning with a cold breakfast, eager to return to the centre as soon as possible. The hallways are empty, it seems they saw in the New Year until the early hours. Ion guides me to the first interviewee, Nikolai, a refugee with his grandchildren, who left everything behind. His house was destroyed, the house he had worked on for the past twenty years. His sons remained in Ukraine and he's just grateful to be here.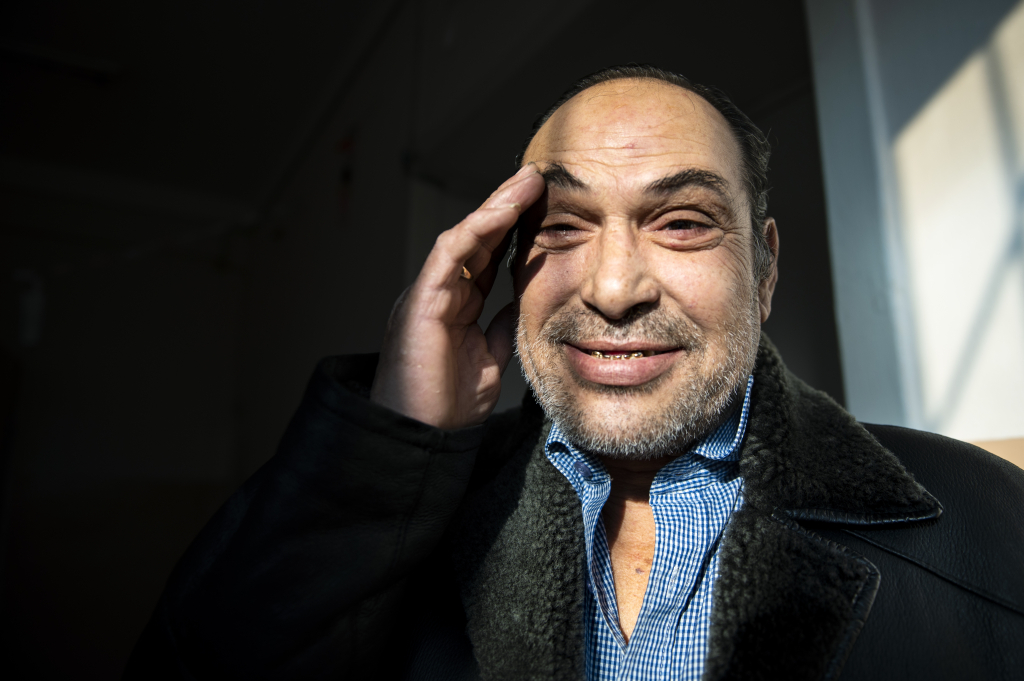 Nikolai, FRISPA Refugee Centre, Chisinau, Moldova. (Image: Vojin Ivkov)
Ion takes me to another family, a young couple sharing a ten-square-metre room with their two small children and the grandmother they came with from the outskirts of Odessa. Robert, the father, is saying the same as the others: when you're accustomed to racism and segregation, you no longer notice it; it becomes a part of your everyday life. They're all saying the same, so as not to upset their host country. But their host does not behave like a good host. It has already used force against them, sent the police to the centre, cut off their water – not at all what's expected of a good host.
Dealing with racism and obvious segregation in the field is challenging, as is attempting to get a statement from an interviewee that would support your view of the situation. To ask people to give a statement about the systematic racism of the country that welcomed them isn't an easy task. But it's up to us, journalists, activists, humans, to sometimes be their voice, and this voice of mine has become tired of the daily injustice and the government's treatment of people who don't fit the mould. Moulds are for those devoid of imagination.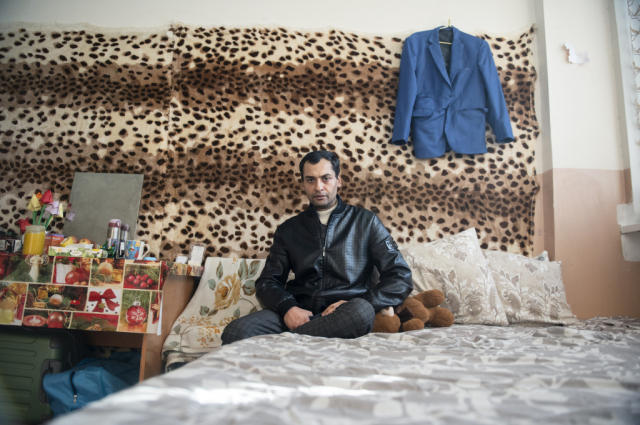 Robert, FRISPA Refugee Centre, Chisinau, Moldova. (Image: Vojin Ivkov)
The last interview of the day is with Zinaida, a grandmother of three grandchildren who fled with her sister. She's angry. I'm angry. Ion is angry. We stop the recording. The bit of Russian I picked up in high school tells me she's angry at Russians, Ukrainians, Moldovans – angry at the world. I have never been a refugee, but I've met many of them, and many are my friends; the anger comes much later. In the beginning, there's fear, depression, sadness, disappointment, and only then comes anger. Much later.
Grandma Zinaida was angry but, as the interview went on, none of that anger remained. Instead, acceptance of reality and gratitude to God for being alive persisted. We stayed in the centre for a few more hours, with me taking a few photos and accompanying shots, but no one wanted to talk to us anymore. I didn't want to talk to us either. After a few days, I returned to Serbia, just before Orthodox Christmas. News from the Ukrainian front lines came on during our Christmas Dinner – we were having roast turkey.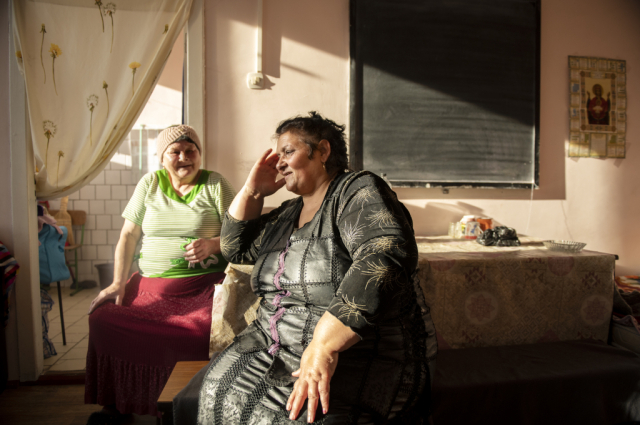 Zinaida, FRISPA Refugee Centre, Chisinau, Moldova. (Image: Vojin Ivkov)
A few months later, I was preparing to go to Ukraine to do the same job again there, this time with internally displaced Roma. While we were still awaiting all the necessary permits to go to Ukraine, I received a video recorded on a phone from another segregated refugee centre near the one I visited in Chisinau. The mayor had decided to evict all the Roma from the centre. It seems that the Roma are collateral damage in life, not just in war.
Going to Ukraine
Uzhhorod is a city, like my hometown, largely built under the firm hand of the Habsburg Empress Maria Theresa. It even reminds me slightly of Novi Sad. The similarity doesn't end with the architecture but also extends to the attitude towards life and war. Life continues, everything goes on, and many people are out on the streets. It is much as I remember my own city when we too were faced with aerial bombing in 1999.
It's the beginning of spring, and all life revolves around the river that cuts the city in two. The air-raid sirens are what remind people that they live under the threat of war, and that's the biggest similarity between our two cities – our approach to the problem. We don't react to it unless it directly endangers us.
Volodya is now my fixer. A lawyer, a humanitarian, and above all, a father. He's agitated. He came from Kyiv to his hometown, covering thousands of kilometres. The situation is tense, as the war is ongoing. He's here to assist me in taking statements from Roma who, for the first time in their lives, are getting their identification documents.
A statelessness that predates war
It's not easy being Roma, and it's even harder being Roma without documents in a war-torn country. Most of our interviewees are internally displaced persons, and their documents either never existed or were destroyed during the bombings of their cities. Our next interviewee is in the city centre, in front of cut-out letters with a heart that spell out "I love Uzhhorod" (we can be spared from war but never from kitsch). Here we meet a mother who's come to collect documents for her son. He's a single parent, a father of three children, and he needs the documents to avoid being drafted into the army (fathers with more than three children are exempt from the draft). However, for Roma, even those who have all the necessary documents and three children, it's sometimes easier to go to war than to live a life so undignified.
The interview hasn't even started and the lady bursts into tears. She hugs Volodya, kisses him, addresses him in Hungarian (we're near the border with Hungary). She doesn't let him go. It's only now that I realise the impact of the activists on this project: Roma can't attain their basic human rights without documents and these activists are making it possible, even amidst the bombings.
The schedule is tight for today; we have three more interviews to conduct. The stories are always the same, as the stories are the same in my region as well only bombs aren't currently falling. Segregation and racism have progressed to the point where people have internalised it; even those it's directed against tend to think this is how things should be. The happiness on their faces can be measured by the amount of work activists put into helping them obtain their documents. Basic identification documents, that's the source of happiness for these Roma. They will now have access to public institutions in their own country: the ability to work, to visit a doctor, and most pertinently, the ability to leave the country. As one young man told me: "They don't have a problem sending us to war without documents, but they have a problem sending us to the doctor without them."
The last interview is done; it was brief. A young mother got documents for her child. She wants to get to a doctor before the sirens start wailing again. The sirens did go off a few hours later, but no bombs fell.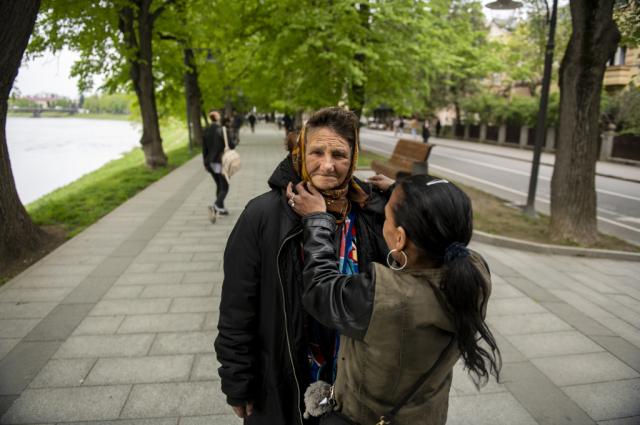 Elizabeth and her daughter Magdalena, Uzhhorod, Ukraine (Image: Vojin Ivkov)
Visiting the Romani community at Telmana Street
This is my first time in Ukraine and I've only seen the western part of the country, the part built under the Austro-Hungarian Empire. Soon, I'll also have the privilege of visiting the Romani neighbourhoods. These weren't established under the rule of Maria Theresa.
Most major Romani communities in Zakarpattia have their own 'Baron'. He is a leader who arbitrates disputes, knows everybody, and is the guy to talk to if you want to film there. Volodya told the Baron that I'm a "prominent journalist" from Europe. I was advised not to mention that I'm from Serbia, just that I'm from Europe. It appears that 'Europe' is as abstract a term for them as it is for us in Serbia. It's a magical place where anything is possible, and all wishes come true. With the Baron's blessing, entry into the settlement was granted. Tomorrow, I'll be able to enter alone without Volodya.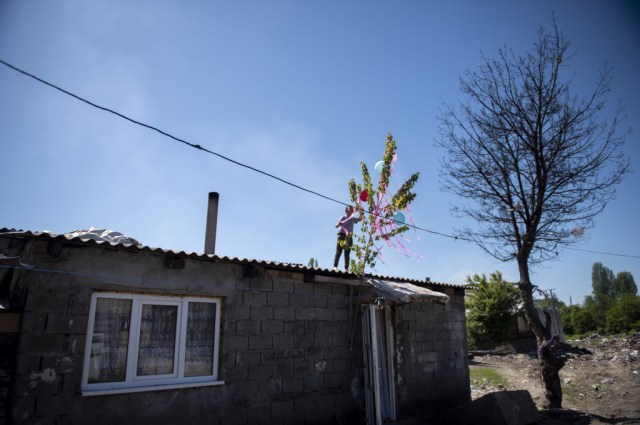 Telmana Street. Uzhhorod, Ukraine (Image: Vojin Ivkov)
Finding a taxi was relatively easy. It's harder to find one in Novi Sad on a Thursday evening. I gave the driver the address, he told me he doesn't go there. His response wasn't open to discussion. He could drop me off about a kilometre from the settlement, that's as far as he'd go. I walked the final kilometre, enough to observe the contrast of life in Ukraine. The contrast is the same as it is in our country, just not as linearly divided. The houses of the middle class, with freshly cleaned facades, well-maintained lawns, and nice cars, are separated by a wide, muddy road from one of the largest Romani settlements I've ever seen. Standing in the middle of that road, you're shown all the mischief of our society. On one side, tall walls concealing the unfortunate families on antidepressants, while on the other, makeshift homes constructed from discarded parts of someone else's home, concealing the unfortunate families that can't afford antidepressants. Today, I have an interview and I'm to photograph people from the settlement.
A mother stands at the door with a child in her arms while another child plays beside them. It's my first shot of the day; the May sun is shining and the light is soft – all conditions for a good photograph are in place. Then, an air raid siren sounds and, a few moments later, planes fly low overhead. After a few minutes, a child nudges me. I had remained in my photographic pose even when the planes were long gone, my own post-war PTSD rooting me to the spot.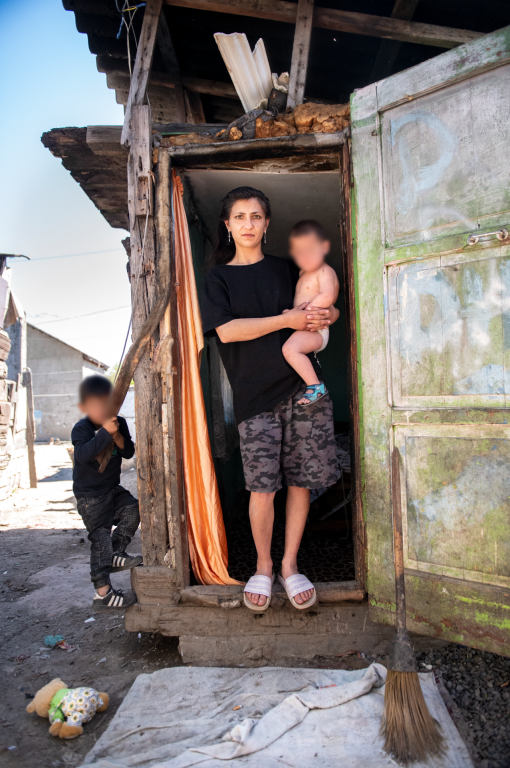 A mother with her two children, Telmana Street. Uzhhorod, Ukraine (Image: Vojin Ivkov)
I stroll between houses, looking for new shots. People show me their homes; all the dirt of the world stays outside while the interior of their homes is a refuge, free from malice and injustice. I have an interview with Igor about obtaining his identity card, his first document stating that he's Ukrainian. "Now I can say that I'm Ukrainian," he says proudly. As for me, I can't shake off the obvious that Roma still experience racism and segregation here, despite the war pushing it to the background for now. When Ukrainians, non-Roma and Roma alike, are done fighting for their independence, will Roma have earned their right to be treated like ordinary people? I'm somewhat doubtful. Roma will always be treated as a burden, at times a burden we show the world how we're helping, just to make ourselves feel better. But more often than not, they are seen simply as a burden. "The poor are heavy, even for God" my old man used to say.
Heading Home
I spent the rest of the day playing football with the kids from the settlement and taking a few more photos. It's time for me to pack up and head back to Serbia. I leave a country engulfed in war and return to one that hasn't fully recovered from its own, even though over twenty years have passed. I wonder how long it will take for Ukrainians and Russians to start working together again.
The office of my psychotherapist in Satelit is in a deprived neighbourhood where poverty doesn't allow for racism to thrive easily. We're all poor, regardless of our skin colour. I came for a session with her after my trip to Ukraine, and her first question was: "How was it?" My response came immediately: "Shit." I still don't have an answer to the question I asked at the beginning of this article. I honestly don't know why I'm doing what I'm doing (whatever this thing is that I'm doing). I don't know how long I'll continue doing it, but I do know that currently I don't know how to do anything else. And sometimes I feel like, by working alongside dedicated activists like Ion and Volodya and telling stories that would otherwise go untold, I am making a difference by doing it. And for now, that's enough.

Cover image: An elderly Romani man stands alone, FRISPA Refugee Centre, Chisinau, Moldova. (Image: Vojin Ivkov)