Roma and Sinti Activists Mobilise After 7-Year-Old Child Taken by State for Not Speaking German
08 March 2021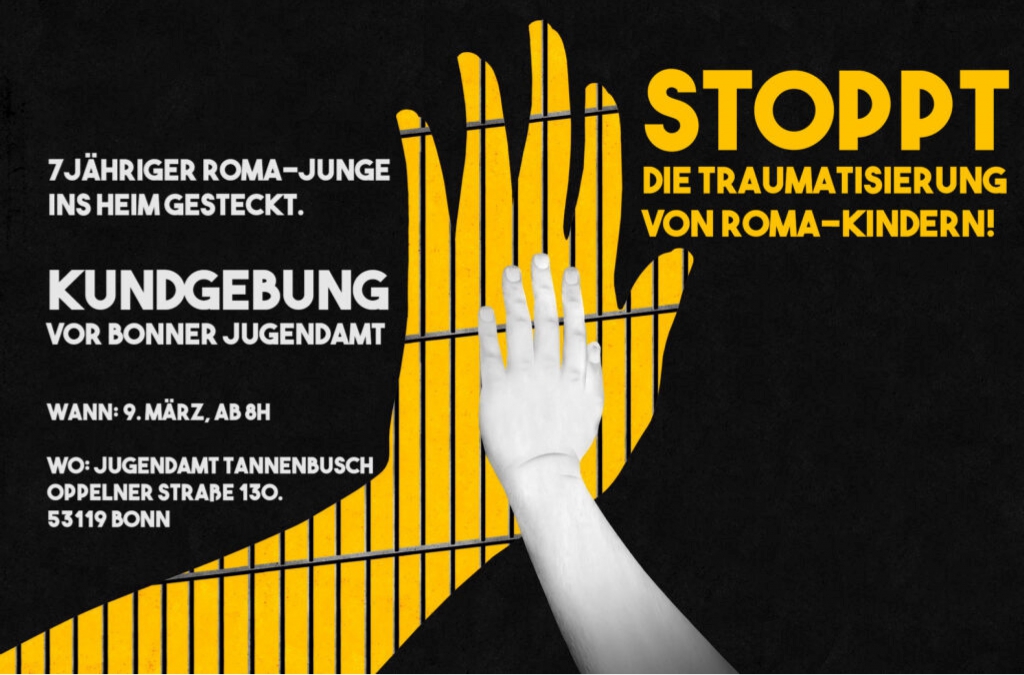 By Jonathan Lee

German Sinti and Roma activists are organising a protest and raising funds for legal representation after a 7-year-old Czech Romani child was removed from his grandfather's legal custody by local authorities in Bonn. Their alleged reason? That the child did not speak German well enough.
The boy named Denis moved to Germany three years ago from the Czech Republic with his grandfather Milan, who had hoped for a better life for his family. On 14th October 2020, Milan received a call from the kindergarten telling him that "your grandson won't be coming back home". The Youth Welfare Office had picked up Denis directly from the kindergarten and placed him into a children's home, mainly on the basis that his German language proficiency was not high enough. His grandfather does not speak German well and relies heavily on his son and a family friend to deal with the authorities. In the months leading up to the removal, the municipality provided the family with a Polish speaking social worker who came to their house to provide support, particularly language support to the family. Milan can speak a little Polish, but Denis does not. The social worker arrived for every visit accompanied by a large dog which barked a lot and scared Denis. Despite Milan asking that the family assistance worker stop bringing the dog to their house, as Denis was too afraid to be able to cooperate with her, she continued to bring the dog to visits and little progress was made.
Eventually Milan was ordered to sign several papers by the welfare office which he did not understand and for which no Czech translation was provided. Denis was invited to undergo medical examinations at a local children's hospital by the family assistance worker. During these examinations his grandfather was asked to leave the room. The medical reports stated that that the grandfather was the child's most important and only caregiver. The family assistance worker's report further stated that the family needed additional support. A month later Denis was taken from his family.
Milan's 24-year-old son and a family friend tried to petition Bonn's Youth Welfare Office for more information to find out where Denis had been taken, but were told only that "these are German laws". Milan eventually managed to lodge an objection regarding the removal of his grandson, but they refused his request and proceeded to trial which took place on 30th October 2020. During the trial, Milan's custody of Denis was to be decided. Although a lawyer was allegedly hired by Milan, he never showed up to the court. On the day of the trial only Milan was allowed to remain in the court room and the rest of his extended family were not permitted to join him. The family assistance worker informed the judge that Milan had brought his whole "clan" to intimidate her. Milan was denied custody of his grandson, whom he had looked after since birth.
After the trial was over, Denis cried and refused to go with the family assistance worker outside the courtroom. He said he wanted to go home to his family and that he was afraid he would be beaten by the family assistance worker if he went with her. He was picked up and taken into custody, and his grandfather and family sent away.
Sinti and Roma activist, Taisiya Schuhmacher, from the Sinti-Roma-Pride Initiative said "We are in contact with the grandfather as well with the family's friend who gave testimony that the boy is a healthy, happy and normal developed child. Also she gave testimony that her children played together with him almost every day and they were like family, and that all the reports were a complete lie.
Since October 2020 the grandfather doesn't know where his grandson is located, he doesn't even know in which city. They haven't seen each other for four months because the welfare office and the children's home prohibited it. The grandfather is allowed to call his grandson, but this is only possible because he contacted the Czech embassy and he has to make an appointment beforehand. On that appointment he is called with no caller ID and while they speak there's always a translator present who forbids the child to talk in Czech and everything the grandfather is saying in Czech is translated into German. We need urgently your help to spread awareness about this case in order to bring back home the child."
The Sinti-Roma-Pride Initiative is grassroots activist initiative founded to educate people about antigypsyism, both online and offline, and to encourage Sinti and Roma to take part in social justice actions. They argue that this child was taken arbitrarily from his primary caregiver in an illegal way and are campaigning for a lawyer to appeal the case and return Denis to his family.
If you want to contribute to this, they are accepting donations here. Every contribution, no matter how small, is extremely welcome.
Activists from the Sinti-Roma-Pride Initiative, the Roma Antidiscrimination Network, and other allies will be protesting outside the Youth Office responsible for removing the child on the morning of Tuesday 9th March 2021. They encourage all who wish to support the family and oppose this arbitrary discrimination by child services to attend the rally from 8:00am at:
Jugendamt Tannenbusch
Oppelner Straße 130.
53119 Bonn
Cover image by: Roma Antidiscrimination Network
Additional reporting by: Vojtěch Giňa, Sinti-Roma-Pride Initiative