Roma camp attacked and tents burned down by unknown assailants in Ukraine
04 May 2020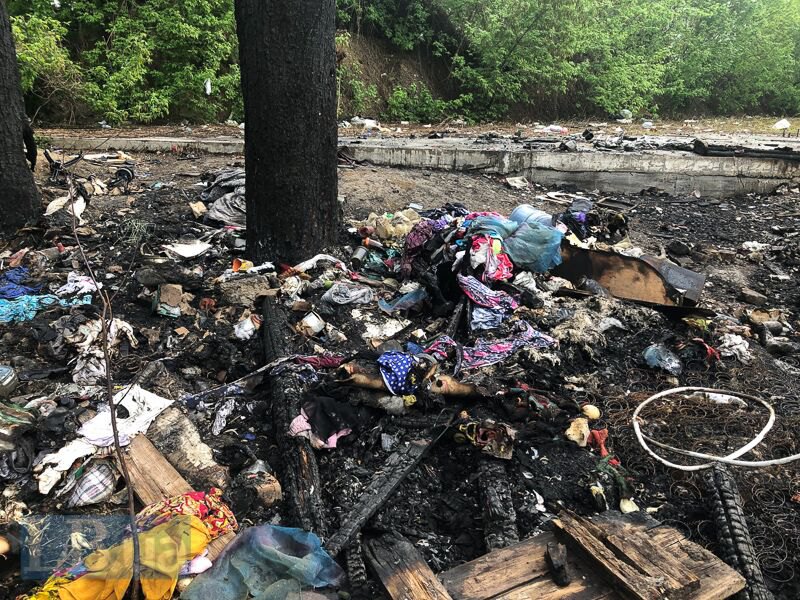 A Romani family of four was attacked in the early hours of 29th April by two young men using tear gas. The men drove the family from their tent before attacking the father of the family and setting fire to their belongings. The attack occurred on Velika Kitaivska Street, and happened almost two years to the day since a similar incident took place in Lysa Hora, Kiev, carried out by members of the far-right organisation C14.
The camp was home to Anzhela and Ruslan [names changed], who are expecting a baby, and Ruslan's parents. All of them are originally from the Zakarpattiya region of Ukraine and normally worked in Hungary. They had been forced to come to Kiev to collect scrap metals and plastics because the lockdown in Hungary meant they were no longer able to work and the family was beginning to go hungry.
According to volunteer community worker Vita Zinevich, who regularly brought the family food, Anzhela pleaded with the attackers not to use the tear gas on her as she was pregnant. They replied "a woman such as you should be raped" and began beating her husband Ruslan, causing the rest of the family to run outside and call for help. The attackers then set fire to the tent, destroying most of the family's belongings in the blaze including their identification documents.
The local volunteer said "what struck me most was that opposite there was a high-rise building, but no one called the police. Someone was sure to have seen a pillar of smoke."
The police and fire fighters were eventually called by a woman working as a cleaner nearby. She said she was approached by Ruslan at 5:00am asking her to call the police because they had been attacked. The Holosiyiv Police reported that a patrol was sent to the place, but did not open investigative proceedings because the victims did not insist on it. The Deputy Chief of the investigative department of the Holosiyiv Police, Maxim Bondarenko, said that officers are looking for the victims to take their statements and open proceedings. Local community volunteers do not know where the victims are now, as they moved immediately after the attack.
The ERRC is investigating further and trying to get in contact with the Romani family.