Roma in Ukraine: 20 years of police terror
09 November 2018
Finally justice was done, albeit a full sixteen years after hundreds of Ukrainian villagers in Odessa carried out a pogrom, burning and looting Roma homes, forcing families to flee, while police officers looked on. This latest judgment by the European Court serves as a grim reminder of the extent to which Roma rights are routinely abused In Ukraine, while the world looked on, indifferent.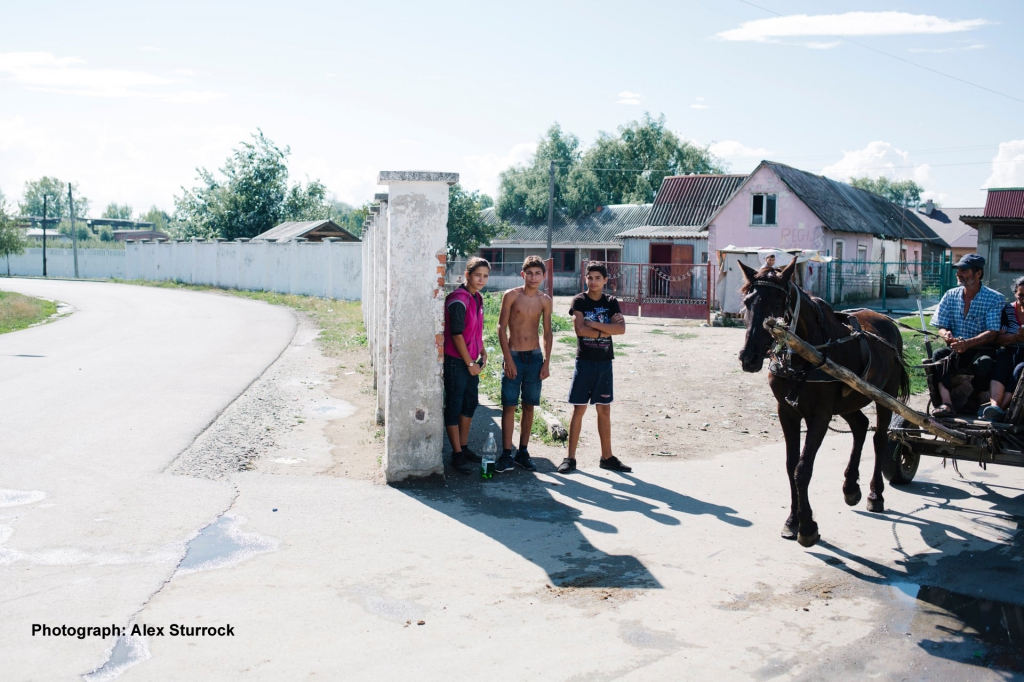 A quick review of the last 20 years reveals that Roma communities have endured a virtual reign of terror that includes rapes, beatings and murders, extortion and intimidation at the hands of police officers, who have often colluded with mobs of ethnic Ukrainians and far-right extremists in racist acts of terror and violence.
This latest victory in the European Court saw 16 Romani victims, whose case was supported by the ERRC, awarded damages amounting to €177,000 for the racially-motivated inhuman and degrading treatment they suffered. This judgment follows the most recent wave of attacks on Roma camps by members of far-right militias – which left one man dead and many others injured – and growing evidence of official collusion on the part of local authorities and law enforcement.
Atrocity catalogue: "you can do whatever you like here; there are no witnesses"
None of this is new, for the ERRC archive on Ukraine over the past 20 years reads like an atrocity catalogue, where racism and violence against Roma has gone virtually unchecked, and perpetrators rarely face justice. In September 1996, the ERRC sent an open letter to the minister of internal affairs in Ukraine, calling for action against three police officers, who in a drunken rampage raped one Romani woman, battered and sexually assaulted another in Mukachevo in the Transcarpathian region. In the chilling testimony, a police major before quitting the scene told the others, "you can do whatever you like here; there are no witnesses".
ERRC field research in 1997 confirmed that violent police raids were commonplace, as were threats to "take your valuables, pull down the tabor with bulldozers, and take you away like the Jews". Interviews with police officers confirmed that harassment of Roma is policy; the police keep lists of "people inclined toward crime" (i.e. young Romani men) and explained that regular collective round-ups were a method of keeping the crime-rate low.
And everywhere victims spoke of the 'dubinka' – a long cudgel made of a lead stem with a rubber coating. Three strokes from a dubinka, according to one Rom, "can make a person confess to having eaten his own mother." Roma testified about their torture: how they were beaten on their heads, all over their bodies and genitals with dubinkas while standing, sitting, lying, being hung by the arms, bent over a table, or held by other policemen.
Minors also faced ill treatment in custody, and ERRC gathered testimony from a 16-year-old boy and a 10-year-old girl of how they were beaten and kicked in custody and made to shout "All Gypsies are bastards" and "the cemetery is the best place for Gypsies." Threats to shoot, murder or burn Roma if they spoke about their beatings were routine, as in the case where off-duty policemen assaulted two disabled Roma on the road to Uzhorod, even using their crutches to beat them.
Police terror: arson, murder and impunity
In two separate incidents in 1999, special Ukrainian riot police staged night time raids on Roma camps, setting fire to the tents while Roma slept, forcing them to flee in panic and destroying their personal documents and belongings. In both cases Roma were then rounded up, beaten and deported to sites 100 km from the camps and warned that they would be crippled if they returned.
In October 2001, five members of the Fedorchenko family, including a six-year-old girl and a three-year-old boy were burned to death and two others seriously injured when their home was set alight in Kremenchug. Members of the fire department found evidence of arson at the site of the fire, as well as indications that the main door of the house had been blocked from the outside, apparently to prevent persons inside the house from escaping. A police officer had previously threatened the family that he would "set them all on fire" because they would not pay him a bribe. A police major confirmed the likelihood of involvement of an officer from the Department of the Fight Against the Illegal Use of Drugs in the arson. Years later, in a statement condemning the endemic nature of police violence and impunity, ERRC noted that despite strong evidence against the officer "no investigation against him had been launched and continues to perform his duties in a different police department of the same city."
In 2006, in a UN submission, the ERRC detailed how this sense of police impunity and the absence of viable legal remedies leave Roma open to extortion by law enforcement officials:
"This comes in the form of forced bribes, property ransoms, or simple outright robbery. In many cases, the amounts demanded by police from Roma individuals are exorbitant, forcing them to pool cash from friends and families to pay.'
In the same submission, the ERRC documented a number of instances of community violence against Roma – either in the form of random violence against individual homes or pogrom-like assaults against entire communities – where police officers were present and failed to intervene. The Odessa case on which the ECtHR just ruled was one such incident.
Ethnic profiling
Despite repeated protests, UN submissions and legal action, this culture of police brutality, ethnic profiling and blatant discrimination continued unabated. In a 2012 raid on a Roma settlement in Uzgorod, law enforcement officials used tear gas and beat residents with rubber batons, targeting the entire community as suspect rather than individual suspects in a manner was neither impartial nor legal.
Police investigatory practices blatantly target Roma, and subject entire communities to rigorous intrusive supervision, mass round-ups and forced documentation (mandatory fingerprinting and photographing) where there is no reasonable suspicion of criminal activity attributable to the individuals concerned.
International standards: Ukraine fails and fails again
In May 2012, in a sinister harbinger of current attacks, a Roma settlement in Kiev was burned to the ground by unknown perpetrators, who threatened to shoot the 70 residents and ordered them to "disappear from Kiev". Sources quoted in the media claimed that law enforcement officers had been ordered to 'sweep' the settlement, and the police "were continuing to investigate reports of police involvement in the incident."
Later that same year, the ECtHR delivered a judgment in the ERRC case of Fedorchenko and Lozenko v Ukraine, in relation to the deadly arson attack in 2001. The Court stated in its judgment:
"there is no evidence that the authorities have conducted any investigation into the possible racist motives of this crime...The Court considers it unacceptable that in such circumstances an investigation, lasting over eleven years, did not give rise to any serious action with a view to identifying or prosecuting the perpetrators."
Six years later, this latest judgment on the 2002 Odessa pogrom finds that the "police presence and passivity during the attack, combined with the village council resolution, had created an appearance of official endorsement." As for the investigation, the Court noted that members of the local police played an active role in the investigation despite being accused of involvement in the attack. Neither was there any evidence that the authorities had conducted any investigation into the ethnically motivated nature of the crime, which they instead investigated as an ordinary incident.
Is there any prospect that this latest court victory will prompt a change in the culture of policing minorities in Ukraine? For how much longer will Roma have to endure the consequences of official collusion with far-right extremists, racist brutality and ethnic profiling at the hands of police officers who have set themselves so blatantly beyond the rule of law?