Call for Legal Experts to Challenge Online Hate Speech in the Czech Republic & Ukraine
17 September 2021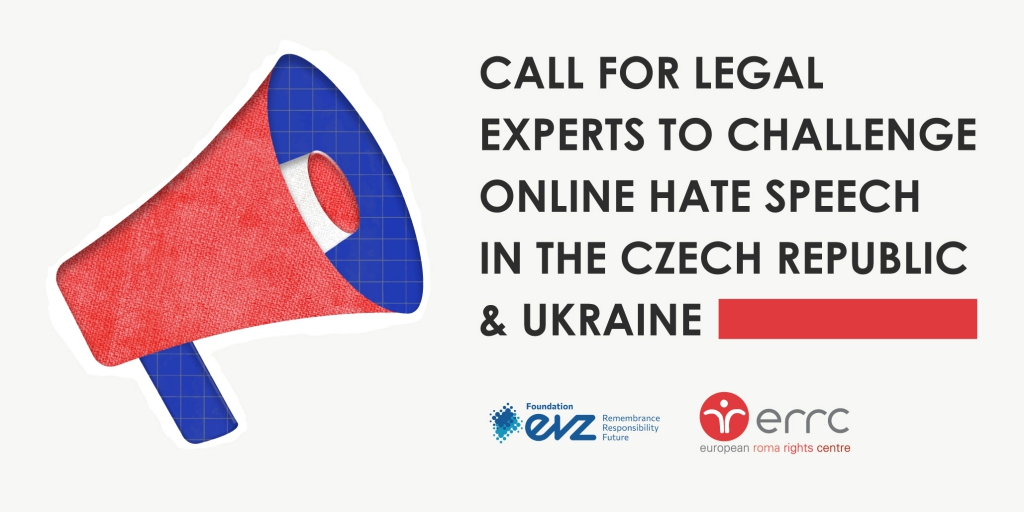 The European Roma Rights Centre (ERRC) is searching for legal experts in the Czech Republic and Ukraine to implement a litigation project challenging online hate speech against Roma. Applicants may be either practicing lawyers or organisations working on human rights litigation.
The successful legal experts will assist in identifying specific issues, cases, and litigants. They will be responsible for preparing multiple legal complaints before different bodies including courts, equality bodies, and ombudspersons' offices. The aim is to launch a critical mass of cases and complaints to stimulate public debate; send a warning signal that propagating hate comes with a price; and disrupt the normalisation of racist prejudice in the public sphere.
The litigation project will be supported by volunteer-driven advocacy work which will complement the legal actions and also help to identify evidence of online hate speech against Roma.
Profile of person / organisation:
Actively practicing lawyer at the national bar (highly desirable).
Demonstrated experience litigating human rights issues and / or hate speech cases in the Czech Republic or Ukraine.
Has the experience and technical ability to work competently in an online work relationship: liaising with volunteers, ERRC staff, and other partners through digital tools.
Experience working on Roma Rights issues (desired).
Experience in providing litigant care and working in Romani communities (desired).
Main activities:
Produce a legal analysis for potential litigation options in the given country and advise on the most viable litigation strategy to challenge online hate speech.
Work with ERRC staff, partner organisations, and volunteers to build an evidence base for legal complaints.
Write and submit at least 7 legal complaints to competent bodies, and steward their progress from submission to judgment.
Budget:
The initial fee for a legal analysis and litigation strategy will be 13,000 EUR to the Czech legal expert and 7,000 EUR to the Ukrainian expert. Additional budget will be granted on a case by case basis as legal complaints are brought. The project will run for a period of two years.
How to apply: interested persons / organisations can apply by sending the following information to mihail.stojanoski@errc.org.
A cover letter of around 500 words telling us about how your experience matches the criteria above, and demonstrating your ability to implement the goals of the project.
A curriculum vitae and / or details about your organisation (please attached your statutes or a link to them).
Links to your website and social media channels (organisations).
Deadline: Friday 1st October 2021
While actual recruitment to all ERRC calls is based strictly on merit, the organisation strives to increase the number of persons of Romani origin it works with and therefore specifically encourages Romani candidates to apply. You can read more about our Equal Opportunities Policy in our Policy Manual.
This project is supported by the EVZ Foundation.