ERRC Sues Slovak Ministry of Interior Over Discriminatory Policing
17 January 2018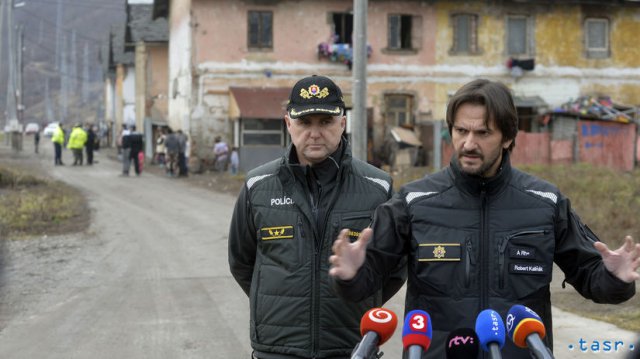 Budapest, Bratislava 17 January 2018: The European Roma Rights Centre (ERRC) is taking the Slovak Ministry of Interior to court over discriminatory policing relating to Roma. The ERRC has been collecting evidence of discriminatory practices carried out against Roma in recent years by police, including ethnic profiling and Roma-targeted police raids, to build a legal case against the Ministry.
Minister of Interior, Robert Kaliňák, has also recently announced a new law to collect statistics on 'Roma Crime' and increase police powers. We find this announcement to be further evidence for the institutional racism present in the Ministry of Interior which we aim to challenge. The newly announced legislation could easily be misused to persecute already marginalized communities, and is based on racist stereotypes and inaccurate conclusions drawn from data collected by the Ministry last year, which the ERRC refuted.
The case will be heard before the District Court 1 in Bratislava. Our case is based on evidence of police targeting Romani communities under so-called Code-Action 100 interventions, as well as last year's plans to increase police units in areas identified with large Roma populations.
"Statistics are necessary" says Kaliňák, and we agree, but the numbers the Ministry of Interior is using just don't add up. Last year, the ERRC analyzed the list of municipalities where the minister proposed an increase of police units. Most of the areas flagged for an increase in policing were those with a high number of Romani neighbourhoods. We found that according to the government's own data, there is no strong correlation between a high percentage of Roma in a municipality and an increased crime rate.
The ERRC also challenges the search-focused police interventions termed Code-Action 100. We found these to be carried out overwhelmingly in areas which have a high percentage of socially excluded Roma. They often involve police entering the homes of Roma and using excessive force against them, claiming that they are searching for persons or objects.
"There is a definite prejudice existing in elements of the Slovak police force against Romani people. Connecting crime with someone's ethnicity is absurd" said ERRC President Đorđe Jovanović. "There is also strong evidence for institutional racism in the Interior Ministry. They are specifically targeting Romani areas, first with discriminatory policing, then disproportionate increases in police numbers, and now with this new anti-Roma law. Legal action is the only way to show these people that the targeting of Romani communities is illegal."
Only a month ago the UN Committee on the Elimination of Racial Discrimination called on Slovakia to take effective measures to cease biased policing, based on allegations of excessive force and ill-treatment of Romani citizens by law enforcement officers. Until the government takes proactive measures to stop discrimination against Roma in law enforcement, we will continue to hold them accountable in the court of law.
This press release is also available in Slovak.
For more information, or to arrange an interview contact:
Jonathan Lee
Communications Officer
European Roma Rights Centre
jonathan.lee@errc.org
+36 30 500 2118
Michal Zálešák
Lawyer
European Roma Rights Centre
michal.zalesak@errc.org
+36 30 500 1981