EU Executive fails to act as pregnant Romani women and infants are rendered homeless in Italy
14 June 2017
Brussels, 14 June 2017: Recent unlawful demolitions of Romani settlements across Italy have left scores of extremely vulnerable people, including heavily pregnant women and children as young as just a few months old, homeless in the country, said the European Roma Rights Centre and Amnesty International today following new research on the ground. The widespread human rights violations by the Italian authorities were documented days before the European Commission, the EU's executive arm, again failed to sanction Italian authorities for discriminating against the Roma.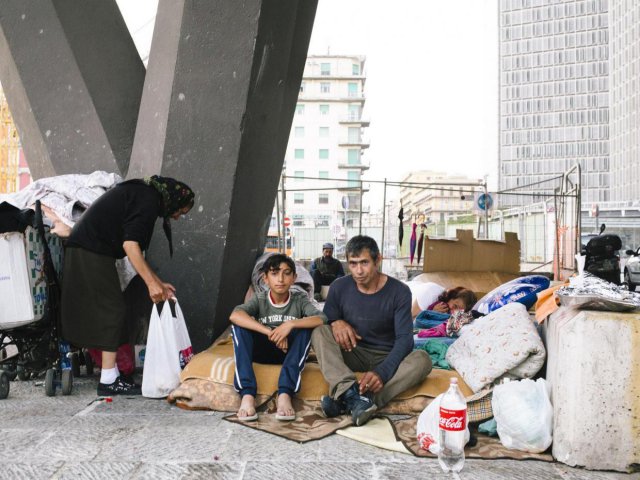 Thirteen-year-old Alex and his family were among 1,300 who were evicted from the Gianturco settlement. Photo credit: Alex Sturrock

The organization recently visited settlements and interviewed families who have had their homes destroyed and been forcibly evicted in the last few months. Among those was a seven months pregnant woman who was left homeless when her home was bulldozed two weeks ago in the informal settlement of Germagnano, Turin. The bulldozing of another home reportedly began while a nine-year-old boy was sleeping inside. Witnesses reported that he was saved only when his mother shouted at the bulldozer to stop.
Together with the European Roma Rights Centre, Amnesty International is calling on the European Commission to finally launch legal proceedings against Italy, to prevent further forced evictions and segregation.
"Many Roma in the Germagnano settlement are scared to leave their homes, even to go to the doctors, in case they are rendered homeless by the time they return. The threat of losing their homes is ever present, where they are pushed from pillar to post in a cycle of ongoing forced evictions. Their situation is replicated in dozens of settlements across Italy. It is high time for the EU to hold Italy to account, and deliver justice to those Roma facing segregation and discrimination," said Fotis Filippou, Deputy Director for Europe at Amnesty International.
On 14 June, the College of Commissioners held their monthly meeting to discuss whether to launch infringement proceedings against states who violate EU law. Yet again, no action was decided against Italy despite overwhelming evidence of rights violations committed against the Roma being made available to the EU's executive arm by human rights organisations. In April the Financial Times revealed that such action had until now been repeatedly blocked 'to avoid a damaging public row'.
In September 2012 the European Commission launched a pre-infringement phase or 'pilot' proceedings against Italy for its treatment of Roma under the Race Equality Directive, alleging forced evictions, segregation in mono-ethnic camps and discrimination in access to housing. There was already overwhelmingly comprehensive evidence available at the time. Yet despite even more evidence coming to light since then, no infringement proceeding has been yet opened nearly five years later.
In recent months, many of the Roma living in the informal settlement of Germagnano, in Turin, have been forcibly evicted by the local authorities and rendered homeless numerous times.
Following a judicially sanctioned decree ordering seizure of the occupied land, the local authorities claim that only abandoned homes were demolished. However, Amnesty International documented a very different situation. In one case a 17 year old boy stated that he was woken up one morning three months ago, and told to immediately collect his belongings before his home was bulldozed to the ground. With no adequate notice, genuine consultation or alternatives as required by international law, those evicted are now homeless, forced to stay in cramped facilities with friends and relatives or pushed into improvised alternatives including tents. Amnesty International documented similar cases involving disabled adults, children and families with young babies - all left homeless.
Italy has a long history of forcibly evicting and segregating Romani people in camps. Germagnano appears to be following the same path as the Gianturco settlement in Naples which was demolished after families were forcibly evicted on 7 April this year. 130 Romani adults and children were placed in the segregated camp in Via del Riposo, while several hundred others were left with no alternative.
On 7 April 2017, Associazione 21 Luglio published its damning annual report revealing that 28,000 Roma had been targeted with forced evictions, segregated in camps, or forced to live in other emergency housing situations across the country.
The statistics lay bare the raft of housing violations inflicted on Romani communities. Across the country 18,000 Roma live in 149 Roma camps in 88 different localities and around 10,000 live in informal settlements and are often victims of repeated forced evictions at the hands of local authorities. Two hundred and fifty forced evictions were carried out against Roma by Italian authorities in 2016 alone.
"Italy breaches the EU Race Equality Directive every other day by forcibly evicting Romani people without providing adequate alternative accommodation, forcing Roma into an intimidating, hostile and degrading environment. An infringement proceeding against Italy is long overdue. What more is needed for the European Commission to sit up, take notice, and take action?" said ERRC President, Ðorđe Jovanović.
This press release is also available in Italian.
For more information or to arrange an interview, contact:

Jonathan Lee
Communications Coordinator
European Roma Rights Centre
jonathan_lee@errc.org
+36 30 500 2118
Alison Abrahams
Amnesty International
aabrahams@amnesty.eu
+32 2 548 27 73
+32 483 680 812