European Court to take Macedonia to task in urgent forced-eviction case
05 October 2016
Budapest, Skopje, 5 October 2016: 53 Roma in Skopje have taken a stand against the Macedonian government before the European Court of Human Rights (ECHR) with the help of an ERRC emergency request regarding their forced eviction on the 1st August. On Friday, the Court took the unusual step of sending urgent notification to the Macedonian government to respond to the application challenging this illegal forced eviction.
The Court usually takes around a year to notify cases in this way, but in this instance has acted in a matter of days after the ERRC's legal team submitted the emergency request for interim measures.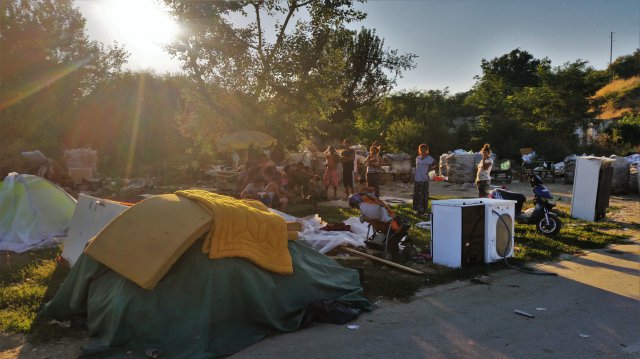 The people had been living in a community in Macedonia's capital that existed for nine years, and were evicted earlier this month without warning or an offer of what we consider to be viable and adequate alternative accommodation. The eviction left them on the streets during flooding, and without access to running water or electricity, they have been unable to cook or look after their basic hygiene. The evicted Roma are now facing the prospect of spending the winter in tents and makeshift shelters on the roadside, where government officials monitor them to ensure they do not build more permanent structures.
The case is also unusual because no proceedings ever took place before the domestic courts. Normally, victims of human rights violations can only go to the European Court after taking their case all the way through the national legal system. The ERRC argued that authorities acted so badly in this case that they made any national legal remedies unusable, meaning the Romani community evicted could take their case straight to Europe.
While the Court's action does not mean that the Court will definitely find a violation, it does mean that there is a case for Macedonia to answer. The Court will now send questions to the Macedonian Government, which will have to answers on an expedited timetable. The ERRC will continue to represent the 53 applicants and fight for them to be rehoused as soon as possible.
"It is encouraging that the court has indicated its intent to seriously address this issue with the Macedonian government. The court'saction recognises that the Macedonian authorities have no respect for the rule of law when it comes to Roma. We have information that the police threatened eviction and coerced Roma to sign papers that they could neither read nor understand. The behaviour of the Macedonian authorities was so deplorable that in this case the ECHR had to deal with the case as a matter of emergency" said ERRC President, Dorde Jovanovic.
For more information contact:
Jonathan Lee
Communications Officer
jonathan.lee@errc.org
+36 30 500 2118