Evicted Roma face attacks in new Belgrade settlement
04 May 2012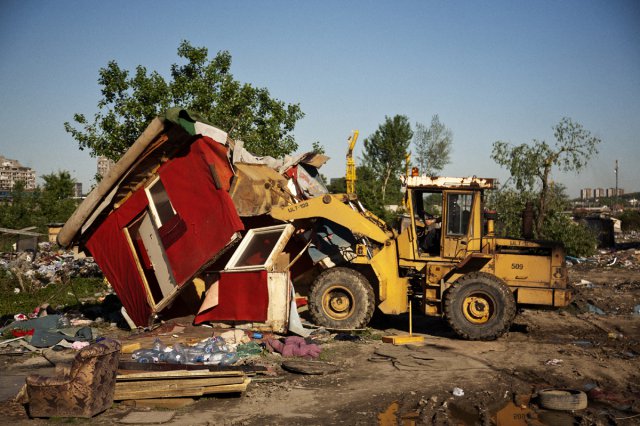 Belgrade, Budapest, 4 May 2012: The European Roma Rights Centre sent a letter to Serbian authorities yesterday urging protection of Romani people attacked in the settlement of Jabučki Rit. The Roma were among those forcibly evicted from Belgrade's Belvil settlement last week.
On 1 May around 15 to 20 masked individuals attacked the settlement, shouting racist slogans including "Serbia for Serbs, Roma out of Serbia." They also drew a swastika on one of the metal containers in which the Roma are living. To date, only one suspect has been arrested; a resident of Jabučki Rit.
"The Roma forcibly evicted from Belvil have the right to live safely in their new accommodation," said ERRC Chair, Robert Kushen. "Any re-housing plans must address the safety of Roma being forced to relocate and offer the chance of real integration and inclusion."
Serbian authorities have a responsibility under international law to provide adequate alternative accommodation to the evicted Roma and to ensure that evicted persons are protected from further human rights violations. The ERRC called on Belgrade police and prosecutors to fully investigate the attack and bring all perpetrators to justice. The ERRC also urged Belgrade authorities to provide adequate and appropriate protection to all Roma forcibly relocated from the Belvil settlement.
For further information, contact:

Sinan Gökçen
Media and Communications Officer
European Roma Rights Centre
sinan.gokcen@errc.org
+36.30.500.1324