Five Years after the Government Officially Expressed Its Regret, Victims of Involuntary Sterilisation Still Waiting for Compensation
10 December 2014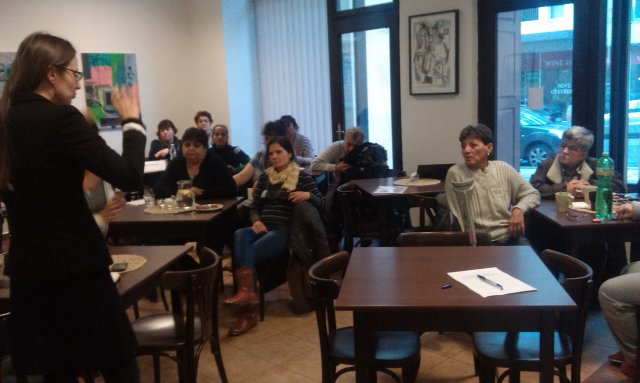 Budapest, Prague, 10 December 2014: For almost three decades, until the end of the 1990s, Romani women and women with disabilities in the former Czechoslovakia were sterilised without free and informed consent. The practice continued occasionally in the 2000s. Until today, these women have not received justice or compensation for the violations of their human rights, despite several promises from the Czech government.
On the occasion of Human Rights Day, more than five years after the official regret, the Group of Women Harmed by Coercive Sterilisation, the European Roma Rights Centre (ERRC), and the League of Human Rights met with some involuntarily sterilised Romani women in Prague in order to jointly express their concerns about the government's inactivity in providing redress to harmed women and their families.
One of the harmed women, Elena, expressed her frustration about the Czech Government's failure to compensate her suffering in these words: ""It has been ten years and there is still no compensation, so we are quite angry that there is news about it coming but this means nothing." Another harmed woman, Anna, said that, "I am recovering from a heart-attack and I have diabetes. Who knows if I will live long enough to be compensated?"
Back in December 2005, the Czech Public Defender of Rights (Ombudsman) reported that the practice of sterilisation without free and informed consent occurred en masse in the former Czechoslovakia and that this practice was encouraged by State policy.
The Ombudsman's report motivated recommendations of urgent action by various international bodies. In November 2009, Prime Minister Jan Fischer and the Government acknowledged individual failures and expressed regret for coercive sterilisations.
In February 2012, the Czech Government's Human Rights Council passed a motion urging the Czech Government to introduce a mechanism for adequate financial redress for victims of involuntary sterilisation. The Council advised establishing a systematic and transparent compensation mechanism for women subjected to involuntary sterilisations.
Since the Council's recommendations, the Czech government has several times announced that it will prepare a mechanism to compensate victims of unlawful sterilisations. The Minister for Human Rights Jiří Dienstbier stated that the compensation mechanism will be in place by the end of 2014.
However, nine years after the Ombudsman's report and five years after the government officially admitted that many Romani women and women with disabilities in the Czech Republic were sterilised involuntarily, the government has not taken any further steps to introduce any form of redress mechanism.
The Group of Women Harmed by Coercive Sterilisation, the ERRC, and the League of Human Rights would like to remind the Czech government of its own promises and encourage the government to speedily grant compensation to all potential victims of unlawful sterilisation in the Czech Republic irrespective of their age, ethnicity, nationality or the particular period when they underwent sterilisation. Many of these women have waited 40 years for justice, and postponing compensation adds to the injustices they have experienced.
For more information, contact:
Sinan Gökçen
Media Coordinator
European Roma Rights Centre
+36 30 500 1324
sinan.gokcen@errc.org