Milan Authorities Continue Evicting Roma
13 March 2014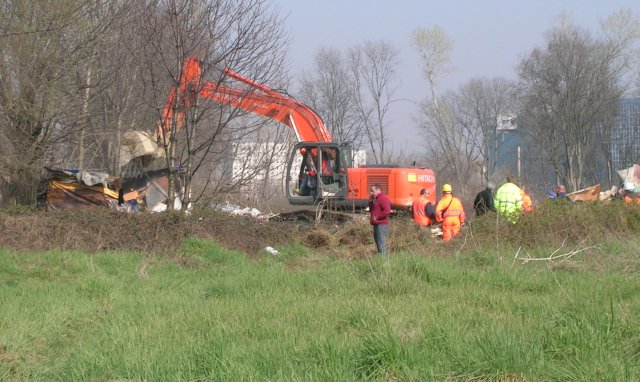 Budapest, Milan, 13 March 2014: This morning, two more Roma settlements were forcibly evicted in Milan, Italy. Meanwhile, Roma evicted on 3 March are still living on the street. All the residents evicted today were victims of previous forced evictions. The ERRC is legally challenging these evictions.
Today, at 9 am, the local police, national police and the Carabinieri, with the support of Civil Defence, the city's "Nomads' Office" as well as Roma Coordination Group, proceeded with yet another forced eviction of settlements occupied by families of Roma ethnicity.
The eviction's followed the now-usual pattern in Milan: the absence of any formal eviction order, no prior consultation with the families concerned, inadequate and only temporary shelter offered. In essence, the City of Milan insists on evicting entire families at great public expense, in open defiance of national law, the fundamental human rights of these people, and other applicable international standards. There is no apparent will to find lasting solutions for Roma in the city.
The authorities in Milan are spending considerable time and resources to evict - at least once a month - the very same people, moving them from one corner of the city to another – often including short stays in indecent, overcrowded and expensive temporary shelters.
"On 3 March, 60 people were evicted without having been offered any alternative accommodation and are currently living on the street in a situation of forced homelessness. Alternative accommodation was proposed today to the 40 people evicted from viale Forlanini", declared volunteers from NAGA, a local NGO and ERRC partner whose volunteers, alongside the ERRC's monitors, witnessed the eviction. "Families evicted ten days ago are still on the street without any assistance or hospitality, creating a grotesque and incomprehensible situation. Notwithstanding that the housing solutions proposed by the City are often inadequate because they do not respect the needs and fundamental rights of Roma citizens and, therefore, are often rightly rejected. The Municipality shouldn't actively use public funds to render entire families homeless" said the volunteers and operators.
"We've been waiting for over three years for a strong signal of discontinuity by the Municipality but, instead, evictions remain the only action taken by Milano's authorities. The administration thus demonstrates not only its failure to carry out any practice of discontinuity, but even the capacity to imagine it. There may be a lack of the needed courage to put in place different policies. What's for sure is that the Authorities never lack the will to conduct useless evictions" conclude NAGA and ERRC.
NAGA and ERRC will continue to monitor the situation, to assist people who find themselves forcibly evicted and ask for structural solutions for a situation that, after so many years, cannot any longer be treated as an emergency.
Press release of local partner NAGA.
For more information, contact:
Sinan Gökçen
Media and Communications Officer
European Roma Rights Centre
Tel. +36.30.500.1324
sinan.gokcen@errc.org
NAGA
Tel. +3491603305
naga@naga.it