New Report About the Situation of Syrian Dom Refugees
29 September 2015
In Syria and across the rest of the region Dom have been subject to decades-long discrimination and marginalisation due to their ethnic identity. Having sought refuge in neighbouring countries they face double discrimination due to their ethnic identity and their refugee status.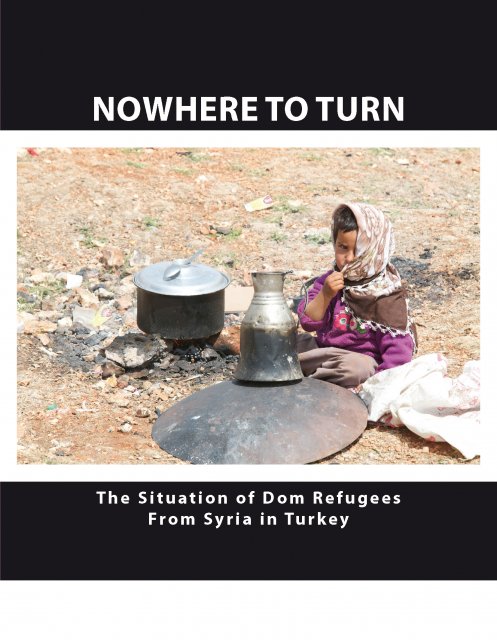 Dom in Syria are linked to Roma in Europe. A recent report supported by the European Roma Rights Centre sheds light on the hardships of Dom minority within the refugee crisis. Refugees interviewed by the ERRC had all been directly affected by the conflict. All of them had one or more family member or relative killed by the regime or the opposition forces during the conflict. Among the families visited by the researchers, there were children who lost their parents and who were being looked after by their relatives. There were also families who lost their children as a result of the bombings during the conflict and due to lack of water and food during their exodus from Syria.
Dom refugees emphasised that they did not take sides in the conflict and that all they wanted was to live in peace. However they could not find peace either among the opposition groups or in the areas where the regime is strong. "We are not hostile towards anyone. We just want to live." - explained one of them to the researchers.
In Syria, non-Arab minorities are not recognised and the Dom are socially and economically stigmatised. They have been subject to various social and moral stereotypes, situating them as people of a lower social and moral status, and have also often been subjected to hostility and open aggression. They are often treated as second-class citizens and face various difficulties in accessing their social, economic and political rights.
Dom refugees usually live in informal camps and have very little chance to generate income. A substantial majority of the refugees visited by the ERRC lived in inadequate conditions without access to clean water, heating or sanitation facilities. In almost all cases, extended families lived together either in a single tent or in a small room. A Dom refugee interviewed in during the research said: "For the last three months, we haven't had enough food. If we were full one day, we were hungry for the next two days. I don't know how we survive. I don't really know how these kids are still alive."
"Dom refugees are discriminated based on their ethnic origin and their refugee status. Those coming from the Kurdish region face further discrimination. We urge the international community develop and implement comprehensive integration policies for the Syrian refugees." - says ERRC Executive Director András Ujlaky.
The full report is available here. 
Background:
The term Dom is used to refer to an ethnic minority group in the Middle East who are linked to Roma (Romani) in Europe and Lom (Lomavren) in Eastern Anatolia, Armenia and the Caucasus. Dom people form a distinct linguistic group whose roots can be traced back to India. Their language is called Domari. Research suggests that there have been different migrations from India during different historical periods, pointing to linguistic and socio-cultural dissimilarities between Romani and Domari. According to the main narrative in Romani studies, the first wave of migration was in the 9th Century, due to the Gadznavid Islamification attacks on Punjab. The migration path went through today's Iraq, and down to the Sinai Peninsula until Palestine, Egypt and Cyprus. These communities, who still dwell or roam in the same territories, are called Dom.
According to Joshua Project, the number of Dom people in Syria is 45,700. A report in a Syrian newspaper, Kassioun, dated 2012, states that the number of the Dom in Syria is more than 60,000.
The Dom in Syria mostly lived in camps with shifting patterns of residence. Meyer states that the largest communities had been living in agglomerations in Aleppo and Damascus and there are settlements in Saraqib, Latakia, Hama and Homs. In Homs, the Dom lived mainly in a neighbourhood on the outskirts of the city. They either lived in houses made with cheap construction materials or in tents. Often entire extended families live together. There are still those who are mobile and living in tents, but their numbers are decreasing. Semi nomadic groups live in permanent tent villages.
The fieldwork for the report was undertaken between September 2014 and January 2015 in 12 provinces of Turkey. The researcher team made interviews with Dom refugees in order to understand their challenges. Anonymity has been ensured in order to protect the refugees who shared their experiences with the ERRC. Interviews were also conducted with representatives of national and international organisations including the Human Rights Association, the Association for Solidarity with Asylum Seekers and Migrants, the Humanitarian Relief Foundation İHH, the Helsinki Citizens' Assembly, the UNHCR and UNICEF.
For further information contact: 
Szelim Simándi
simandi.szelim@xkk.hu
+36202658562