NGOs Demand Government Action to Stop Forced Evictions of Roma in Romania
20 April 2016
Budapest, 20 April 2016: The Romanian Government must take decisive and immediate measures to stop forced evictions of Romani communities, a coalition of NGOs told them last week. Amnesty International, the European Roma Rights Centre (ERRC), and Romani Criss issued a call for action after the European Court of Human Rights and the national government in Romania scrambled to stop a local authority from evicting a community two weeks ago.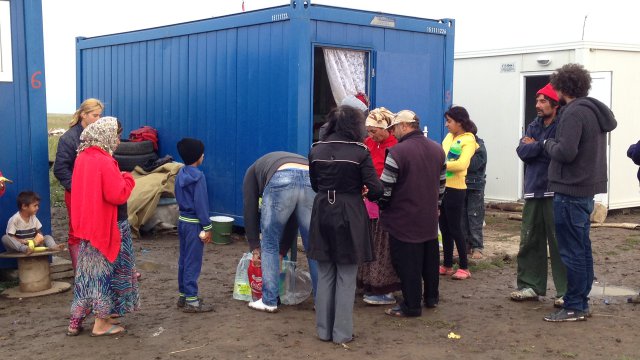 With help from the ERRC, Roma living in Eforie got the European Court of Human Rights to order the Romanian Government to stop their eviction by local authorities. The Prefect (representing the national government) then stepped in, challenging the Eforie local council in court. We welcome this action, but it should have happened automatically.
The swift response by the Prefect shows that the Romanian Government recognises the need to intervene to stop forced evictions. It also vindicates our repeated calls to make better use of the Prefects' existing powers to stop evictions.
Eforie also illustrates Romania's enduring failure to prevent local authorities from threatening Romani communities with forced evictions. This would have been the third in a series of evictions that these families had endured since 2013, when their long-standing, homes were demolished. In the meantime, they have been forced into inhuman living conditions, with minimal or no security of tenure. Some families have been moved into racially-segregated container settlements and most have been harassed.
"Forced evictions against Romani communities are not only a violation of the right to adequate housing, but usually a form of racial harassment. They create new forms of hardship for those evicted, exacerbating a pattern of human rights violations. We encourage the Government to break old habits by acting fast and decisively to end forced evictions," said the ERRC President Đorđe Jovanovic.
We called for a coordinated and formalised state response to forced evictions. To ensure compliance with Romania's international human rights law commitments we have proposed clarifications to the legal framework and immediate measures to render existing guarantees more effective.
The government should commit to the following legislative changes:
Expand the domestic definition of eviction to the demolition of informal housing as required by international law.
Secure tenure for Roma in informal settlements by reintroducing a statute of limitation for the demolition of unauthorized housing.
Extend consultation requirements to cover mass evictions
Introduce a remedy with automatic suspensive effect against forced evictions, allowing for a full review of their proportionality.
The government can immediately use existing legal guarantees by encouraging Prefects to stop evictions. We have now made detailed recommendations to the government in this respect.
It is now time for the Romanian government to act on these recommendations and bring an end to forced evictions of Roma for once and for all.
For further information contact:
Atanas Zahariev
+36 30 500 2026
atanas.zahariev@errc.org