No Place for Roma: French and Italian Authorities Aggressively Evict Roma
11 August 2011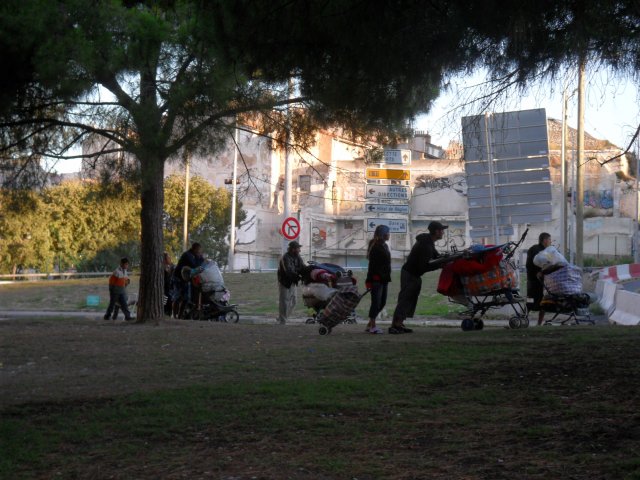 Budapest, Marseille, Rome, 11 August 2011: The Sarkozy Government's infamous campaign to evict and deport Roma from France, which rose to prominence one year ago, is continuing aggressively. In Marseille, between June and August 2011 alone, a minimum of 500 Roma have been evicted from camps. A large-scale eviction of around 150 people happened just this morning. In a similar vein, Roma in Italy are constantly victimised by ongoing and repeated evictions. The ERRC and its partner organisations sent letters to French and Italian authorities expressing concern about the continuing forced evictions of Romani communities in Rome and Marseille.
According to Medecins du Monde, between June and August 2011 alone a minimum of 500 Roma have been evicted from camps in Marseille. Some of them were subjected to violence from private actors that was not investigated or punished, and others were subjected to police abuse. Roma were made homeless and then scattered around Marseille, becoming yet more vulnerable to violent attacks and police harassment. The ERRC also documented several alarming incidents of police violence which have not been properly investigated or punished. French authorities are violating a number of their obligations under international law, including the right to adequate housing and protection from forced eviction, the right to private and family life and freedom from inhuman and/or degrading treatment and discrimination.
In Italy, between March and May 2011, 154 targeted evictions took place in Rome affecting 1,800 Roma. The ERRC and its partner, Association 21 Iuglio, underlined that these evictions violate international laws and standards regulating forced evictions by which Italy is bound. Documentation by the two organisations reveals that Rome authorities do not provide prior notice in advance of the eviction, do not offer proper alternative accommodation and destroy personal property during the evictions.
Robert Kushen, Executive Director of the ERRC, said: "One year after President Sarkozy made headlines by declaring war on Roma, his campaign continues and is being replicated in Italy. The European Union has called for Roma integration but is not enforcing European law that is supposed to protect Roma and all EU citizens against such targeted hostility." 
The letters from ERRC and its partners called on the Rome and Marseille authorities to comply with international legal obligations including providing adequate eviction notification and alternative accommodation, and developing sustainable and adequate integrated housing solutions for all Roma.
For further information contact:
Sinan Gökçen
ERRC Media and Communications Officer
sinan.gokcen@errc.org
+36.30.500.1324