Open Letter To Czech President On Racist Comments About Roma
01 October 2018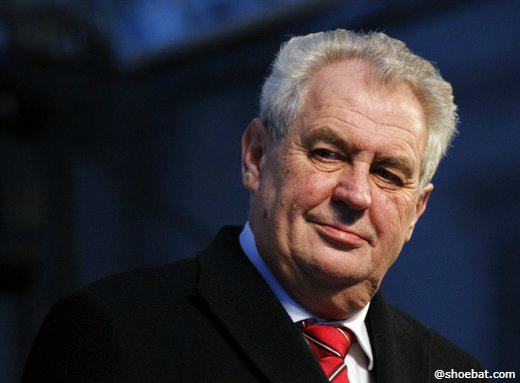 Budapest, 1 October 2018: Today, the European Roma Rights Centre (ERRC) sent an open letter to the President of the Czech Republic, Miloš Zeman, condemning his most recent outpouring of hate speech against the Romani citizens of his country.
You can join us and send him a letter to let him know his views are outdated and unwanted. Click here to email him directly.
Dear President Zeman,
We are writing to protest and to express our revulsion at your latest anti-Roma outburst. As reported in the Czech media, at a public meeting in Kojetin, after you declared that it was exactly clear 'who' the 5% of unemployed are, you went on to reminisce about the communist era when Romani people "had to work" and would be imprisoned if they did not: "Most of them worked as ditch-diggers, and if they refused to work, they were designated as work-shy and went to prison." You then went on to say that among the Romani work crews, if one guy didn't work "they slapped him around. It's a very humane method that worked most of the time."
This is not the first time you have made such disparaging statements about Roma. Your racist scorn for Romani citizens of the Czech Republic is a matter of public record, you have previously alleged that 90% of the 'indaptables' in the Czech Republic are of Romani origin. Your strident xenophobic and intolerant statements have attracted much international criticism, including that of the UN High Commissioner for Human Rights and the European Commission against Racism and Intolerance (ECRI).
The Czech Republic along with 27 other Member States of the European Union committed itself in 2011 to the EU Framework of National Roma Integration Strategies up to 2020. The recent report from the EU Agency for Fundamental Rights (FRA) indicates that these inclusion efforts are constantly undermined by racism. FRA Director Michael O'Flaherty concluded that:
"Antigypsyism, from discrimination to hate crime, fuels the vicious cycle of Roma exclusion. It leaves them as societal outcasts and treated in a stereotypical manner that is intolerable."
Your statements directly fuel that vicious cycle. ECRI noted with concern in 2015 that in the Czech Republic the term "inadaptable" had entered official use, and described this form of expression as extremely dangerous: "by attempting to justify prejudice and intolerance against Roma, it perpetuates and increases them."
When you, as a president of a democratic republic repeatedly refer to your Romani fellow-citizens as 'inadaptables', fondly recall a time – a time of Communist dictatorship – when they could be dealt a good slapping, and call this humane, we have reached a new low.
This statement amounts to blatant hate speech, crude racist incitement and has no place in the European Union. Your abusive rhetoric, designed to stoke fear and racist resentment, poses a direct threat to democratic values and the security of individuals and communities. We declare our solidarity with those Czech citizens who call on you to desist and to resign from the office upon which you have heaped so much disrepute.
Yours sincerely,
Ðorđe Jovanovic, ERRC President

For more information, or to arrange an interview contact:
Jonathan Lee
Communications Coordinator
European Roma Rights Centre
jonathan.lee@errc.org
+36 30 500 2118