Positive Decision on Roma Evictions in Czech Republic
03 May 2013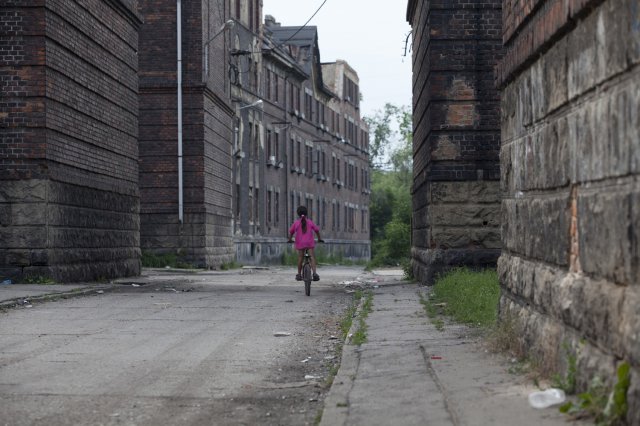 Budapest, Prague, 3 May 2013: The ERRC is welcoming a positive decision of the Regional Court in Ostrava, stating that local authorities did not proceed in accordance with the law when trying to evict Romani families last year. The decision, announced on 26 April 2013, found that the eviction notice issued to dozens of Romani families was not procedurally correct and not sufficiently precise.
In August 2012, Ostrava's building authority delivered an eviction notice to the owner of rented houses inhabited by more than 40 Roma families on Přednádraží Street, in the Přívoz district. The order gave the tenants just over 24 hours to leave the premises voluntarily. The inhabitants were told that if they failed to leave, they risked having the police come to enforce the eviction order. More than 140 Romani people were living in uncertainty for a number of months, as authorities offered inadequate private dormitory accommodation.
The ERRC, together with Amnesty International and Life Together, has been following the case and supporting the community since the original eviction order came through.
The recent court decision shows that public authorities cannot arbitrarily evict people from their homes. The eviction is a responsibility of public authorities and not private owners, and the authorities have to respect criteria set forth by the law for issuing eviction orders. The eviction procedure in the case of Přednádraží Street was faulty. The regional appeal court overruled the financial penalty for the owner (a private firm) for not evicting the tenants from his premises. The court found the eviction order impossible to be put into effect; it was vaguely specified – the number of evictees and the owner responsibilities not specified and impossible to effectuate.
At the moment there are 13 flats with satisfactory conditions ready to be leased again. Ten families have received a new tenancy contract. The ERRC will continue monitoring the situation and consider legal support to evicted families as their right to private and family life might have been violated by the municipality of Ostrava-Přívoz.
For more information:
Sinan Gökçen
Media and Communications Officer
European Roma Rights Centre
sinan.gokcen@errc.org
+36.30.500.1324