Roma Denied Exit From Macedonia Win Discrimination Case
Skopje, Budapest 10 October 2017: Two Romani families who were told they could not user their ID cards to travel outside the country, were victims of race discrimination, a court in Skopje has ruled. The four Romani litigants successfully sued the Macedonian Ministry of Interior for discrimination and violation of their right to equal treatment, with legal representation from the European Roma Rights Centre (ERRC).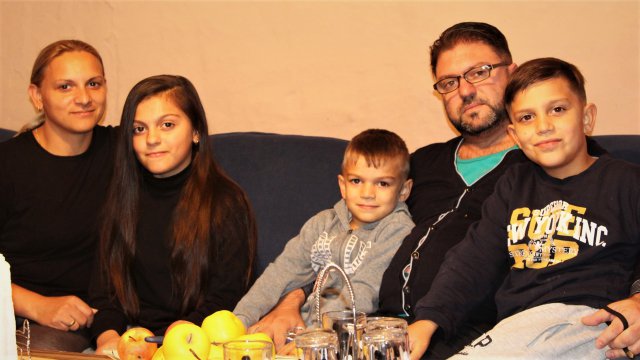 Sevdije and Senad Asan and their three children, and Ajten and Suvat Bekir, who also have three children, had their passports confiscated after they returned to Macedonia, having tried to claim asylum unsuccessfully in the EU. On arrival, their passports were confiscated, and several weeks later the Ministry of Interior imposed a restriction which denied them use of their identity cards to travel across state borders. Normally Macedonian citizens can use their ID cards to travel to neighbouring Serbia and some other countries. The passport confiscation was, at that time, in accordance with national law (which was not long after declared unconstitutional). However, the subsequent travel ban on their ID cards was, and is, illegal as the Ministry of Interior acted without any court approval to impose a travel ban. These measures, the Romani couples argued, were taken against them as part of a wider discriminatory pattern that exists within the Ministry of Interior aimed at preventing Roma from leaving Macedonia. Roma are routinely being ethnically profiled, denied exit at the border, and prosecuted for the criminal offence "abuse of visa free system" in a deliberate attempt to deny them exit from the country.
"The day when I found out about our travel ban, I felt like a stranger in the country where I was born. This would not have happened to me if I was not Roma" said Senad Asan in an interview.
The Basic Court Skopje II delivered their first instance decision on 11 September, establishing a violation of the right to equal treatment, and awarding total damages of 200,000 MKD (€3,250) to the Romani couples. The court found that the Ministry of Interior has no role in applying EU entry regulations when performing border controls on people leaving the country, and also that the Romani couples did not represent a threat to the public policy or international relations of the Republic of Macedonia in any way. The court concluded that the Ministry discriminated against the litigants on the basis of their Romani ethnicity.
"Macedonia marginalises its Roma population, both societally and institutionally" said ERRC President, Đorđe Jovanović. "Roma are discriminated against when they try to access public services, young Roma suspiciously die in prisons on far too regular a basis, police officers brutalise Romani families, and municipalities bulldoze their homes. And then, when they try to escape this systematic discrimination and harassment - they are ethnically profiled and banned from leaving their own country."
The travel ban imposed by the Ministry of Interior on the Romani couples' ID cards is a blatant violation of their rights and the law. The ERRC is aware that this is by no means an isolated incident, and believe it to be part of a concerted effort to ethnically profile Roma in Macedonia, and deny them freedom of movement out of the country. Police have deliberately ignored the judicial process in implementing this restriction, not out of ignorance, but in the assumption that there would be no repercussions and Roma would not fight for their rights. This victory should demonstrate to them that this is an issue which the ERRC will not allow to go unchallenged in Macedonia.
This press release is also available in Macedonian.
For more information, or to arrange an interview contact:
Jonathan Lee
Communications Coordinator
European Roma Rights Centre
jonathan.lee@errc.org
+36 30 500 2118