Roma Families Forcibly Evicted Against Their Will in Rome, as New Administration Fails to Learn From Mistakes of the Past
12 September 2013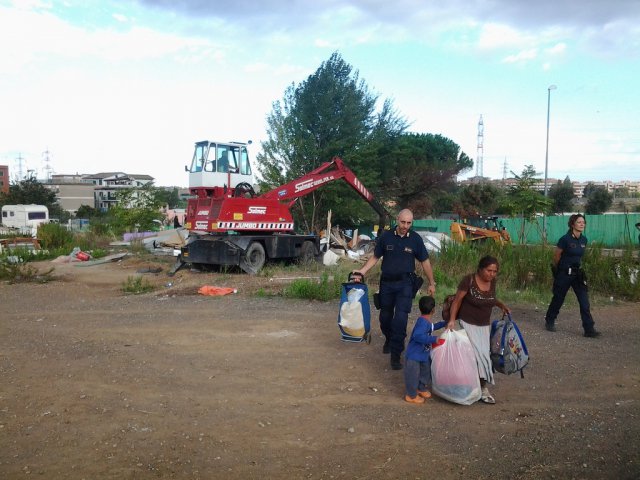 Budapest, Rome, 12 September 2013: Around 35 Romani families are being evicted from the informal settlement of Via Salviati, Rome this morning, and taken to a segregated formal camp against their will. Amnesty Italy, Associazione 21 Luglio and the European Roma Rights Centre (ERRC) have observers at the operation, and are concerned that the action does not meet human rights standards or procedural safeguards.
Approximately 70 law enforcement officers travelled to Via Salviati this morning at 7.15 to evict the Roma.Today's action is the result of an order by Mayor Marino, 5 August 2013, which ordered the immediate transfer of the people and their property to the large formal camp, Castel Romano. This is the second time the Roma have been evicted from Via Salviati, which is just a few kilometres from the centre of Roma.
The Roma community sent an open letter to Mayor Marino, clearly stating that they don't want to live in a ghetto. Castel Romano is a Roma-only mega-camp around 25 kilometres from the city. It is extremely difficult for Roma to access jobs and education from the location, and it is extremely harmful for inclusion efforts.
The Roma community of Via Salviati has repeatedly asked the city of Rome's authorities for dialogue, to establish positive communications and to make a break from the disastrous policies of the previous authorities. In the open letter to the Mayor, they asked to work towards policies for genuine inclusion. As far as the NGOs are aware, the request has not been followed up by the authorities.
The rights groups are also highlighting that today's eviction does not meet the standards and procedural safeguards required by international standards. There has been no real and genuine consultation with the Roma concerned, and there is no alternative adequate housing provided. Rome's formal camps cannot be considered as alternative appropriate housing as it is proven that living in these settlements undermines the enjoyment of essential social and economic rights and has a strongly negative impact on the lives of its inhabitants, in defiance of the most basic human rights.
The forced eviction is an undeniable backwards step from the positive commitments made in the National Strategy for Inclusion of Roma, Sinti and Caminanti, which emphasises the need to overcome the model of the "camp" to combat isolation and promote social inclusion paths.
This press release is also available in Italian.
For more information contact:
Sinan Gökçen
Media and Communications Officer
European Roma Rights Centre
Tel. +36.30.500.1324
sinan.gokcen@errc.org
Danilo Giannese
Media and Communications Officer
Associazione 21 luglio
+39.388.486.7611, +39.06.644.91242
stampa@21luglio.org
Paola Nigrelli
Media Officer
Amnesty International Italia
+39.06.449.0224, +39.348.697.4361
press@amnesty.it