Will Macron Turn the Tide on Roma Evictions? New Report Shows Thousands of Roma Made Homeless in 2017
10 August 2017
Budapest, Paris, 10 August 2017: Since the beginning of this year, 4,382 Roma have been evicted from their homes in France. The majority of these people were evicted by French authorities without a court order, and without an offer of adequate alternative accommodation, contradictory to both national standards and international law.
The latest report on France's policy of forcibly evicting Romani families was released today by the European Roma Rights Centre (ERRC) and the Ligue des droits de L'Homme. It shows concerning evidence of France continuing to systematically evict Roma, regardless of the so-called Equality and Citizenship law which came into force on 27th January 2017 and applied a 'winter truce' on the dismantling of makeshift housing, as well as an extension of deadlines for proceeding with evictions.
"We want to stay here during the winter because we have children. Please, let us stay here until March-April, we have nowhere to go...We are families who want to integrate, we want to find a job, to enroll our children in school, to have a better life, not to live in misery." - said inhabitants of Boulevard Ney, Paris in an open letter to authorities on 23rd January.
The report shows a disturbing increase in the number of Roma who left their homes under threat of eviction in order to avoid the trauma of being evicted. Almost 800 people were pressured to leave their place of residence because of the imminent threat of forced eviction in the middle of winter.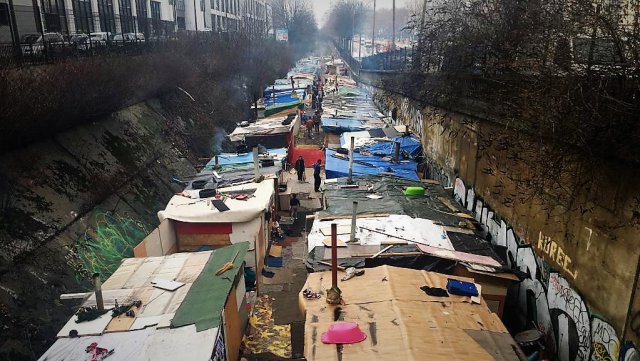 (Image: 'Le bidonville tout enlongueur de la Porte des Poissonniers' 31 January, NastasiaTepeneag, RFI.fr)
The majority of evictions once again were targeted at Roma living in the Ile-de-France region of Paris, with 59% of evictions taking place there. This is a continuation of a pattern seen in previous periods, and highlights the crisis unfolding in the capital regarding the lack of affordable housing, failure to address the underlying problems these Roma face, and a lack of commitment to providing shelter or alternative accommodation for those who are being made homeless.
In addition to routine forced evictions, the report also shows an increased level of intolerance towards Roma evidenced by arson attacks, denial of access to education, institutional biases in the judiciary, hate speech from politicians and the media, punitive evictions, gun attacks, police brutality and killings. Continuous forced evictions by authorities only expose Roma who are in a precarious situation to further discrimination and danger.
"We really live from day to day, we do not know if we will succeed in eating properly the next day" said a Romani woman living at Porte de la Chapelle in Paris, where more than 500 Roma live in makeshift housing, without access to drinking water or sanitation. "I'll get firewood" another explained "so that my children will not die of cold at night."
In May, the ERRC called on President Macron to live up to his campaign promises and not make the same mistakes as those who have gone before him. His immediate predecessor, François Hollande, failed to adhere to his own so-called Socialist principles and instead, furthered the policy of forced evictions instigated by ex-President Nicolas Sarkozy.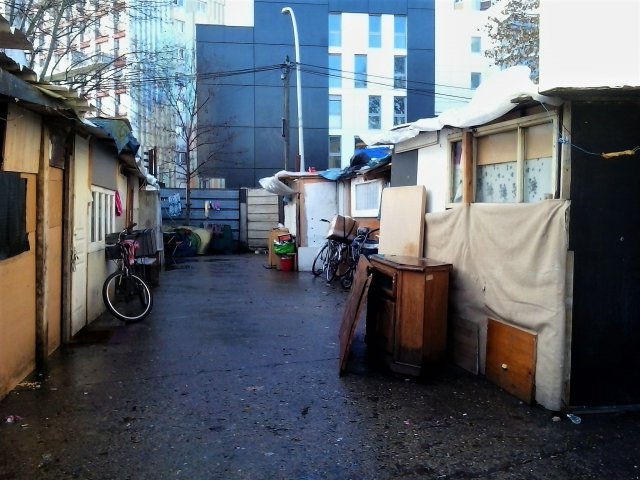 We urge Mr. Macron to put in place a moratorium on forced evictions affecting people in informal makeshift housing, as called for in the open letter published by Terre d'erranceon 18th May 2017. This would not only avoid increasing the degree of poverty many Roma are subjected to, but would also "give sufficient deadlines to local officials, public authorities, inhabitants and organisations [...] to find adapted and human rights respectful solutions". We additionally call on President Macron to act in light of the following statement made by his own party 'En Marche!':
"Destroying [slums] without any alternative solutions is a hypocritical, expensive and inefficient method. Public authorities together with inhabitants, neighbours and NGOs have to find solutions before destroying [slums] or evicting [people], as it leads to the creation of a new camp."
The targeting of a single ethnic group who are vulnerable to discrimination only creates cycles of repeat evictions and forced removals. It is a significant squandering of resources, as well as being morally reprehensible. Repeat evictions as a matter of policy are neither in the best interests of taxpayers, whose contributions would could far better be deployed in investing in social assessments and sustainable solutions for housing.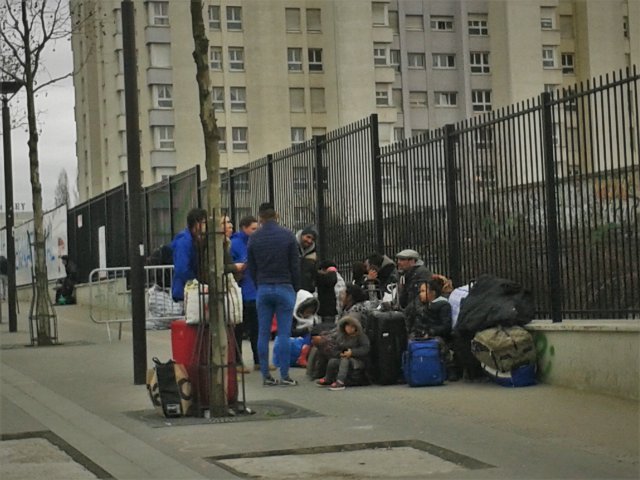 The ERRC and the Ligue de droits de L'Homme implore President Macron to take up this issue personally, and demonstrate that he is not merely a continuation of the 'same-old' politics he claims to be a departure from. We urge him to ensure France abides by the OPRE joint statement calling for sustainable housing and accommodation solutions for Roma, in order to avoid further evictions; stating that forced evictions are justifiable only in the most exceptional circumstances; and where they occur, evictions must meet international legal standards.
We call on French authorities to consult with the annual report of the Collectif National des droits de l'homme Romeurope, containing twenty proposals of inclusion policies for people living in slums and squats. It is only through workable, long-term solutions which address the root causes of inequality that sustainable integration can take place. It is clear this will never happen as long as France continues its illegal policy of ethnically motivated evictions of Romani people.
The full report can be accessed here in English or French.

This press release is also available in French.
For more information, or to arrange an interview, contact:
Jonathan Lee
Communications Coordinator
European Roma Rights Centre
jonathan.lee@errc.org
+36 30 500 2118
Radost Zaharieva
Country Facilitator for France
European Roma Rights Centre
radost.zaharieva@errc.org
+33 76 106 0678