Roma Belong - Discrimination, Statelessness and Marginalisation of Roma in the Western Balkans and Ukraine
26 October 2017
Roma Belong - Discrimination, Statelessness and Marginalisation of Roma in the Western Balkans and Ukraine
The #RomaBelong project is a joint initiative by the European Roma Rights Centre (ERRC), the Institute on Statelessness and Inclusion (ISI) and the European Network on Statelessness (ENS) in collaboration with partner organisations in Albania (Tirana Legal Aid Society), Bosnia-Herzegovina (Vaša prava BiH Association), Macedonia (Macedonian Young Lawyers Association), Montenegro (Mladi Romi), Serbia (Praxis) and Ukraine (Desyate Kvitnya).
The project aims to better understand and address Romani statelessness (and risk of statelessness) in European Union candidate and neighbourhood countries in the Western Balkans (Albania, Bosnia-Herzegovina, Kosovo, Macedonia, Montenegro and Serbia), and Ukraine. The specific aims of the project are:
Understanding the causes of Roma statelessness and the obstacles that stand in the way of solutions
Strengthening the understanding and capacity of Roma rights organisations and activists to mobilise to end Roma statelessness
Facilitating and bolstering international, regional and national responses to Roma statelessness
The project was set up in June 2016, with an initial research phase followed by advocacy and awareness-raising activities at national and regional levels. A synthesis report, published in October 2017 based on research findings from all of the research countries, examines the issue from a regional perspective, and outlines key recommendations targeted at civil society, funders, national governments and regional stakeholders such as the OSCE, EU and Council of Europe, who can influence and facilitate action to address the issues.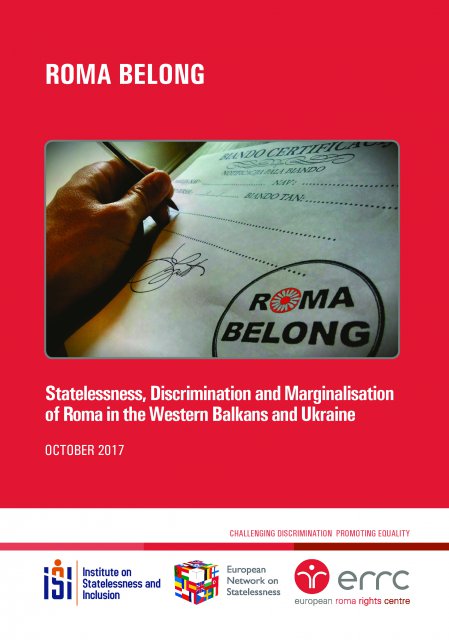 The report on the Western Balkans and Ukraine was launched at a regional conference in Skopje (26-27 October 2017), bringing together NGOs, community associations, lawyers, journalists and academics as well as representatives from governments and inter-governmental organisations to discuss the findings and next steps for the project.
Country reports on Ukraine and Albania, looking at the specific situation in those countries, are forthcoming. To find out more about the project or request copies of publications, contact:
Nicole Garbin
Lawyer
European Roma Rights Centre
nicole.garbin@errc.org