Andi Dobrushi
07 November 2002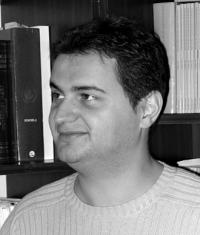 I have been trying to avoid writing this column for several years now. There are many reasons for this, but primarily because I never like to write about myself. My opinion has always been that Roma Rights does not really need this rubric – I even thought it was obsolete to include it under such a title, which confines the ability to expand beyond personal portraits and traps you into writing (often) sentimental stories. In my mind, the ERRC has become more a concept, a vision. How can I write "Meet the ERRC", a section on the last pages, after you've read seventy pages crammed with a variety of issues, such as with terrible stories on pogroms, people killed in police stations, families terrorised by skinheads, youngsters not being able to have a drink with their friends, refugees wandering in vain to find some comfort? Of what relevance is a personal column after you have wrestled with theories of law and philosophy, with struggles and battles fought in courts, fought against racism, so pervasive in our societies. All of us have our own stories to tell about encounters with many forms, subtle and obvious, of racism. These are not merely stories and experiences. They become part of you and affect the way you think and act.

Five years ago, the phone rang and distracted my attention for a couple of minutes from the worrying news I was getting from my country. Feeling indifferent and empty inside from the scenes of violence and disorder that had been filling my days for almost a month, I heard the voice of my friend inviting me to do some work for the European Roma Rights Center. "European what?", I asked. "It's an organisation which deals with Roma/Gypsies," she told me. Motivated from sheer curiosity, the next day I wandered the streets of Budapest, trying to find Gyulai Pál utca and this organisation. A couple of months later, I was sitting in the ERRC's office, observing the unfamiliar faces, who would later become my friends and colleagues, but more importantly, a permanent source of inspiration and stimulation in my life.

I have gained enough distance in these years to permit myself an appraisal of the time I've spent and lessons I have learned at the ERRC. I've learned that Roma rights is not an issue that can be solved overnight. It is an issue that will continue to perplex us for a long time. The effect of systemic racism has caused and maintains high rates of poverty among Roma, unequal access to quality education, jobs and housing, and a blatantly discriminatory criminal justice system. Society nowadays blames Roma themselves for their difficult situation, labelling them as inferior. The ERRC tries to address these issues, has established allegiances with ongoing public interest groups that have ties to the Romani community, and have pursued these issues through litigation. I have also learned how traditional legal action might complement and encourage – not replace – community activism and political involvement. Put simply, an exclusive focus on litigation will not accomplish fully the desired objective.

I must confess that my experience at the ERRC as a lawyer has indelibly informed my thinking on lawyering for social change. Even if I wanted to, it would be extremely difficult to change the path I've embarked upon. I have come to realise what progressive lawyers have to learn in order to address the great justice challenge – and opportunity – of the new millennium: facing up to the full scope of race issues, and thereby moving our lawyering practices closer to our strongest theoretical visions of democracy.