Collective Expulsions of Roma Around Europe... And Again the European Court of Human Rights Rules the Practice Illegal
07 November 2002
Collective expulsions of Roma have recently been reported from a number of countries around Europe. At the same time, in November 2002, the Italian government agreed to pay over 160,000 euros to a number of Bosnian Roma expelled from Italy in 2000, after the European Court of Human Rights ruled the applications of the victims admissible. The Court had earlier in 2002 heavily fined Belgium for collectively expelling Roma.

On June 20, 2002, the Swedish daily newspaper Kvällsposten reported that hundreds of Romanian Roma had arrived in Sweden in the previous weeks seeking asylum. According to Kvällsposten, Mr Jan Karlsson, the Swedish minister in charge of migration, had stated on Swedish Radio at the beginning of June 2002 that "asylum is intended to protect persecuted people who need shelter. I know for certain that these people do not have any such reasons." Kvällsposten reported that the Swedish Migration Office was dealing with the asylum applications of the Romanian Roma "especially quickly" and that some had already been sent back to Romania.

On August 12, 2002, the electronic newsletter Divers reported that all of the approximately five hundred and twenty-five asylum applications submitted to the Finnish authorities by Romanian Roma since January 1, 2002, had been rejected. Approximately three hundred Roma had been returned to Romania. According to the Finnish national daily newspaper Helsingin Sanomat of June 5, 2002, the Finnish Directorate of Immigration imposed a two-year ban on entrance to the Schengen zone on Romani asylum applicants whose applications had been denied. The ban was announced following the fast-track processing of the applications of sixty Romanian Roma, all of which were reportedly ruled to be groundless by Finnish authorities.

According to Divers of September 2, 2002, more than three hundred people, most of whom were Romani, had been deported to Romania from France in 2002. On the same day, the Romanian national daily newspaper Gardianul reported that French Minister of Interior Mr Nicolas Sarkozy announced that he, his Romanian counterpart, Mr Ion Rus, and the Romanian Prime Minister, Mr Adrian Nastăse, had reached an agreement whereby Romanians who commit crimes in France would have their property in Romania confiscated. The announcement followed a meeting between Mr Sarkozy and Mr Rus in which, according to the BBC of July 29, 2002, Mr Sarkozy announced that France would take measures to stop the immigration of Romanian "Gypsies". The BBC also reported that according to Mr Sarkozy, France would send a police attaché and experts in human trafficking to Romania. On the same day, the Agence France Press reported that Mr Sarkozy also declared that the police attaché from Romania was due to arrive in France as early as August 5, 2002, and announced the tightening of border controls. Mr Rus reportedly stated that he would not accept that "a few hundred people affect the prestige and image of over 20 million Romanians" and agreed with the implementation of "very strict procedures." On July 15, 2002, RFE/RL reported that ten disabled Roma caught begging in France had been detained and deported to Romania. The ERRC is closely monitoring the implementation of the proposed discriminatory measures in both France and Romania. It was subsequently reported to the ERRC by local sources in Romania that 100-200 Roma had been stopped from leaving Romania by Romanian border authorities at border crossings in Arad County (for details, see pp. 113-114 of this issue of Roma Rights).

According to an October 9, 2002 report by RFE/RL, one hundred and fifty-one Czech asylum seekers, the vast majority of whom were Romani, had been forcefully expelled from the U.K. since the beginning of September. Forty-six unsuccessful asylum seekers were deported to the Czech Republic from the U.K. on October 8, 2002, reported RFE/RL. On September 30, 2002, RFE/RL reported that twenty-nine asylum seekers had been expelled to the Czech Republic on September 27, 2002. Earlier, according to the BBC of September 20, 2002, that same day, forty-eight immigrants, including twenty-one children, were expelled to the Czech Republic. The BBC reported that the event took place in front of media sources that had been "invited by the Home Office to film and photograph the Immigration Service exercise." The action has been widely criticised, including by Liberal Democrat Home Affairs spokesperson Mr Simon Hughes, who commented "It is verging on the obscene for the Home Office to stage photo opportunities," according to the BBC. Non-governmental organisations in the U.K. report that up to 20% of applications by Roma from the Czech Republic are ruled at the appeals stage as meritorious.

On October 17, 2002, the non-governmental organisation Swiss Helsinki Committee informed the ERRC that Switzerland had expelled three large groups of Romanian Roma during the first few weeks of October 2002. On October 3, 2002, forty Roma were flown to Romania. On October 9, 2002, one hundred and eleven Roma were expelled and on October 10, 2002, a third group of one hundred and two Roma were reportedly sent to Romania. However, according to an October 11, 2002 report by RFE/RL, two groups of Roma were expelled to Romania on October 10, 2002, bringing the day's total to one hundred and seventy-three. The Swiss Helsinki Committee further informed the ERRC that, as of October 17, 2002, an additional fifty-nine Roma were being held in a reception centre in Chiasso in southern Switzerland awaiting deportation. On October 2, 2002, the Swiss daily newspaper Le Temps reported that ninety Roma had been transferred to an underground army base at Mollis, where they would be held for a maximum of four weeks. Approximately four hundred and fifty Romanian Roma were reported to have illegally entered Switzerland from France at the end of September, apparently in response to a crackdown by authorities on Romanian citizens (and primarily on Roma from Romania) in France. As the Swiss Helsinki Committee noted, most of the Roma requested asylum upon arrival in Switzerland. However, many reportedly withdrew their requests after being informed that they would not be granted the status of political refugee. Only nine of the Romanian Roma who had arrived in Switzerland since September were reportedly granted temporary permission to stay: two women who had given birth and their families. On November 11, 2002, the Swiss Helsinki Committee reported to the ERRC that all other Roma who had arrived in Switzerland from France in September had been expelled to Romania from Switzerland.According to the Swiss Helsinki Committee, Swiss authorities have stated that they secured assurances from the Romanian government that none of the returned Roma would be subject to legal sanctions upon their return to Romania. Romanian Government Ordinance 112/2001 criminalises the crossing of foreign borders illegally by Romanian citizens and sanctions the imposition of punishments including the confiscation of property, the confiscation of passport and/or a prison sentence of up to three years, for such actions (additional information on the Ordinance is available at: http://lists.errc.org/rr_nr4_2001/snap3.shtml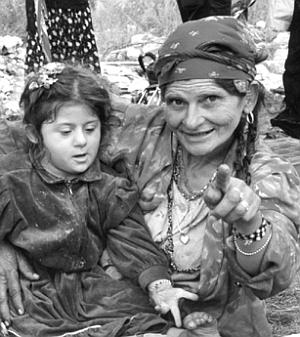 Ms Hadzira Sulejmanovic with her daughter Allissa.
On October 16, 2002, RFE/RL reported that on October 15, 2002, seventy-two immigrants living illegally in Spain were deported to Romania. The returnees were reportedly sent back to Romania in accordance with a "readmission" agreement, recently signed between Romania and Spain. More than six thousand Romanians, most of whom were Roma, were expelled from Western European countries in 2002, according to the report. According to RFE/RL, some of the people deported did not possess passports, while others had been charged in Spain with crimes. Previously, on June 29, 2002, the Romanian national daily newspaper Adevãrul reported that sixty-six Roma were returned to Romania from Spain on June 28, 2002. As reported in Adevãrul, the returned Roma stated that they were living in a camp in Barcelona in inhuman conditions and selling newspapers to survive, when they were taken from the road by Spanish police and deported. One Romani woman informed Adevãrul that she had been separated from her daughter, who remained in Spain.  Mr Nicolae Vãduvã, Border Police Chief at Bãneasa Airport in Bucharest, reportedly stated that his office was investigating whether any of the Roma had illegally passed any borders, because those who had left Romania illegally would be punished in accordance with Government Ordinance 112/2001.  A representative of the Bãneasa Border Police told representatives of the ERRC and the Bucharest-based Romani organisation Aven amentza that the group of Roma deported from Spain had been held in police custody only long enough for the police to check their documents. A number of Roma were reportedly arrested for having violated laws in either Romania or Spain and penal actions were allegedly underway against these persons. The Bãneasa Border police officer also informed the ERRC/Aven amentza that a number of Roma had had their passports suspended as a result of their illegal stay in Spain, but had been released from police custody on June 28, 2002. According to the Bãneasa Border police officer, cases had been filed in accordance with Government Ordinance 112/2001. On October 3, 2002, the ERRC/Aven amentza submitted an official request to the General Inspectorate of Border police for information on persons charged in accordance with the government ordinance. In a response received on November 3, 2002, the General Inspectorate of Border Police stated that Romanian citizens returned on the basis of readmission agreements are checked upon re-entrance to the country to confirm the identity of the individual at issue, ascertain the conditions in which they had originally crossed the border; and the reason for their expulsion from the foreign country. The passports of expelled persons are suspended for one to five years, according to the General Inspectorate of Border Police.
 
The collective expulsion of aliens is banned under Article 4 of Protocol 4 to the European Convention of Human Rights and the European Court of Human Rights has recently ruled in cases related to the collective expulsion of Roma. Most recently, the Italian government has settled cases brought against it before the European Court of Human Rights by Bosnian Romani families who were expelled collectively from Italy on March 3, 2000. Pursuant to the settlement, Italy agreed to revoke the expulsion decrees, return the plaintiff families to Italy, grant them humanitarian residence permits, and pay financial damages of over 160,000 Euro. The applicants were represented by attorney Nicola Paoletti of Rome, jointly with the ERRC.
 
In the first case, the applicants were Fatima Sejdović and Izet Sulejmanović and their two children, who were born in Italy in 1998 and 1999.  In the second case, the applicants were Paso and Hadzira Sulejmanović who, along with their children, had come to Italy in 1991 after fleeing the war in the former Yugoslavia.  The applicants claimed that the police forced them out of their caravans at the Casilino 700 travellers' camp at gunpoint at 2:00 a.m. on March 3, 2000, and placed them, along with other Bosnian Romani families - 56 persons in total - on a chartered flight to Sarajevo.  Mrs Sejdoviæ had given birth to her youngest child less than three months earlier, on December 22, 1999.  Allissa Sulejmanovic, the minor daughter of Paso and Hadzi-ra Sulejmanović, suffers from Down's syndrome and had reportedly undergone heart surgery in Rome shortly before being expelled from Italy.
 
In its admissibility decision of March 14, 2002, the European Court agreed to consider the applicants' complaints arising under Article 3 (prohibition of torture or inhuman and degrading treatment), Article 4 of Protocol 4 (prohibition of collective expulsions), Article 8 (right to privacy and family life) and Article 13 (requirement of an effective remedy) of the European Convention on Human Rights and Fundamental Freedoms.  Among other things, the applicants argued that the deportation to Bosnia would subject them to serious mortal danger (their native villages were situated in the now-Serbian entity of Republika Srpska in Bosnia), that it presented grave risks to the health of the newborn baby and mother, and that Allissa Sulejmanović would be placed at very serious health risk, without adequate access to the medical care she needed.
Several field investigations conducted by ERRC during the summer of 2002 resulted in substantial evidence supporting the applicants' claims. After their return to Bosnia, the Sulejmanović family was forced out of Sarajevo and fled to Mostar, where they were also attacked by local residents.  They then tried to set up their tents in a field in the town of Jablanica and were chased away by police.  They finally ended up living in a field in Livno, in the southeastern part of Bosnia and Herzegovina, where they tried to eke out a living by collecting scrap and begging. They received no assistance from either the Bosnian government or from local or international humanitarian organizations.  Allissa's health continued to deteriorate significantly.  
 
In addition to returning the families to Italy and paying compensation, the settlement agreement also requires the Italian government to provide the families with temporary accommodation, school enrollment for the children, and medical care for Allissa.  The total damages to be paid to all applicants is 161,293 Euro.
 
In other news, according to the electronic news source State-watch, on October 15, 2002, following a meeting of the Justice and Home Affairs Council of the EU in Luxembourg on October 14 and 15, 2002, the Council issued a declaration which stated that the ten accession countries - Cyprus, Czech Republic, Estonia, Hungary, Latvia, Lithuania, Malta, Poland, Slovakia and Slovenia - will, from the date of signature of the accession treaties, be considered "safe countries of origin". According to the Declaration, "Given the level of protection of fundamental rights and freedoms by the Candidate States, Member States agree to the presumption that Candidate States with which an accession treaty is being negotiated are safe countries of origin for all legal and practical purposes in relation to asylum matters, as from the date of signature of such accession treaty. Accordingly, any application for asylum of a national of any such Candidate State shall be dealt with on the basis of the presumption that it is manifestly unfounded [...]."  Insofar as "safe country of origin" lists focus on states to the detriment of individuals, the "safe country of origin" approach is inconsistent with the 1951 Convention Relating to the Status of Refugees, the primary international law governing asylum and refugee affairs. A number of the countries included in the EU list have very problematic human rights records where Roma are concerned, and Romani individuals from a number of the countries listed have in recent years been recognised as refugees after fleeing their country of origin. The ERRC is convinced that the recent EU Justice and Home Affairs Council declaration, as well as similar measures by EU member states, have more in common with the interests of stopping migration to Western Europe than with protecting the right of refugees to surrogate protection. The ERRC has repeatedly criticised such measures, most recently in statements presented at an Implementation Meeting of the Organization for Security and Co-operation in Europe, as well as in issue 2/2002 of Roma Rights, addressing the theme of "Fortress Europe". The Fortress Europe issue of Roma Rights is available on the ERRC's Internet website at: http://errc.org/rr_nr2_2002/index.shtml.
(Ade-vãrul, Agence France Press, Aven amentza, BBC, Divers, ERRC, Gardianul, Helsingin Sanomat, Kvälls-posten, RFE/RL, Statewatch, Swiss Helsinki Committee)