Fight over housing Roma heats up between Slovak government and racist municipal authorities
10 April 2001
Municipal authorities in the northeastern Slovak town of Medzilaborce have reportedly gathered approximately 2000 signatures to a petition in an effort to block efforts by the Slovak government to house a small group of homeless Roma there.

The Roma concerned number approximately 25 and live in makeshift huts in the village of Čabiny, on the side of the Humenné-Medzilaborce road. They have been homeless since the early 1990s, when the agricultural co-operative on which they worked and lived was broken up and partially sold. All of the Roma concerned are legal residents of one of two villages - N'agov and Rokytovce, both just south of Medzilaborce. In 1997, both towns issued bans on the entry of Roma into the villages (see Two settlement bans and a fire in northeast Slovakia), but rescinded the bans after the ERRC filed a complaint over the issue at the European Court of Human Rights in Strasbourg (see Strasbourg application charges Slovak towns with racial discrimination against Roma). In Slovakia, basic rights including housing, education, health care and social support are all linked to having permanent residence in a given municipality; all citizens are presumed to have local residence somewhere, although in practice many Roma do not.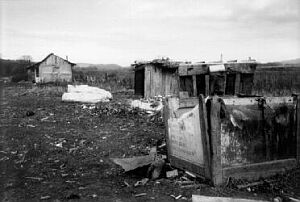 Makeshift huts in the Romani settlement of Čabiny, northeast Slovakia, November 2000.
Photo: ERRC
On November 14, 2000, members of the ERRC and the Košice-based organisation Central European Educational Opportunities Center (CEREOC) accompanied Mr Blazej Demeter, a legal resident of Rokytovce, to the mayor's office in Rokytovce to apply for housing. Mr Demeter's previous efforts to secure housing in Rokytovce had reportedly been met by the mayor stating that he did not know Mr Demeter and therefore would not consider his application for housing. Mr Demeter has four children, three of whom have reportedly been taken into custody in children's homes as a result of his poor living conditions in Čabiny. He receives social aid and works occasionally at odd jobs. When accompanied by the ERRC, Rokytovce Mayor Mr Bajcura agreed to consider an application for housing at the next meeting of the Rokytovce town council, but asked if the ERRC was aware of "public opinion" about Roma in the town. Mayor Bajcura called the particular group of Roma stranded on the Humenné-Medzilaborce road "brigade workers", and stated that, a local history of at least since 1982 notwithstanding, they had no authentic connection to the village. In December 2001, local authorities refused Mr Demeter's application for housing in Rokytovce. The ERRC is currently considering further legal action.

In developments pertaining to the same group of Roma, the Slovak government has reportedly allocated an unspecified sum of money for the reconstruction of a building in the nearby town of Medzilaborce to house the homeless group, but authorities in that town strenuously resisted the plan. Rumours of a rehousing arrangement have been circulating since early 2000. In November 2000, it was rumoured that the Roma would be housed by Christmas. However, those plans were put on hold when a petition appeared - rumoured to have been organised by Medzilaborce local authorities themselves - to block the move. According to Slovak and international press, as of February 26, 2001, the petition had more than 2000 signatures, and had been forwarded to the Slovak government.
(ERRC, Pravo, Radio Free Europe/Radio Liberty, SME)