Plan for the elimination of "Gypsy shanty towns" in Hungary
15 August 2001
According to the Hungarian national daily newspaper N'pszava of April 9, 2001, the Ministry of Agriculture and Regional Development has provided details of a five-year plan to eliminate or upgrade all Romani shanty-towns in Hungary. There are approximately five hundred such settlements in Hungary, half of which face destruction under the plan, and the other half renovation. The scheme is to cost around 50 billion HUF (approximately 187 million euro) and is to be accompanied by massive infrastructure development. However, as of July 11, 2001 the project had not yet been approved by the government. Moreover, according to Népszava, there were no plans as to how the residents, the majority of whom are unemployed, will be able to pay rent and utility costs for the new homes. The National Gypsy Self-Government, an advisory body to the national government, was reportedly excluded from the planning of the scheme.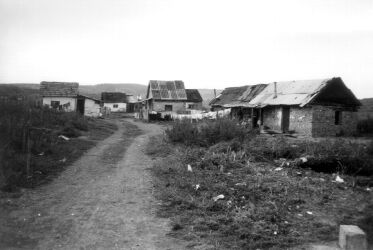 Romani settlement in Kemecse, Hungary.
Photo: ERRC
The necessity of the planned improvement was underlined by reports in the Hungarian daily newspapers Népszava, Népszabadság and Magyar Hírlap that an eleven-month-old Romani boy had died of meningitis in Hetes shanty town in the northeastern city of ózd on March 26, 2001. The settlement at Hetes is reportedly infested with rats and insects, and sewage flows out onto the streets when it rains. The poor conditions mean that the inhabitants are at high risk of disease.
Népszava, Népszabadság, Magyar Hírlap, Magyar Nemzet, Roma Press Center)