Roma Refused Registration in Municipal Rolls in Greece
10 July 2002
On February 28, 2002, the Greek Helsinki Monitor and the ERRC received information from Ms Mimi Firogeni, a journalist with Nafplio-based local daily newspaper Ta Nea tis Argolidos (News of Argolida), that on February 27, 2002, two Romani women, 50-year-old Ms Georgia Zapheropoulou-Demetropoulouand 57-year-old Ms Vlasia Demetropoulou, were refused registration in the Nea Kios municipality, in northeastern Peloponesse in southern Greece, by the Mayor of Nea Kios, Mr George Katriliotes.According to Ms Firogeni, at approximately 12:40 PM, the two women visited the Nea Kios town hall in order to transfer their registration from Argos to Nea Kios, as they had reportedly been living in Nea Kios for more than two years. Ms Firogeni reported that they were met at the entrance by Mayor Katriliotes and asked to state the purpose of their visit. After being told that the two wanted to transfer their registration to Nea Kios, Mayor Katriliotes allegedly forbade them from entering the town hall. According to Ms Firogeni, when asked why he had refused them entry, Mayor Katriliotes reportedly stated "Because I want to, and as long as I live, no 'Gyftos' will be registered in the Nea Kios municipal rolls." "Gyftos" is a derogatory term for Roma in Greece. On February 27, 2002, on the Nafplio-based television station, Max TV, Mayor Katriliotes stated:
"We do not intend to start registering everybody who comes here, because which Gypsies are permanent residents and which are not is for us a particularly murky issue. […]"
On February 28, 2002, Ms Zapheropoulou-Demetropoulouand Ms Demetropoulou filed complaints about their treatment with the First Instance Judges Prosecutor's Office of Nafplio. According to information received by GHM/ERRC, also on February 28, 2002, during a city council meeting, Mayor Katriliotes promised to avoid the registration of Ms Zapheropoulou-Demetropoulou and Ms Deme-tropoulou by all means possible. Following criticism of Mayor Katriliotes by some members of the municipal council and the media, on March 1, 2002, Mayor Katriliotes agreed to accept the registration applications of the two Romani women. However, according to Ms Vasso Christopoulou, a local human rights activist who accompanied Ms Zapheropoulou-Demetropoulou to the municipal office, municipal staff refused to assist Ms Zapheropoulou-Deme-tropoulouin filing the documents that certified that she had resided in Nea Kios for two years. On March 4, 2002, Ta Nea tis Argolidos reported the incident, as well as a May 1, 2002, statement made by Mayor Katriliotes on the Athens-based television station, Tempo, that he did not deny anyone the right to transfer registration to the Nea Kios municipal roll. As of May 13, 2002, GHM/ERRC received information that both women had been registered. However, neither woman had been compensated for the humiliating treatment they endured. Earlier, in May 2000, the municipal council of Nea Kios unanimously decided to evict all Roma in the region.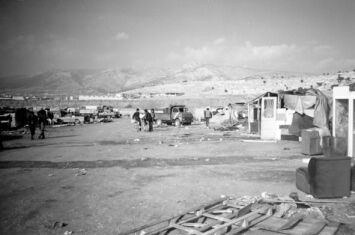 Romani settlement in Aspropyrgos, on the outskirts of Athens.
Photo: ERRC/Greek Helsinki Monitor
In developments related to the May 2000 decision, GHM/ERRC was informed on February 28, 2002, by the Prosecutor's Office in Nafplio, that on February 27, 2002, the Misdemeanours Prosecutor notified the Appeals Prosecutor of his decision to close investigation into a series of alleged racist assaults on Roma which reportedly took place following the decision. Details of the series of racist assaults, the municipal decision, and the criminal complaint subsequently filed by GHM/Minority Rights Group-Greece and a number of NGO's and politicians are available on the ERRC's website at: Greek municipalities evict Roma .

On March 1, 2002, GHM, appealed to the Appeals Prosecutor and the Minister of Justice to prevent the case investigation files being closed. The GHM/ERRC was subsequently informed that the cases had been reopened for investigation by police. As of July 16, 2002, no results of the investigation had been made public.
(ERRC, Greek Helsinki Monitor)