Roma Rights 1, 2009: Hard Times for Roma: Economics, Politics and Violence
30 July 2009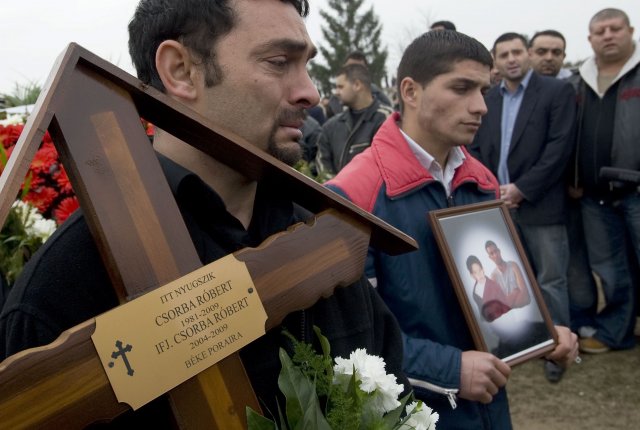 For some time now, extremism has been visible in several European countries. Political parties espousing an explicit anti-immigrant, anti-Romani and/or anti-Semitic agenda are gaining electoral success and support from the public. The June 2009 European Parliament elections exemplified this tendency: In several countries, extremist political parties achieved unprecedented success and now enjoy increased political power.
Furthermore, violent attacks targeting Romani communities have intensified in some countries since the beginning of 2008. In Hungary, more than 23 violent attacks have been recorded claiming eight lives. In the Czech Republic and Italy, pogrom attempts have been witnessed. The increasing problems of Roma are not limited to these countries, however. What we observe across Europe is an increase in anti-Romani sentiments, often expressed violently.
Many attempts have been made to establish a connection between the rise of extremism and the global economic crisis. According to this argument, the global economic crisis has (at least in part) triggered extremism.
This issue of Roma Rights addresses the increasing number of violent attacks on Romani communities to examine whether this tendency is linked with the economic downturn. All authors in this issue suggest that extremism is not linked explicitly to the economic crisis.
This point is crystallised in the editorial, where Rob Kushen writes, "Despite these alarming developments, it would be simplistic and factually wrong to attribute the rise of extremism solely or even substantially to the global economic crisis. The seeds of extremism in Eastern Europe can be found in populist politics, which came to the fore during a time of economic prosperity, not economic crisis." This general thesis is shared by the authors of country-specific articles. Gwendolyn Albert firmly establishes that anti-Romani activities in the Czech Republic were prevalent during the economic boom and Stanislav Daniel illustrates the same in Slovakia. Similarly, Jenő Kaltenbach and Catherine Twigg's article on the situation in Hungary also traces the roots of anti-Romani sentiment to prior to the current crisis.
Andrzej Mirga and Bernard Rorke provide an overview of the situation in Europe. Mr Mirga points out that although the economic crisis affects almost all of Europe, anti-Romani violence is only on the rise in some countries; thus we cannot establish an organic linkage between the two. Mr Rorke also considers Roma rights violations within a broader context of increasing populism, anti-immigrant sentiment and hostility to liberal democracy evident in much of Europe.