Roma Rights 2012: Challenges of Representation: Voice on Roma Politics, Power and Participation
22 August 2013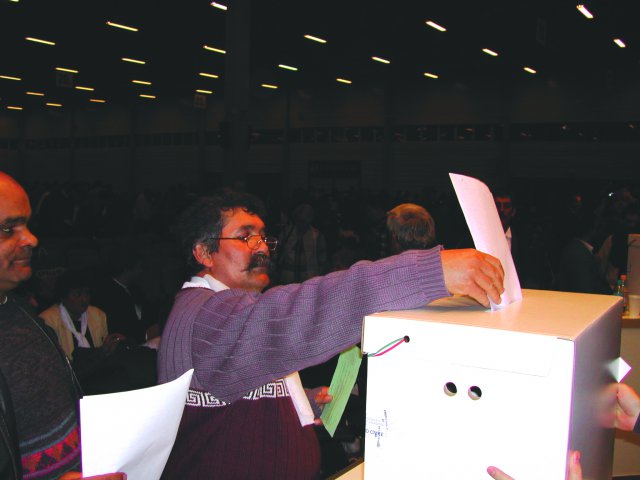 This issue of Roma Rights focuses on challenges and channels of political participation of Roma people, examining various ways in which Roma become involved in policy-making and politics, and the relative successes and failures of initiatives aimed at increasing their participation.
Despite much attention to the topic over recent years, Roma participation still stands for an empty slogan. Roma are rarely consulted, their involvement is marginal and their voice is not heard during the policy-making process. Should one be surprised about the limited success in improving the situation of Roma all over Europe in spite of political commitments and resources allocated for Roma inclusion? Participation of Roma is a good indicator to predict the success or failure of policies targeting Roma, as well as of the commitment of the politicians to promote equal rights and social justice for all.
Roma participation is not only a Kantian moral imperative to treat people as ends and not as mere instruments for reaching selfish ends, but also a very practical tool to ensure sustainability and successful implementation of policies targeting Roma. Perhaps more than ever before, our political institutions cannot afford to maintain a situation where some parts of our societies do not have a part.
Guest editor Iulius Rostas provides an overview of developments in Roma participation over recent years, and underlines the need for Roma participation in successful policy development. Márton Rövid provides a critical overview of the main discourses of Roma and pro-Roma organisations in the last two decades, while Angéla Kóczé examines participation in and attitudes towards civil society movements. Political participation and representation is examined in a cross-country comparison of six states by Catherine Messina Pajic, and through a particular focus on elections in Slovakia by Tomáš Hrustic. Two articles focus on Italy. Emmi Tewksbury-Volpe examines public discourse and representation of Roma during the so-called 'Roma emergency', while Veronica Riniolo and Francesco Marcaletti provide an analysis of active participation of Roma in the development of labour integration projects.
In other contributions, ERRC staff lawyers Judit Gellér and Darya Alekseeva provide reviews of four recent judgments handed down by the European Court of Human Rights relating to violence against Roma, and two recent publications from Central European University Press are reviewed by Anikó Orsós, Michal Zálešák and Marcello Cassanelli.
Roma Rights 2012: Challenges of Representation: (PDF)